Alan Shayne wasn't surprised that his "arrogant" classmate went on to become an Oscar-winning star.
It was the spring of 1943 when Marlon Brando followed his sister Jocelyn to New York City.
While taking on odd jobs, including that of an elevator operator, he enrolled in The New School for Social Research. Shayne, who would later become a top executive at Warner Bros. Television, was in Brando's class with his own big dreams of becoming an actor.
Shayne detailed his early years in a recently published memoir, "The Star Dressing Room: Portrait of an Actor." In it, he recalled studying with the future "Godfather" icon.
'SUNSET BOULEVARD' STAR NANCY OLSON LIVINGSTON RECALLS 'DARING SCRIPT,' MEETING MARILYN MONROE AND WALT DISNEY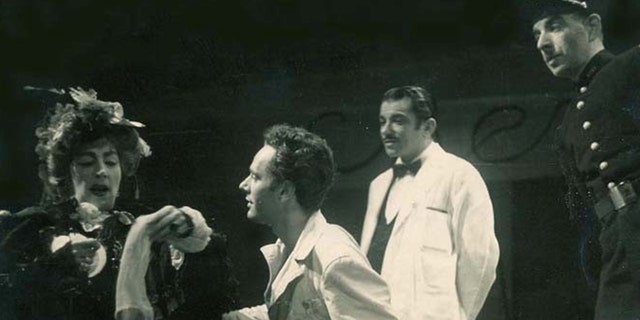 Alan Shayne, who retired as president of Warner Bros. Television in 1986, wrote about his time as a young actor in a new book, "The Star Dressing Room: Portrait of an Actor." (Courtesy of Alan Shayne)
"I remember everyone in the class couldn't stop talking about this guy named Marlon, this showoff," Shayne chuckled to Fox News Digital. "I mean, he was wonderful looking but didn't do much in class. He was very odd, actually. He would play bongo drums in the hall. … I remember we did this performance where he suddenly took these pair of tights and put a huge bongo drum in it to make himself look pregnant. The entire audience went into pieces laughing, and I was furious. Just very angry with him."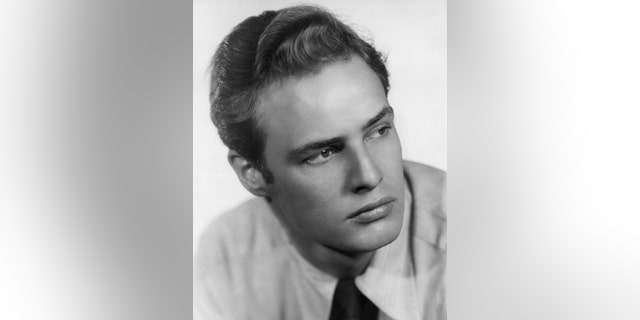 Alan Shayne and Marlon Brando (pictured here) were students at The New School for Social Research.  (Getty Images)
According to Shayne's book, there were rumors Brando was "being kept by a rich, older man and also had a girlfriend named Blossom Plum." But one thing that was certain was Brando's talent on stage.
"Look, he was impossible to work with," the 97-year-old said. "But he was so remarkable early on that you couldn't help but think, 'God, what a great actor he would be.' I remember he did an improvisation of peeling an apple. And he made it seem that there was an apple there.
"It wasn't a joke. You saw the peeling going to the floor. You saw him cutting the apple. He was so amazing and gifted. He was a challenge, and I didn't particularly like him as a person, but he had that star quality from the very beginning before anyone knew it.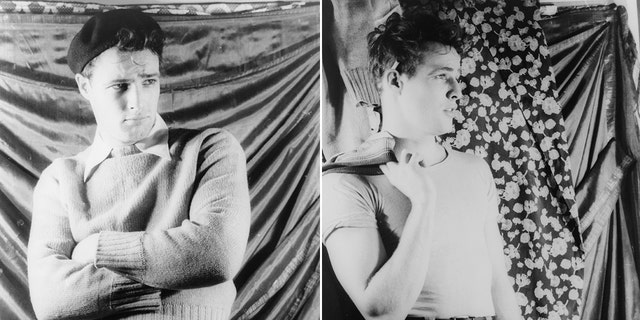 A young Marlon Brando acting in front of a loose curtain (Getty Images)
"When I saw him in [the 1951 movie] 'A Streetcar Named Desire,' I was in awe," Shayne continued. "You couldn't breathe with his performance. And, again, I didn't like the guy. He was not the most admirable person that I ever knew in my life. But his performance was so amazing that you could hardly breathe. And there was no question that he would be a tremendous success. He was an extraordinary actor."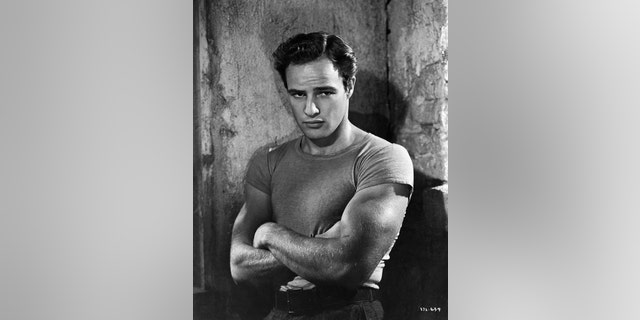 Marlon Brando starred as Stanley Kowalski in 1951's "A Streetcar Named Desire." (Getty Images)
Brando wasn't the only Hollywood star who left a lasting impression on Shayne. He's met numerous leading ladies who all left him just as breathless.
"Eva Gabor was a very beautiful woman," Shayne said of the actress. "But I was in total shock when I learned that a lot of her was padded. We did a play together, and I remembered her dress was stuffed with all this padding in her brassiere and hips. But that didn't stop men from being crazy about her. She was so pretty, so charming and talented in her own way."
CLICK HERE TO SIGN UP FOR THE ENTERTAINMENT NEWSLETTER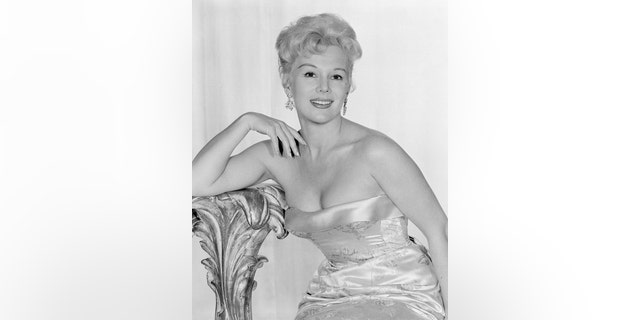 Alan Shayne claimed Eva Gabor kept her costume well padded to enhance her curves. (CBS via Getty Images)
As for Dolores Del Rio, he said the screen siren was "the most beautiful woman I ever saw." The pair starred in a summer stock tour of "Anastasia."
"I was much younger than she was," said Shayne. "When I was born, she was already a silent movie star. But she was absolutely gorgeous. I had never seen a woman as beautiful as she was. Apparently, she slept about 16 hours a day to preserve her beauty and keep fine lines from forming. It was clear that her life was devoted to the way she looked.
"I kept thinking she looked like someone who would have so many fascinating things to say – if you could only get her to talk," he shared. "And, finally, when I did that play with her, I did get her to talk to me a lot. And it was incredibly boring. It was all about her face and beauty, not about her inside. So, she was just a nice woman with a gorgeous face."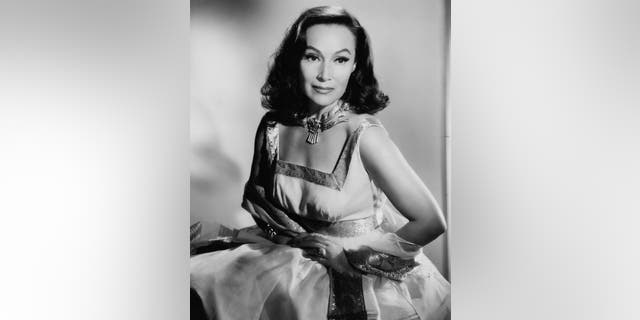 Portrait of actress Dolores del Rio, circa 1960. (Keystone Features/Hulton Archive/Getty Images)
Shayne claimed Maureen Stapleton was eager to befriend him for an unusual reason. They worked alongside each other in the play "Antony and Cleopatra."
"She was a force of nature," Shayne said of the Oscar winner. "She replaced someone, so I didn't really know her. But she called me up one day and said, 'Come here quickly. I have to talk to you.' So, I went to her hotel."
Shayne alleged that Stapleton made an unexpected request.
'50S BLONDE BOMBSHELL CLEO MOORE, THE NEXT MARILYN MONROE, MAY HAVE DIED OF BROKEN HEART, AUTHOR CLAIMS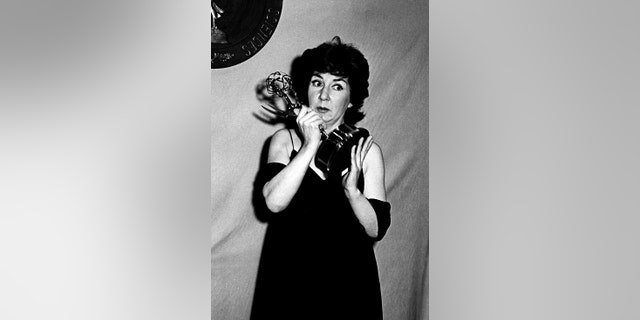 Actress Maureen Stapleton attends the 20th Annual Primetime Emmy Awards May 19, 1968, at the Hollywood Palladium in Hollywood, Calif. (Ron Galella/Ron Galella Collection via Getty Images)
"She said, 'We're only a couple of weeks away before we go to New York, and I want to get laid,'" Shayne claimed. "'I won't get laid if I waste my time with one of these gay people. So who is gay in the company? Who do you know is gay and who isn't? And give me a list, don't waste my time.'
"You couldn't be upset by that because she was very truthful," Shayne chuckled. "She was always honest about everything. She unfortunately drove a lot of people mad because she was a very strong alcoholic. She always had a mission. Most of the time, it was to get drunk, but if it wasn't to get drunk it was to find a guy I guess. … She was hardly one of the most beautiful people of her age, but people loved her. She was wonderful."
Shayne said he developed a close bond with Lena Horne. They appeared in the musical "Jamaica." But Shayne said their friendship took a turn years later when he became the head of Warner Bros. Television.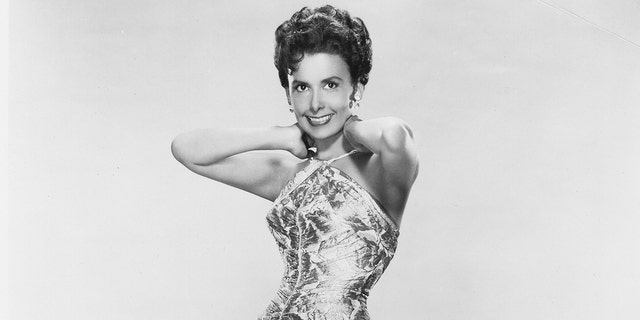 Alan Shayne claimed Lena Horne was disappointed he never considered her for any TV roles during his time at Warner Bros. (Gilles Petard/Redferns)
"I remember I went to see her in a play, and she greeted me very coldly," Shayne claimed. "She said, 'Why didn't you ever give me a job? You never call me to do one of your soap operas or one of your shows.' It was a shocking experience. And it was very depressing because we had a very, very good relationship. Lena changed a great deal from the time that I knew her in 'Jamaica.' She became much more political and much angrier. And I think that changed some of her relationships."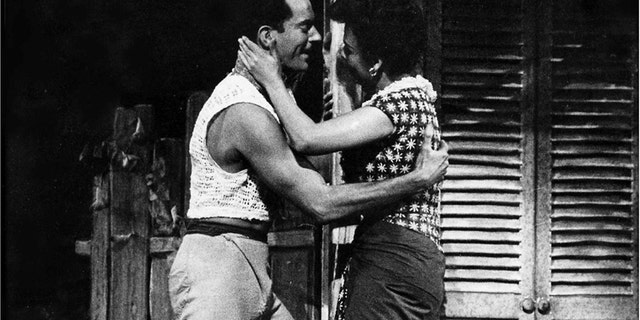 Alan Shayne said he became friends with Lena Horne during their time starring in the play "Jamaica." (Courtesy of Alan Shayne)
"I never saw her again after the time I went backstage," Shayne said. "She was doing a one-woman show, and it was a tremendous success in New York. I was so thrilled for her, and I wanted to go backstage to tell her how great she was.
"But I was overwhelmed by her attitude. Why didn't I give her a job? It's ridiculous. She was a great star, and I supported her as much as I could. We'd been great friends and even spent some weekends together, but she changed. People do change. And I think she just became very angry about a lot of things."
One star Shayne said surprised him in a good way was Katharine Hepburn.
'50S IDOL TROY DONAHUE FOUND HIMSELF HOMELESS IN NEW YORK BEFORE HOLLYWOOD COMEBACK, BOOK SAYS: 'LONELY SOUL'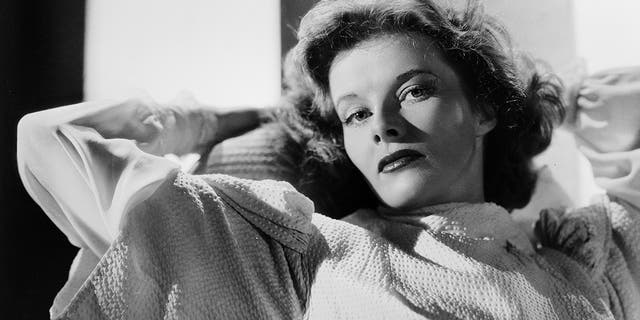 Alan Shayne called Katharine Hepburn "the most wonderful actress I've ever known." ( Ernest Bachrach/John Kobal Foundation/Getty Images)
"I think the most wonderful actress I've ever known was Katharine Hepburn," he explained. "She was truly an original. There was nothing artificial about her. You can talk about people like Marlon Brando and Eva Gabor. Katharine was a success too, but she wasn't a showoff. She was always trying to be a better actress.
"She was constantly looking for ways to get better. And you just can't fake that love of acting, the love of theater. I think so much of that has gone out of the business. You can see so many celebrities and beautiful people today. But what about talent? What about originality?"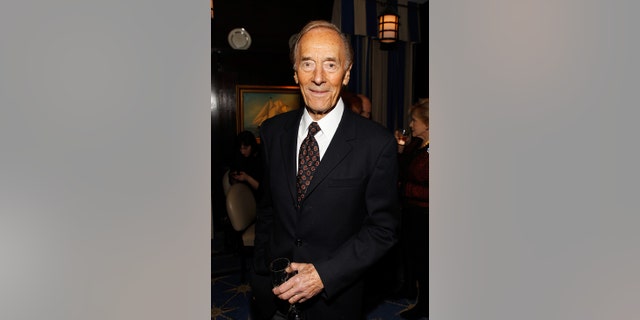 Alan Shayne told Fox News Digital he's a fan of all the streaming options available for viewers today.  (Mark Von Holden/Getty Images)
Shayne went on to become president of Warner Bros. Television before retiring in 1986. He shepherded hit shows like "Wonder Woman," "Night Court," "Growing Pains" and "The Dukes of Hazzard," among others. He also received an Emmy nomination for producing 1988's "The Bourne Identity."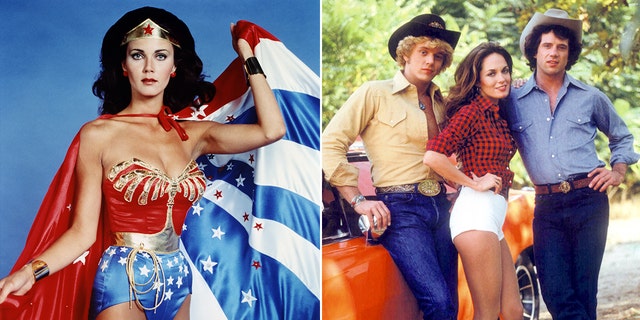 Alan Shayne was responsible for launching several hit TV shows in the '70s, including "Wonder Woman" (left) and "The Dukes of Hazzard." (Getty Images)
"Theater is a tough business, and I had the good sense to get out of it," said Shayne. "I did it for a good amount of years, and realized I wasn't ever going to be a star and that it would probably ruin my life. So, I got out, but I wanted to still do something. And you can still make a difference if you don't make it somewhere. You don't have to be Marlon Brando to find your way."