Former Trump White House Chief of Staff Mark Meadows has asked to move his charges in the Georgia 2020 election interference case to federal court.
On Tuesday, Meadows petitioned the U.S. District Court for the Northern District of Georgia to remove his case from Fulton County Superior Court, arguing that federal law shields him from state prosecution for actions undertaken as a federal officer. In his court filing, attorneys for Meadows declared his intention to seek dismissal of all charges brought against him.
"Mr. Meadows is entitled to remove this action to federal court because the charges against him plausibly give rise to a federal defense based on his role at all relevant times as the White House Chief of Staff to the President of the United States," Meadows' lawyers wrote.
Meadows was charged with two counts in a 41-count indictment brought against former President Trump and his allies by Fulton County District Attorney Fani Willis, a Democrat.
MEADOWS, GIULIANI, OTHERS INDICTED ALONG WITH TRUMP IN GEORGIA 2020 ELECTION INTERFERENCE PROBE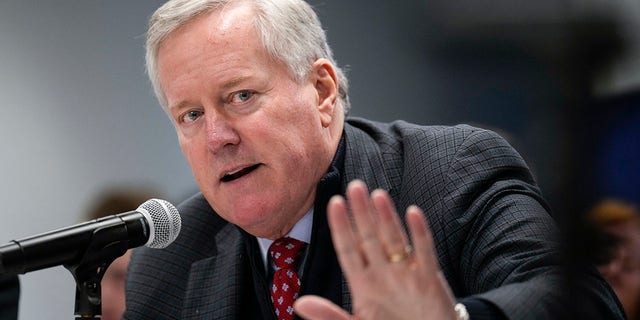 Former Trump White House Chief of Staff Mark Meadows speaks during a forum titled House Rules and Process Changes for the 118th Congress at FreedowmWorks headquarters on Nov. 14, 2022, in Washington, D.C. (Drew Angerer/Getty Images)
Fulton County prosecutors charged former President Trump and all 18 others with at least one count of violating the Georgia RICO Act—the Racketeer Influenced And Corrupt Organizations Act.
Other charges Trump and defendants are facing include Solicitation of Violation of Oath by a Public Officer; Conspiracy to Commit Impersonating a Public Officer; Conspiracy to Commit Forgery in the First Degree; Conspiracy to Commit False Statements and Writings; Conspiracy to Commit Filing False Documents; Conspiracy to Commit Forgery in the First Degree; Filing False Documents; and Solicitation of Violation of Oath by a Public Officer.
Meadows faces charges for soliciting an official to violate their oath of office related to the infamous 2020 phone call he arranged between Trump and Georgia Secretary of State Brad Raffensperger — in which Trump asked the elections chief to "find" purportedly missing ballots that would allow him to overcome his deficit against Biden in Georgia.
In the filing, Meadows denied all wrongdoing and argued the charged conduct comprises protected actions taken in his official capacity as chief of staff to the president.
SPECIAL PROSECUTOR TO BE NAMED TO PROBE GEORGIA LT. GOV. BURT JONES IN TRUMP CASE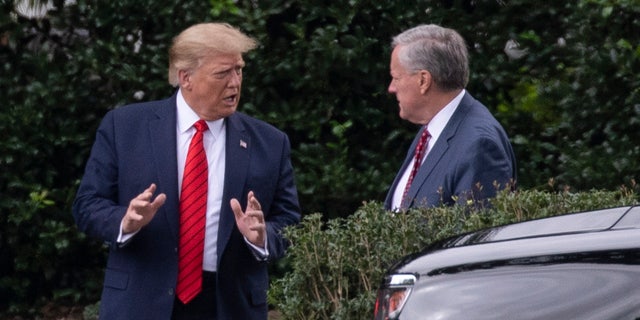 Then-President Trump speaks with White House Chief of Staff Mark Meadows as they depart the White House on Sept. 12, 2020 in Washington, D.C. (Photo by ALEX EDELMAN/AFP via Getty Images)
"Nothing Mr. Meadows is alleged in the indictment to have done is criminal per se: arranging Oval Office meetings, contacting state officials on the President's behalf, visiting a state government building, and setting up a phone call for the President. One would expect a Chief of Staff to the President of the United States to do these sorts of things," his attorneys argued.
"This is precisely the kind of state interference in a federal official's duties that the Supremacy Clause of the U.S. Constitution prohibits."
The referenced Supremacy Clause establishes that federal law takes precedence over state laws and prohibits states from interfering with the federal government's exercise of its constitutional powers. Meadows claimed immunity from prosecution under that clause.
Fulton County prosecutors alleged that Meadows assisted Trump in pressuring state legislators in swing states and Georgia election officials to overturn the election. They claim he did this by arranging meetings and phone calls for the president, as well as visiting the Cobb County, Georgia, in December 2020 to observe the signature match audit performed after the election.
TRUMP INDICTED OUT OF GEORGIA PROBE INTO ALLEGED EFFORTS TO OVERTURN 2020 ELECTION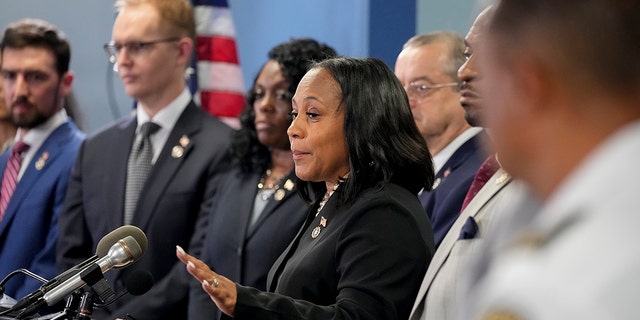 Fulton County District Attorney Fani Willis, center, speaks in the Fulton County Government Center during a news conference, Monday, Aug. 14, 2023, in Atlanta. Former President Trump and several allies have been indicted in Georgia over efforts to overturn his 2020 election loss in the state. (AP Photo/John Bazemore)
"These and the other acts that form the basis for the charges against Mr. Meadows all fall squarely within his conduct as Chief of Staff," the filing states.
"Mr. Meadows intends to file a motion to dismiss the indictment pursuant to Rule 12(b) of the Federal Rules of Criminal Procedure as soon as is feasible."
CLICK HERE TO GET THE FOX NEWS APP
Last year, Meadows was called to testify in the Fulton County grand jury probe into Trump's conduct after the 2020 election in Georgia. He has largely remained out of the spotlight since leaving the White House in 2020.
Attorneys for Meadows did not immediately respond to a request for comment.
Fox News' Brooke Singman contributed to this report.