A Marine who was severely injured during the U.S. military's evacuation from Afghanistan in August 2021 recalled an awkward encounter he had with President Biden after he arrived at a hospital for treatment in the United States.
Describing his recovery at Walter Reed National Military Medical Center, Sgt. Tyler Vargas-Andrews, who lost an arm and leg as a result of the suicide bombing that took place outside the Abbey Gate at Kabul's airport, said he was greeted by a number of U.S. military officials who were looking to participate in "photo ops" with him – including the president.
The comments from Vargas-Andrews came during a recent appearance on the "Shawn Ryan Show," where he described the withdrawal from Afghanistan, as well as how he ended up meeting with Biden.
Vargas-Andrews said he was asked by the generals who visited him in the hospital whether he wanted to meet the president so he could be thanked for his service. Hesitant and still sedated from the medication he was taking, he welcomed the idea.
FAMILY OF MARINE KILLED IN AFGHANISTAN SAYS BIDEN RUSHED US WITHDRAWAL FOR 'PHOTO OP': 'HE WANTED HIS MOMENT'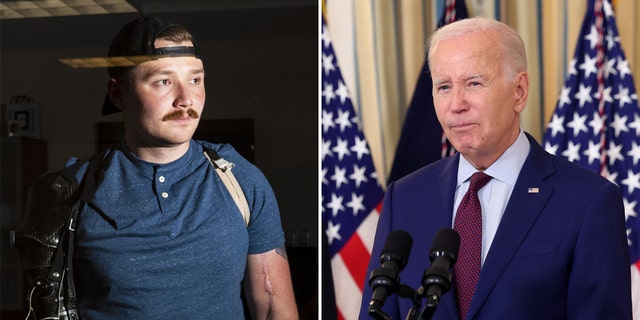 During an interview on the "Shawn Ryan Show," Sgt. Tyler Vargas-Andrews, left, described the awkward visit he had with President Biden during his recovery from a suicide bomb attack in Afghanistan in August 2021. (Carolyn Van Houten/The Washington Post, Kevin Dietsch via Getty Images)
"I told them, I was like, hold all of my opioids, like hold all of my narcotics and stuff. Like I want to be coherent when I meet him," Vargas-Andrews recalled as he awaited a visit from Biden. "They held all my pain meds."
Vargas-Andrews said he was told that the president would be at the hospital to meet him in "about an hour."
"Well, one hour goes by. Nothing. Two hours go by. Nothing," he said, noting that he continued to hold off on taking his medication. "Three hours go by, and it's like four hours at this point. My mom's furious. She's like 'what the f—. Where is this guy?'"
Soon after, Vargas-Andrews said Secret Service officers began arriving at the hospital, and he became confused about who the president was. "I had no idea who the president was. I didn't think it was Trump. I didn't think it was Biden. My brain couldn't make the connection," he said.
Upon learning from his mother that the president was Biden, Vargas-Andrews said he leaned back and said, "Oh my f—ing God."
"Two minutes later, he walks in with Jill Biden and their little entourage of people and like a photographer," he recalled. "Right away, I remember him coming up to me trying to shake my hand, shake my right hand, and I look at him, and I'm like 'I don't have an arm.' My left arm is in this big a– cast with this giant orange f—ing foam block around it. I'm completely immobile. All I can do is move my head."
BIDEN ADMINISTRATION LIED TO GOLD STAR FAMILY ABOUT MARINE'S DEATH IN AFGHANISTAN, MOM SAYS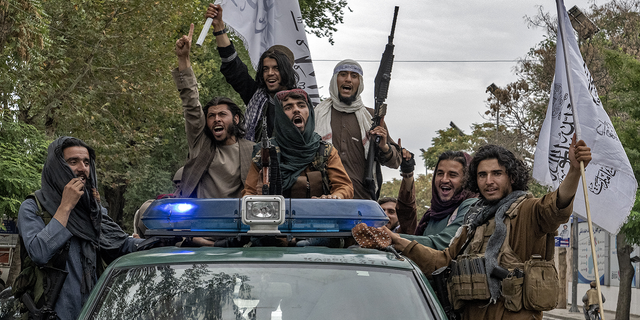 Taliban fighters celebrate one year since they seized the Afghan capital, Kabul, in front of the U.S. Embassy in Kabul, Afghanistan, on Aug. 15, 2022. (AP/Ebrahim Noroozi)
"He says, 'Oh,' and kind of stands up and then goes over to reach for my fingers… and just like grabs my fingers. Doesn't greet me or anything, just grabbed my fingers. I was like, okay that's weird."
Vargas-Andrews said the Bidens "almost immediately starts talking about how their son served in the military. [He] doesn't say anything about what happened, just starts talking about how their son served in the military."
"My mom's furious at this point and they're like taking pictures and stuff," he said of the encounter. Vargas-Andrews also said his mother made it clear during the president's visit to the hospital that the government should help her son "for the rest of his life" after the attack.
"She said that and I'm sitting there and he comes over to me, he leans over to me… and he's like, 'What do you want?'"
Confused, Vargas-Andrews asked the president, "What?"
After Biden repeated himself, Vargas-Andrews recalled, "I'm just like confused. I just got blown up. I just saw my f—ing friends die next to me. I'm like, I just want to be myself."
"He's like huh and my mom's furious, and she's like he just wants to be himself. He just wants to be him," he said.
"He goes, 'Oh, okay," and they just continue to talk about everything but what just happened," he added. "They just ushered him out of the room. He didn't know what to say. And that was that."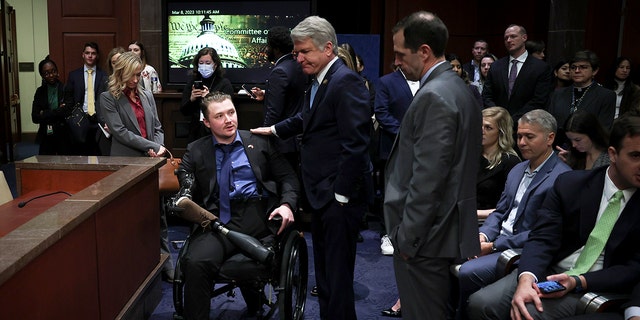 House Foreign Affairs Committee Chair Michael McCaul, R-Texas, greets U.S. Marine Corps. Sgt. Tyler Vargas-Andrews, left, as he arrives to testify before the committee at the U.S. Capitol on March 08, 2023, in Washington, D.C. The Committee held the hearing to examine the U.S. military withdrawal from Afghanistan and the emergency evacuation from Kabul. (Win McNamee/Getty Images)
CLICK HERE TO GET THE FOX NEWS APP
Vargas-Andrews said his mother later reached out to the first lady in an attempt to help get legislation passed to assist caretakers financially. He said they "pretended to help" and that his mother was later "brushed off."
Vargas-Andrews said they "pretended like they were connecting her to the right individuals and didn't f—ing help her at all."
Earlier this year, Vargas-Andrews testified before the House Foreign Affairs Committee during a hearing to examine the withdrawal from Afghanistan and the evacuation from Kabul.