Two-term Republican West Virginia Gov. Jim Justice is "seriously considering running for U.S. Senate" in 2024, when former Democratic governor and current Sen. Joe Manchin is up for re-election.
"I want continued goodness for our state. I'll continue helping West Virginia no matter if I'm at home or in Washington, DC," Justice said in a tweet Thursday evening.
Manchin, a moderate Democrat who is often at loggerheads with his party's progressive wing and at times with the party's Senate leadership and the White House, has yet to announce whether he will see another six-year term in the Senate in 2024.
Once a reliably Democratic state, West Virginia has shifted overwhelmingly red in recent cycles, and then-President Trump carried the state by a whopping 39 points in the 2020 election.
FIRST ON FOX: 'RETIRE OR GET FIRED' – SENATE GOP CAMPAIGN ARM TARGETS MANCHIN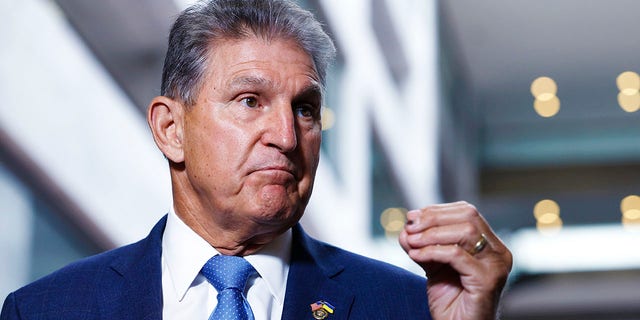 Sen. Joe Manchin (D-WV) gestures as he speaks to reporters in the Hart Senate Office building on Aug. 1, 2022 in Washington, D.C.
(Photo by Anna Moneymaker/Getty Images)
As they aim to regain the Senate majority in 2024, Senate Republicans are beginning to target Manchin. As Fox News first reported, the National Republican Senatorial Committee launched a digital ad on Thursday taking aim at Manchin and linking him to President Biden, urging that the senator "retire or get fired."
SIX DEMOCRATIC SENATORS WHO MAY RETIRE RATHER THAN SEEK RE-ELECTION IN 2024
Justice, a registered Republican, ran for West Virginia governor as a Democrat in 2016, winning by single digits. He re-registered as a Republican the next year after holding a rally with Trump, and he overwhelmingly won re-election in 2020. Justice is term-limited and cannot seek gubernatorial re-election in 2024.
"I'm seriously considering running for Senate… I want continued goodness for our state. I'll try to help in any way, whether it be the Senate or the House or the next governor to be, whatever it may be," Justice said in a video he posted on Twitter. "And I may very well be doing it from home. Or I may very well be doing it from Washington. That's just my thought."
CLICK HERE TO GET THE FOX NEWS APP
Republican Rep. Alex Mooney is already in the race for West Virginia's 2024 GOP Senate nomination, after launching a campaign in November. Additionally, GOP State Attorney General Patrick Morrisey is also considering a Senate run. Morrisey won the 2018 Republican Senate nomination before narrowly losing to Manchin by three-points in the general election.