Manchester City manager Pep Guardiola says his team is focused on finally winning the Champions League.
Mike Egerton/AP

CNN
—
Pep Guardiola said Manchester City is desperate to win the Champions League this season and defended his team's previous results in the tournament ahead of the quarterfinal clash against Bayern Munich Tuesday.
Despite domestic success and a fortune spent in the transfer market, the Champions League title has eluded Guardiola since his move to the Premier League club in 2016 and pressure is once again building on the team.
City is largely considered the favorite for this year's competition but it must first navigate a way past the German champion.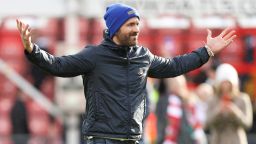 Hollywood actor and co-owner of Wrexham Football Club, Ryan Reynolds, celebrates his team's 3-2 victory during the Vanarama National League fixture between Wrexham and Notts County at The Racecourse Ground on April 10, 2023 in Wrexham, Wales.
Matthew Ashton/AMA/Getty Images
'That was just bananas,' says Ryan Reynolds after watching Wrexham take dramatic step towards promotion
"We want to try. It is an honor to be here against an elite club in Bayern Munich. We will not take it for granted," Guardiola told reporters ahead of the first-leg at the Etihad Stadium.
The Spanish manager has not won the Champions League since 2011 with Barcelona, failing to also lift the trophy in his three seasons as Bayern Munich boss.
He did, however, reach the final with Manchester City in 2021 but eventually lost to league rival Chelsea.
Amid all the talk about when the club would win its first Champions League title, Guardiola pointed at other sporting legends who have had to face failures and victories.
He named the likes of golf legend Jack Nicklaus, who won 18 majors across a lengthy career, and NBA great Michael Jordan who won 6 titles in 15 seasons.
"The question has been coming every single season," Guardiola added, saying even the best teams in sport tend to lose more tournaments than they win.
"We try every single season. Teams you face are also good too and want to win too. My dream is to live it again. We want to try but that doesn't mean we are going to win.
"Michael Jordan won six NBA titles, how many years did he play?"
Against Bayern Munich, Guardiola will face former Chelsea manager Thomas Tuchel – the man who beat him in the 2021 Champions League final.
The German replaced Julian Nagelsmann at Bayern last month after the team dropped from first to second in the Bundesliga table.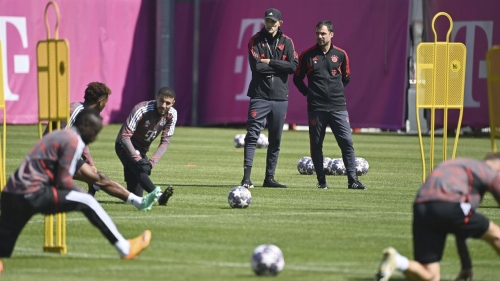 Thomas Tuchel says Bayern Munich are underdogs ahead of Tuesday's quarterfinal first leg.
Frank Hoermann/SVEN SIMON/picture-alliance/dpa/AP
There were reports that Nagelsmann had lost the support of the players and Tuchel has now been tasked with steadying the ship.
Bayern has since returned to the top of the league but Tuchel says the quarterfinal clash will be a massive test for his team.
Manchester City has looked relentless of late and has the tournament's current top goalscorer Erling Haaland on form.
The Norwegian scored an outrageous bicycle kick in the Premier League on Saturday as he became the fastest player in league history to score 30 goals in a season.
"We will have the role of the underdog and that is okay," Tuchel told reporters Monday.
"We have to stay confident and stay on top of our game.
"There will be moments where we will be suffering and we will have to defend as a block, try to overcome that and try to get more possession."
Elsewhere on Tuesday, Benfica will face Inter Milan in another quarterfinal first-leg clash.
The return legs for both games are scheduled for April 19.