close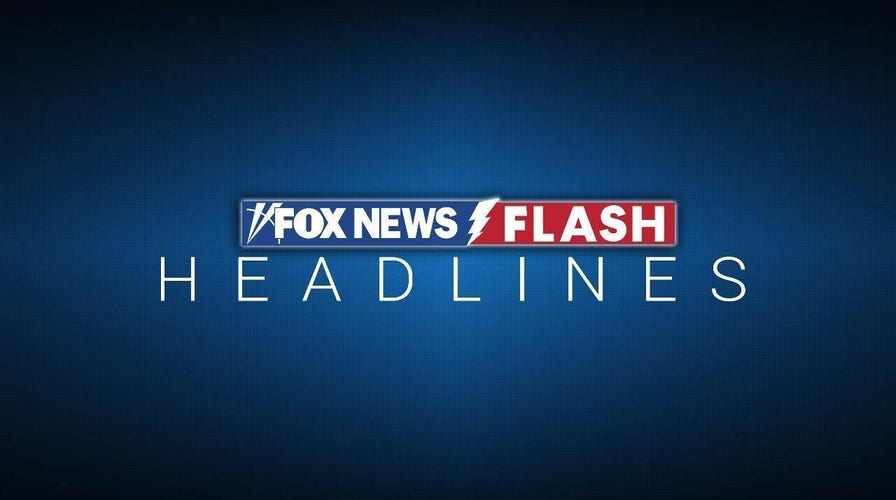 Video
Fox News Flash top headlines for March 1
Fox News Flash top headlines are here. Check out what's clicking on Foxnews.com.
Malaysian Prime Minister Anwar Ibrahim said Wednesday that more than 200,000 refugees have fled Burma to his country and urgently called for new ways to persuade Burma's ruling generals to resolve the civil conflict.
Anwar and his host, Philippine President Ferdinand Marcos Jr., also discussed the simmering South China Sea territorial disputes, which have embroiled their countries along with China and other coastal states, and ways to further boost ties.
"I did express my concern about the contentious, unresolved Burma issue which is affecting Malaysia adversely due to the huge number of refugees exceeding 200,000 people now in Malaysia," Anwar said.
MYANMAR'S KAREN ETHNIC MINORITY REBELS LAUNCH ANTI-GOVERNMENT OFFENSIVE TO SEIZE TOWN
Since the military takeover in Burma in 2021, security forces have killed thousands of civilians and army sweeps through the countryside have displaced more than 1 million people. In 2017, a brutal counterinsurgency campaign against the Muslim Rohingya minority drove more than 740,000 to flee across the border to Bangladesh, where they remain in refugee camps.
Marcos reiterated the need for the enforcement of a five-point peace plan forged by leaders of the Association of Southeast Asian Nations, including Bruma's top general, but Anwar said new areas should be explored on "how Burma junta can be persuaded to work and collaborate as a team with the ASEAN and resolve the outstanding issues."
The 10-nation ASEAN bloc has a bedrock principle of non-interference in the domestic affairs of other members. Anwar said the deadly crisis in Burma "cannot be considered as purely internal because it's affecting the security and welfare of the region."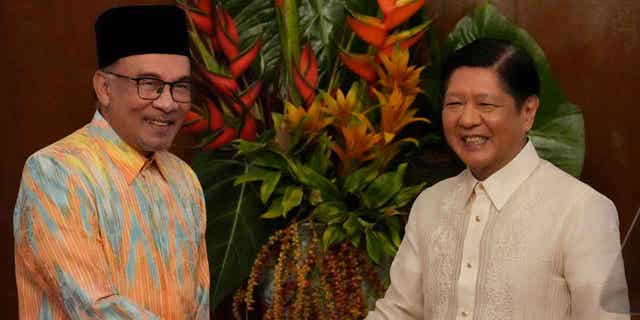 Philippine's president, right, shakes hands with Malaysia's prime minister after delivering their statements to the press in Manila, Philippines, on Mar. 1, 2023. Malaysia's prime minister claims over 200,000 migrants have entered his country from Burma. (AP Photo/Aaron Favila, Pool)
ASEAN's peace plan calls for an immediate end to the violence, a visit by an ASEAN special envoy to foster dialogue among rival parties and provision of humanitarian aid. The military government initially agreed to it but later stymied efforts for compliance.
THOUSANDS FLEE BURMA AIRSTRIKES, COMPLICATING CRISIS
Western nations have taken a stronger action, including political and economic sanctions against the generals and their cronies. Under intense international pressure to do more, ASEAN leaders had excluded Burma's generals from annual summits since 2021, sparking protests from the military leaders.
Anwar said without elaborating that he and Marcos discussed concerns over the South China Sea, which China claims virtually in its entirety. They agreed that ASEAN should take a more comprehensive approach as a bloc to try to achieve "an amicable resolution."
Indonesia, which leads ASEAN this year, is not among the governments steadfastly challenging China's territorial claims.
CLICK HERE TO GET THE FOX NEWS APP
President Joko Widodo in 2020 reaffirmed his country's sovereignty during a symbolic visit to Natuna Islands at the edge of the South China Sea, after the Chinese Foreign Ministry insisted that Chinese fishermen were free to conduct activities in part of the waters "whether the Indonesian side accepts it or not."
China's assertion drew a nationwide indignation in Indonesia and prompted the military to beef up its forces at the islands.