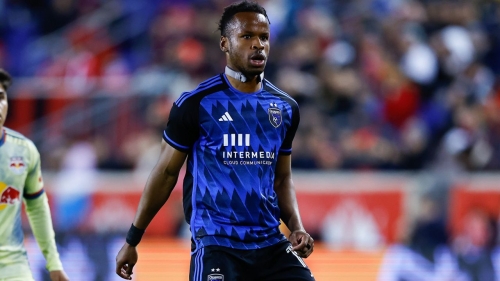 Jeremy Ebobisse of the San Jose Earthquakes alleged he heard a Red Bulls player make a racist remark during Saturday's game.
Rich Graessle/Icon Sportswire/Getty Images

CNN
—
Major League Soccer says it's investigating allegations a player made a racist remark during Saturday's New York Red Bulls and San Jose Earthquakes match.
During an interview on "The Aftershock" podcast after the match, Earthquakes forward Jeremy Ebobisse said he heard a player on the opposing team make a racist remark.
Ebobisse said his team continued to play because the Red Bulls player who he alleges made the remark said it wasn't directed at anyone in particular.
The Earthquakes forward hasn't identified the player he says uttered the racial slur.
The league said it "has zero tolerance for abusive and offensive language and takes these allegations very seriously."
In a statement, MLS said "an investigation into this matter will begin promptly. Further information will be provided upon completion of that investigation."
MLS said the alleged incident occurred during the 54th minute of the match.
New York said it is taking the allegations seriously, promptly reported them to MLS, and is cooperating with the league.
"The New York Red Bulls do not condone any form of harassment or discrimination," the club said in a statement.
San Jose said it backs the league's investigation.
"Our club does not tolerate any form of racism or abuse and we stand with players following these very serious allegations," the club said in a statement. "This language has no place in our game."