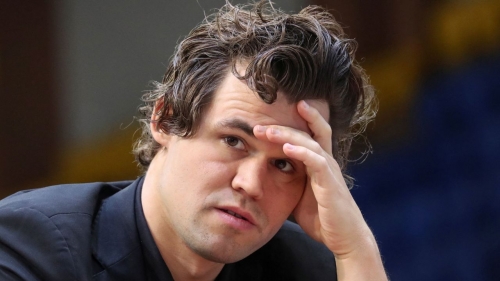 Magnus Carlsen sits in front of a chess board during a game at the World Rapid and Blitz Championships 2022 in Almaty, Kazakhstan.
Pavel Mikheyev/Reuters/FILE

CNN
—
Magnus Carlsen lost against Hikaru Nakamura in the losers final of the Champions Chess Tour Chessable Masters 2023 thanks to a dramatic slip of his mouse in what is his last tournament as the world champion.
After drawing their first two games, the duo faced off in an Armageddon clash – similar to regular chess but black has draw odds, meaning that if black draws the game they win, and black starts with less time on the clock than white – to decide who would face Fabiano Caruana in the grand final.
After a tight encounter, the match was heading to its final seconds with very little to separate the two titans of chess.
And it was a moment of unfortunate luck which separated the two when Carlsen's mouse slipped meaning he put his queen onto F6 which allowed it to be taken by Nakamura and seal the victory.
Nakamura – wearing a t-shirt emblazoned with "I literally don't care" on the front – celebrated with a fist-bump while five-time world champion Carlsen could be seen exclaiming and grimacing in frustration.
"You're trying to defend, defend, defend, and he can't win every match," Nakamura told chess.com afterwards.
"I know he's the greatest player of all time, but he can't win every match! Somebody can't just get lucky every single time. It was just nice for a change to have something go my way."
The American went onto equate the pair's rivalry to two of the giants of Major League Baseball.
"It's like comparing the New York Yankees and the Boston Red Socks. I mean, the Red Socks won a World Series in 1918; they didn't win again until, I think it was, 2004," Nakamura said.
"You know, the last couple years, I found a way to play well … I think the main thing is I don't fall apart against Magnus. In the past, I would've fallen apart very quickly."
Carlsen exits his final tournament as world champion with $15,000.
The Norwegian is choosing to relinquish his mantel as world champion this year after withdrawing from this month's World Chess Championship where he would have defended his title against world No. 2 Ian Nepomniachtchi.
He has said in the past he would give up title unless his challenger represented "the next generation" and cited Alireza Firouzja.
But Nepomniachtchi's victory at the 2022 Candidates Tournament triggered Carlsen to announce there would be a new world champion after a long reign at the top.