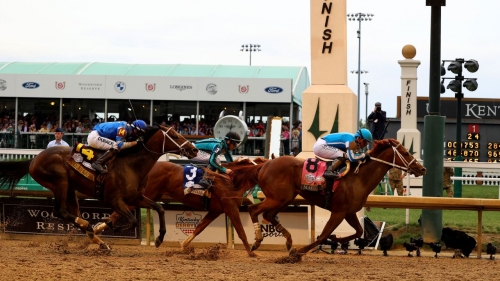 Mage (8), ridden by jockey Javier Castellano crosses the finish line to win the 149th running of the Kentucky Derby at Churchill Downs on May 6, 2023 in Louisville, Kentucky.
Sam Mallon/Getty Images

CNN
—
Mage won the 149th Kentucky Derby at Churchill Downs in Louisville, Kentucky, on Saturday.
The 3-year-old chestnut colt, trained by Gustavo Delgado, edged out Two Phil's, who crossed the line to finish in second place, and Angel of Empire finished third, in front of the over 150,000 fans in attendance.
Mage's win came after heavily favored Forte was scratched from the race earlier in the day after a Kentucky Horse Racing Commission veterinarian found the horse had a bruised right front foot, Churchill Downs said.
Forte had been listed as the 3-1 morning line favorite to win the first leg of the sport's Triple Crown. Forte was the fifth horse to be scratched from the race and so the number of horses in the main event dropped to 18. It is the first time since 1936 that five horses have been scratched from the Derby.
"I never give up, I always try hard," jockey Javier Castellano said. "It took me a little while to get there, to finally get it." The victory was the first at the Kentucky Derby for Castellano in 16 attempts.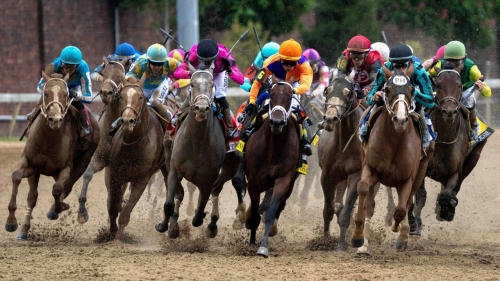 Mage, ridden by Javier Castellano, at left, trails into the the straight away off of the final turn.
Albert Cesare/USA Today/Reuters
Prior to the Kentucky Derby, Mage only had one victory in three career starts. On Saturday, he finished the "Greatest two minutes in Sports" with a time of 2:01.57.
Mage will now have a chance to continue the chase for the elusive Triple Crown at the Preakness Stakes in Maryland on May 20. The third leg is at the Belmont Stakes in New York on June 10.
Seven horses died in the lead up to Saturday's race

This year's Derby was marred by an unusually high number of horse deaths in days preceding the main event, and two more died in earlier races Saturday. In total, seven horses have died since April 27.
Chloe's Dream and Freezing Point both "sustained racing injuries from which they could not recover on Saturday, and for humane reasons, both were euthanized," according to Darren Rogers, senior director of communications and media services for Churchill Downs.
Chloe's Dream suffered a right knee fracture during Race 2 at the top of the first turn, Chuchhill Downs said in a news release Saturday night. Meanwhile, Freezing Point suffered a left front biaxial sesamoid fracture midway down the backstretch in Race 8, according to the release.
The company said each incident was "unique" and that the track surfaces are closely monitored by industry experts to maintain their integrity. Each horse that races at the track goes through "multiple, comprehensive veterinarian exams" and observations to ensure they are fit to race, the statement said.
Churchill Downs said it will "actively work" with the Kentucky Horseracing Commission and the Horseracing Integrity and Safety Authority to investigation each incident to find out "any health or environmental causes and supply what they learn to continue to improve the safety of the sport.
"We are proud of the enduring legacy of the Kentucky Derby and these magnificent horses are central to its iconic appeal," Churchill Downs said. "While we believe the incidents leading to this year's Derby are anomalies, they are unacceptable and we remain steadfast in our commitment to safety and integrity."
On Friday, racehorse trainer Saffie Joseph Jr. was suspended indefinitely by Churchill Downs following the "highly unusual" deaths of two of his horses, Parents Pride and Chasing Artie.
Three other horses – not trained by Joseph – also died in recent days. According to Churchill Downs, Wild on Ice, a Derby contender, was hurt while training on Thursday and Take Charge Briana was injured in a race on Tuesday. Both were "euthanized for humane reasons."
On April 29, 3-year-old gelding Code of Kings died after flipping and breaking his neck in Churchill's temporary paddock before a race, according to Daily Racing Form.
Animal rights organization PETA released a statement following the two deaths Saturday, saying, "Churchill Downs is a killing field. Freezing Point is the latest casualty. He's the second horse to die today at the track, making it an appalling seven deaths in advance of the Kentucky Derby. They should play 'Taps' at the Derby instead of 'My Old Kentucky Home.'"
Correction: A previous version of this story misstated the location of Churchill Downs. It is in Louisville.
CNN's Homero DeLaFuente contributed to this report.