Ja Morant injures his hand during the second half against the Los Angeles Lakers.
Justin Ford/Getty Images

CNN
—
The Los Angeles Lakers upset the Memphis Grizzlies in Game 1 of their first round NBA playoff series on Sunday behind a big evening for the team's "supporting cast."
Lakers' guard Austin Reeves had 23 points, including some important buckets at timely moments, while Rui Hachimura contributed 29 points off the bench in the 128-112 win.
However, the biggest talking point from the opening game came midway through the fourth quarter when Grizzlies guard Ja Morant left the game after suffering an injury to his right hand.
Morant had been playing with strapping on the hand from a previous injury, but after falling heavily on it with 5:48 remaining in the fourth quarter and the Grizzlies trailing by four points, the 23-year-old seemed in a great deal of pain as he ran off the court to the locker room.
"[It is] tough, man, especially with everything I've been through pretty much this season," Morant told reporters as he suggested he might not be fit for Game 2 on Wednesday.
"My main focus was to be out there for my guys. It's another incident where that's pretty much in jeopardy."
Earlier this season, Morant had been suspended for eight games without pay by the NBA for "conduct detrimental to the league" after the 23-year-old was seen in an Instagram Live video holding a gun at a nightclub outside Denver.
Morant said the pain in his hand was so bad he struggled to use it to get dressed in the locker room after the loss.
He had 18 points, 2 assists and 6 turnovers before he left the game in the fourth quarter. He reappeared to sit on the bench but didn't return to the game.
"At this point, I'm not even surprised with how my life's been going," Morant said. "I don't know, man. I'm just pretty much numb to everything now. It's like I'm not even surprised. It's one thing after another."
Deferential

The Lakers have always been known for their star players, but Sunday's victory was a case of their main men letting the role players taking the lead.
LeBron James had 21 points and 11 rebounds while Anthony Davis had 22 points and 12 rebounds, but when it came to the crunch moments in Memphis, they were happy to cede control to their teammates.
Reaves provided playmaking ability in important moments while Hachimura was a dynamic scoring threat off the bench.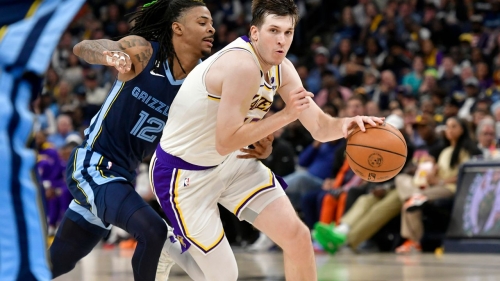 Reaves handles the ball against Morant.
Brandon Dill/AP
Reaves was in such a hot streak that he was heard exclaiming "I'm him" after another bucket.
And afterwards, James paid tribute to those role players' impact.
"It was our supporting cast that won us the game tonight," James told reporters.