close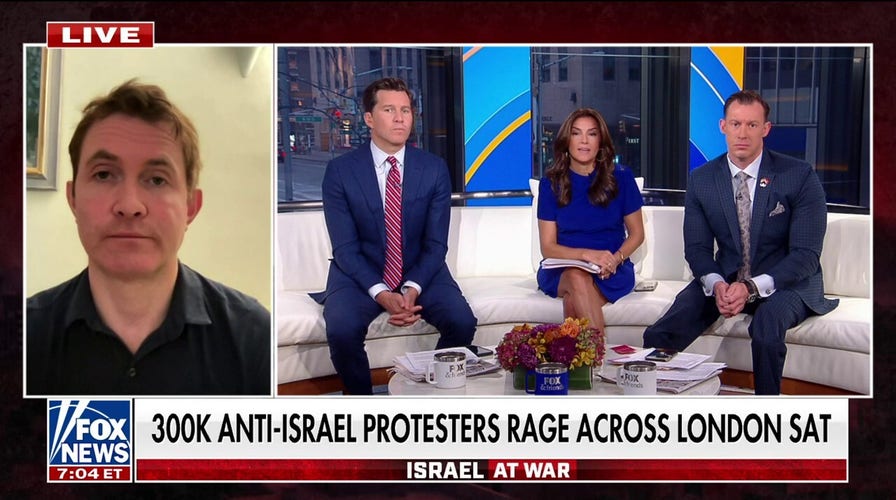 Video
Anti-Israel protests are a demonstration of 'incredible ignorance': Douglas Murray
FOX News contributor Douglas Murray joined 'Fox & Friends Weekend' to discuss his experience visiting the Hamas massacre site and the surge in anti-Israel protests.
British transportation police released images on Sunday while seeking to identify those involved in a "racially aggravated altercation" captured on camera at a London metro station while the city was swarmed by hundreds of thousands of anti-Israel demonstrators demanding a cease-fire in Gaza on Saturday.
The London Metropolitan Police had earlier said it was "aware of the videos filmed in Waterloo and Victoria stations yesterday which show unacceptable abuse including anti-Semitic language, as well as threatening behavior," adding that British Transport Police (BTP), which polices the transportation system including stations, was leading the investigations.
In releasing four images on Sunday, British Transport Police (BTP) said officers were looking to speak with the men depicted "following a racially aggravated altercation at Waterloo Station yesterday, 11 November." The message on X said police believe the individuals in the images "may have information that could help their investigation."
The four men were depicted in a video circulated online calling out "terrorists f—ers, mate," and "f—, you, you terrorist c—" and other remarks toward a group of pro-Palestinian demonstrators inside the Waterloo station. Appearing to have come in contact with someone off camera, one of the men yelled, "who are you f—ing hitting?" and appeared to go after the other group before a friend intervened and pulled him away. Someone calls out to them, "You're disrespectful to all the dead."
"F—, off, we were born in this country! We were f—ing born in this country" one of the men whose photo was released calls out. The person recording on a cell phone says from behind the camera, "I was born here too," before a female voice comes over the loudspeaker asking if police are in the station.
POLAND SEES MASSIVE NATIONALIST MARCH HONORING 'GOD, FAMILY AND FATHERLAND' AFTER GLOBALIST ELECTION RESULTS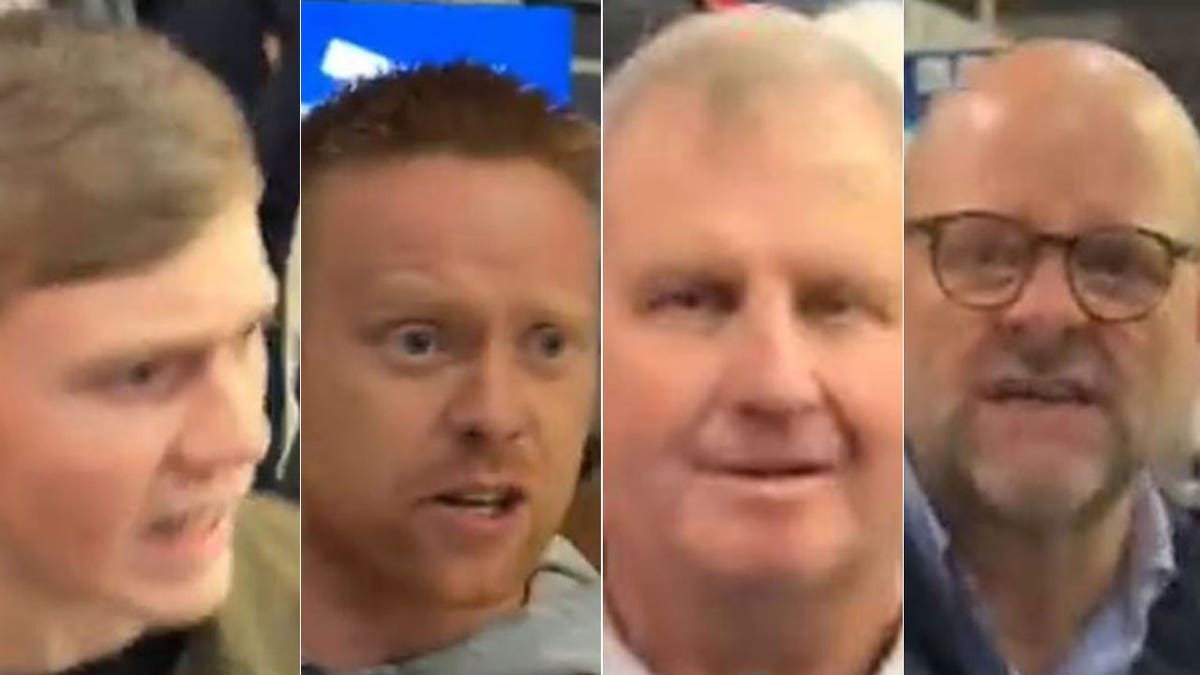 British Transport Police are seeking four men who confronted anti-Israel demonstrators at Waterloo metro station in London, deeming the incident a "racially aggravated altercation."  (British Transport Police)
"You care about this country but you're causing a f—ing riot?" the person filming taunts one man.
"You are causing a riot mate," the man shouts back before turning and walking away.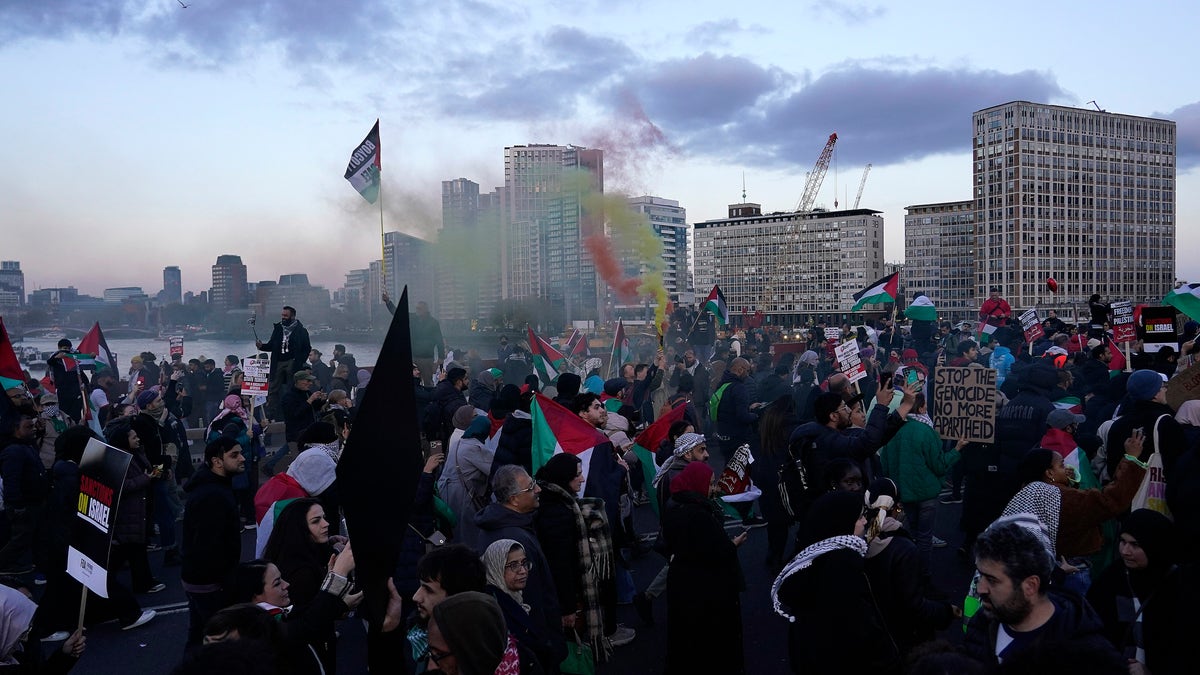 Protesters walk across Vauxhall Bridge during a pro-Palestinian protest in London, Saturday, Nov. 11, 2023.  (AP Photo/Alberto Pezzali)
The demonstrations and counter-protests came the same weekend Britain honors its war dead with Armistice Day and Remembrance Day.
British Transportation Police on Sunday also released a photo of a woman following an "anti-semitic hate crime at Victoria Station" Saturday, asking the public, "Do you recognise this woman?" That woman was seen in a video circulating online calling out "Killers. Death to the Jews."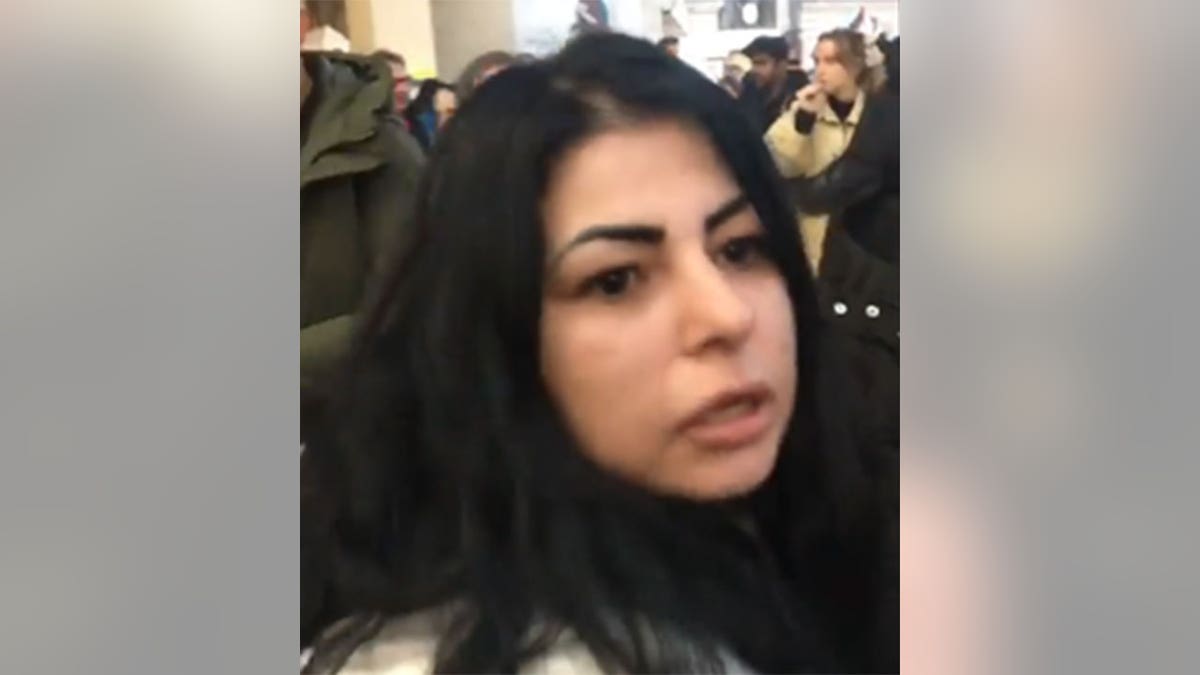 Woman accused of anti-Semitism in London metropolitan station.  (British Transport Police)
Another video shared on social media showed a man, standing several feet away in a London metro station, waving to a woman wearing a hijab and calling out "you're a terrorist lover" and "go away." Journalist Lorraine King, however, claimed in the caption shared on X that her "Muslim friend was accosted by this 'charming' man at Charing Cross Station who she said told her 'to go back home', before calling her a 'rat' and a 'terrorist.'"
"She's a vulnerable hijab wearing woman and I'm very upset about this," King wrote to her 23,900 followers. "I can't believe this is England 2023."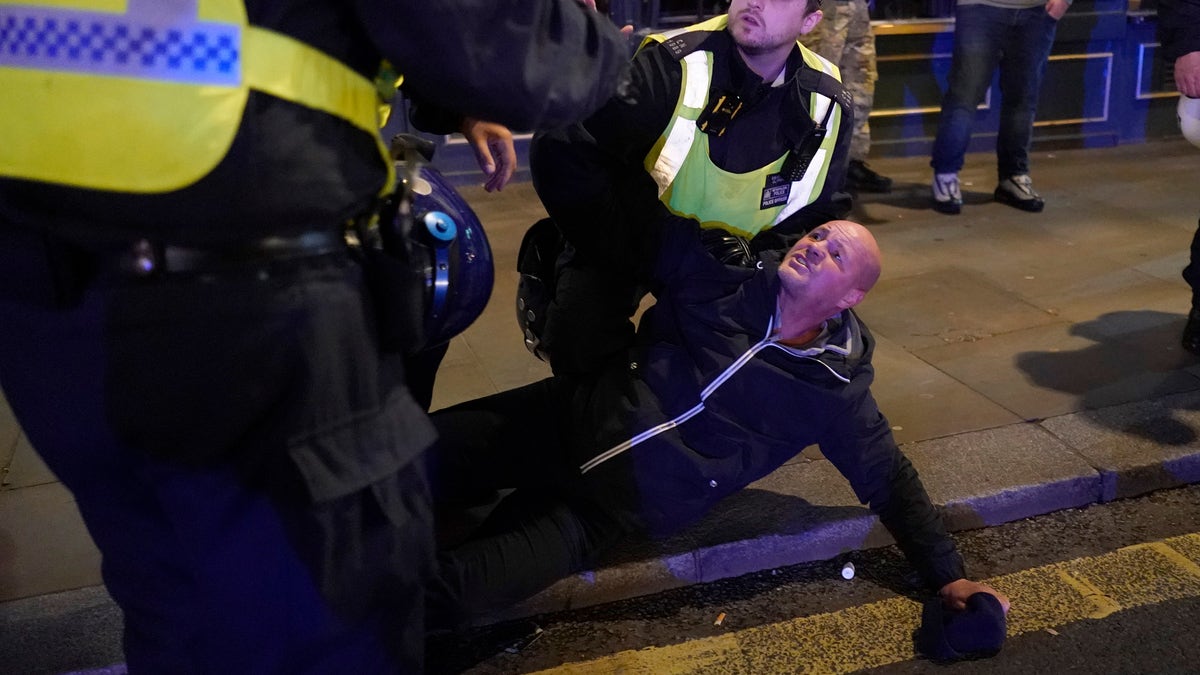 A counter-protester is arrested by police in London, Saturday, Nov. 11, 2023, after a pro-Palestinian protest march from Hyde Park to the US embassy in Vauxhall.  (AP Photo/Alberto Pezzali)
BTP announced an arrest in connection to that incident Sunday.
LEFT-WING ACTIVIST 'SHOCKED' IN VIRAL VIDEO AFTER FAILING TO RECRUIT PRO-PALESTINIAN MUSLIM SUPPORT FOR LGBTQ
"Detectives have arrested a man in his 40s for racially aggravated public order offences in connection with this incident – he is currently in police custody," the agency wrote on X.
BTP also said officers intervened in the Victoria station incident to prevent the situation from escalating and "disrupting the traveling public."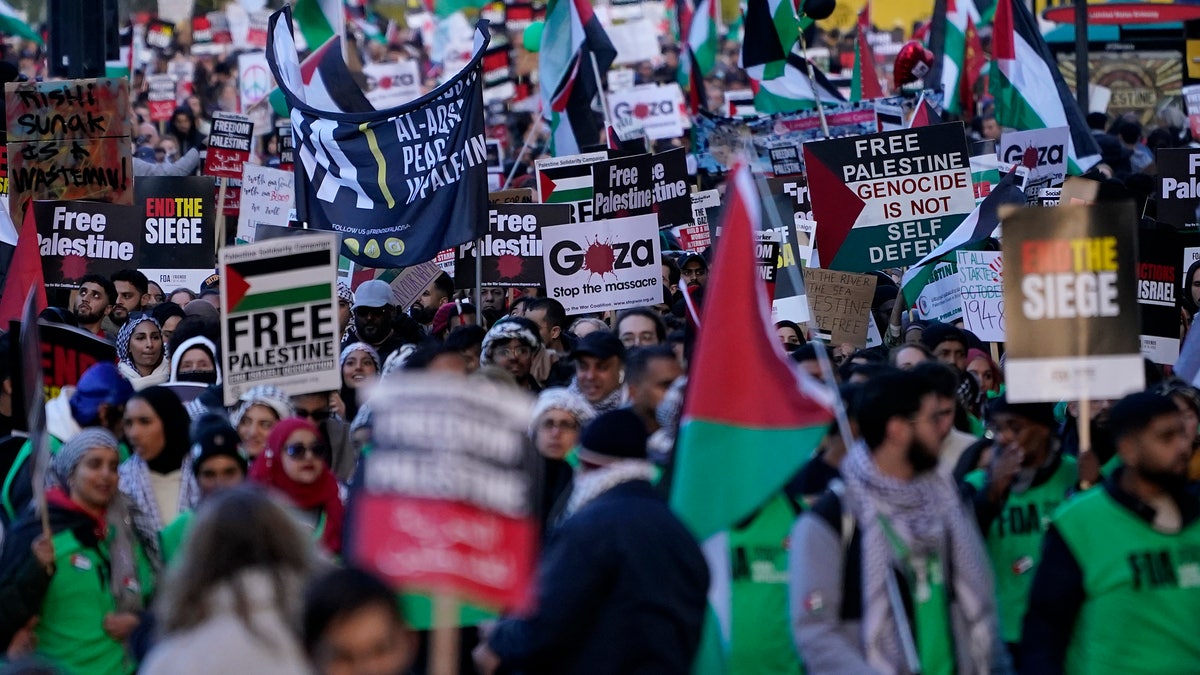 Protesters hold placards during a pro-Palestinian protest in London, Saturday, Nov. 11, 2023. London police have stepped up efforts to ensure a pro-Palestinian march on Saturday remains peaceful on the weekend Britain honors its war dead. (AP Photo/Alberto Pezzali)
After an estimated 300,000 anti-Israel demonstrators took to the streets of London on Saturday demanding a cease-fire in Gaza, London Metropolitan Police Assistant Commissioner Matt Twist issued a statement, saying "The extreme violence from the right-wing protesters toward the police today was extraordinary and deeply concerning." Twist claimed who he deemed right-wing protesters arrived early, stating they were there to protect monuments, but some were already intoxicated and "clearly looking for confrontation."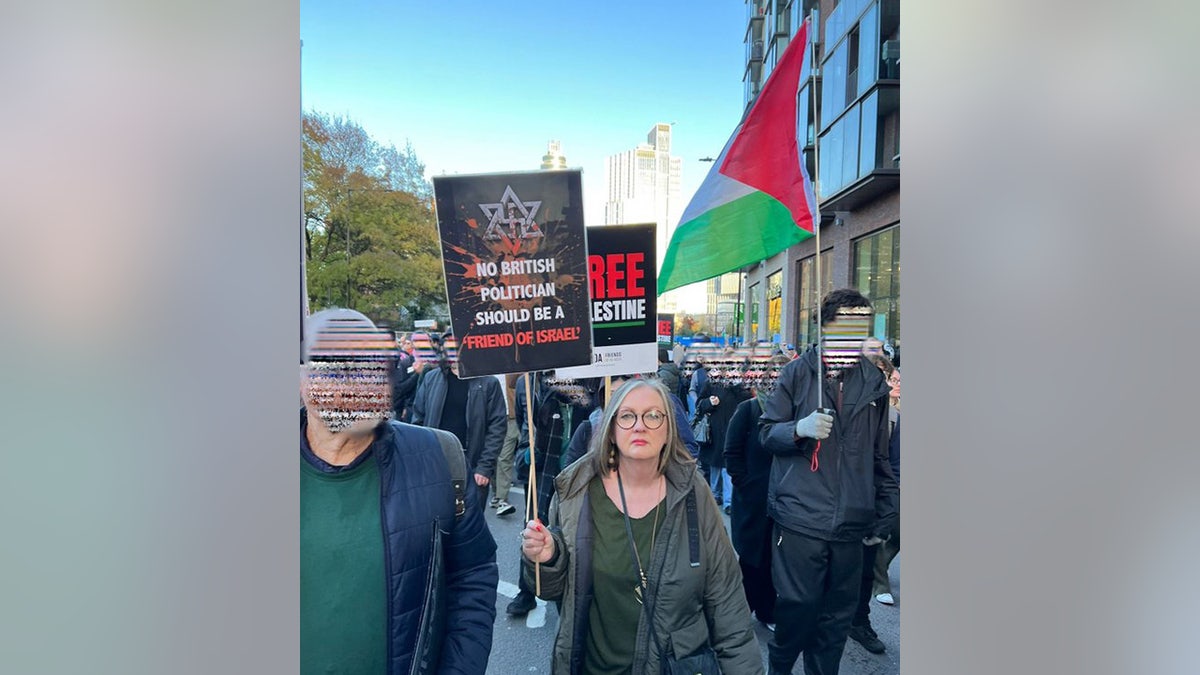 An anti-Israel protester marches in London Saturday for Palestine.  (London Metro Police)
Categorizing the group as "largely football hooligans from across the UK," Twist claimed they called out to officers, "You're not English anymore," and attacked or threatened cops preventing them from being able to confront the main pro-Palestinian march. Police said searches of these individuals found weapons, including a knife, baton and knuckledusters, as well as Class A drugs. Nine officers were injured during the day, including two requiring hospital treatment with a fractured elbow and a suspected dislocated hip.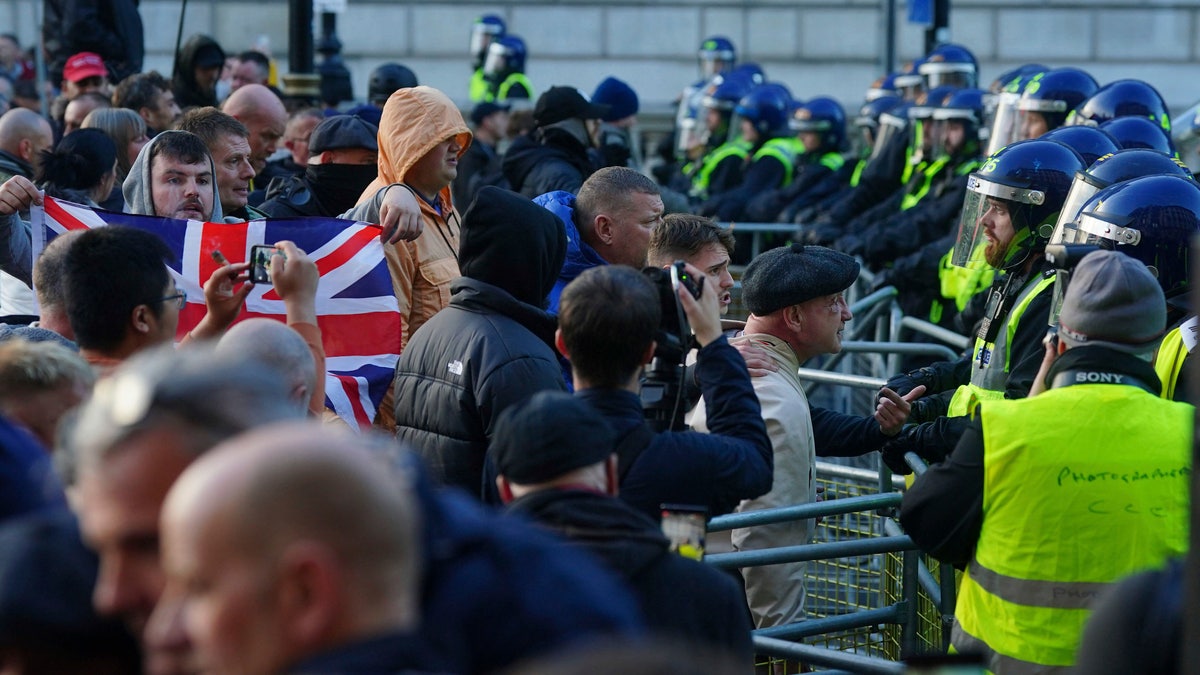 Counter-protesters and police line up in Parliament Square, during a pro-Palestinian protest march which is taking place from Hyde Park to the US embassy in Vauxhall, in London, Saturday, Nov. 11, 2023.  (Victoria Jones/PA via AP)
Twist charged that "while the Palestinian Solidarity Campaign (PSC) march did not see the sort of physical violence carried out by the right wing, we know that for London's Jewish communities whose fears and concerns we absolutely recognize, the impact of hate crime and in particular anti-Semitic offenses is just as significant."
CLICK HERE TO GET THE FOX NEWS APP
More than 126 people were arrested, as London police released images of others in the crowd they claim to be actively investigating.
That includes one demonstrator, a woman, seen holding a placard reading, "No British politician should be a friend of Israel."
Danielle Wallace is a reporter for Fox News Digital covering politics, crime, police and more. Story tips can be sent to [email protected] and on Twitter: @danimwallace.