Two ex-players who represented England in the 1971 women's World Cup have voiced their support for the Lionesses.
Chris Lockwood, from Silsoe, Bedfordshire, and Gill Sayell, from Milton Keynes, played in front of 90,000 fans in Mexico City.
The Women's Football Association was still in the process of creating an official England team and banned the then teenagers on their return.
Ms Sayell said: "If the England team of now played us they'd thrash us."
The so-called "lost Lionesses" told the BBC Sport podcast Girls Do Sweat that they met the current official England team before they won last year's Euros.
The national side received a presentation from the former players to understand their story and the history of women's football.
Ms Lockwood said they felt like "kin" with the young players, although "it was a bit weird when they asked for our autographs".
BBC Sounds: Chris Lockwood and Gill Sayell speak to the Girls Do Sweat podcast
How the 14-strong squad were reunited by the BBC in 2019
In 1971, the two women travelled to Mexico alongside their team-mates to play the international tournament.
At the time, a 50-year FA ban on women's football had only just been lifted.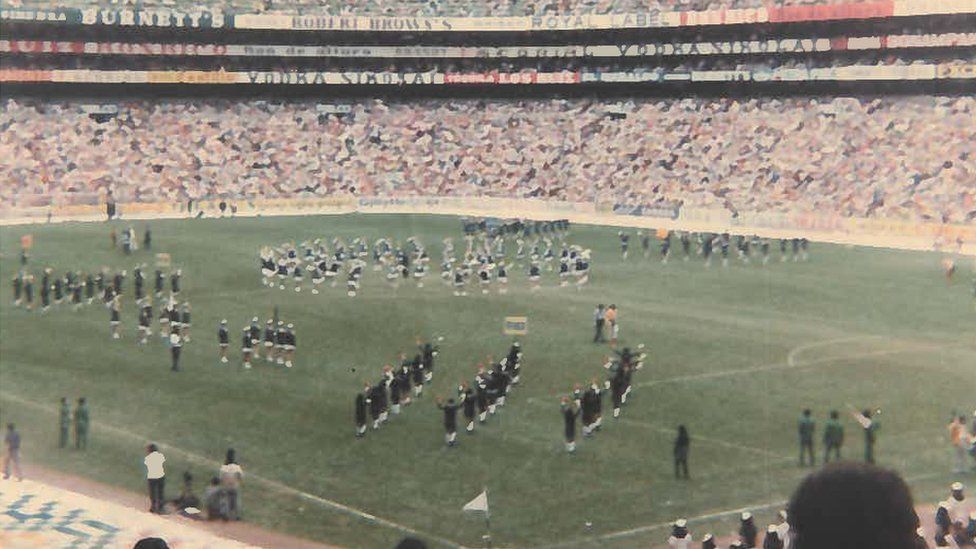 Image source, Gill SayellImage caption, Thousands of football fans watched the 1971 opening ceremony
The former Lionesses said they wore male kits, boots and played with a tough leather ball, just like the men's team.
When the 14-strong squad of mostly teenagers stepped off the plane in Mexico, they were greeted by huge crowds of excited fans and press.
Ms Lockwood said she thought there was somebody else famous on the plane and did not expect the welcome was intended for them.
"It was unbelievable because we had only played on a little pitch," she said, reflecting on the police escorts and demand for autographs.
The 90,000-strong crowd that watched them play at Azteca Stadium is still a record crowd for an English women's team.
Only six countries took part in the tournament, with England's final game being a fifth place play-off against France, which they lost.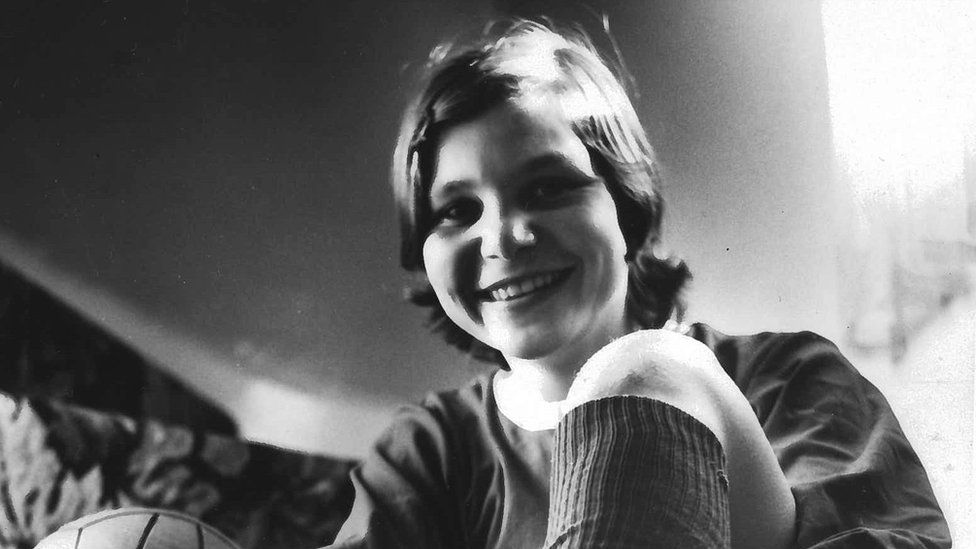 Image source, Gill SayellImage caption, Gill Sayell, then aged 14, went on to play for Arsenal Ladies
The two women did not speak about their achievements in Mexico's capital for many years because they felt like they "had been put on the naughty step".
"My daughter didn't know and she's 36 now," said Ms Sayell.
Both women are proud to see that today women's football is held in higher regard than it was in the 1970s, when it was often joked about.
"It's so great to see families, young girls, walking around in football kits. I was the only one wearing a football kit while all my friends went to discos," she added.
The former 14-year-old football star said it was nice to be in public and overhear men talking about the women's World Cup, without jokes or sexist comments.
"Men are sitting there, having a drink, talking about the women's game – that never would've happened."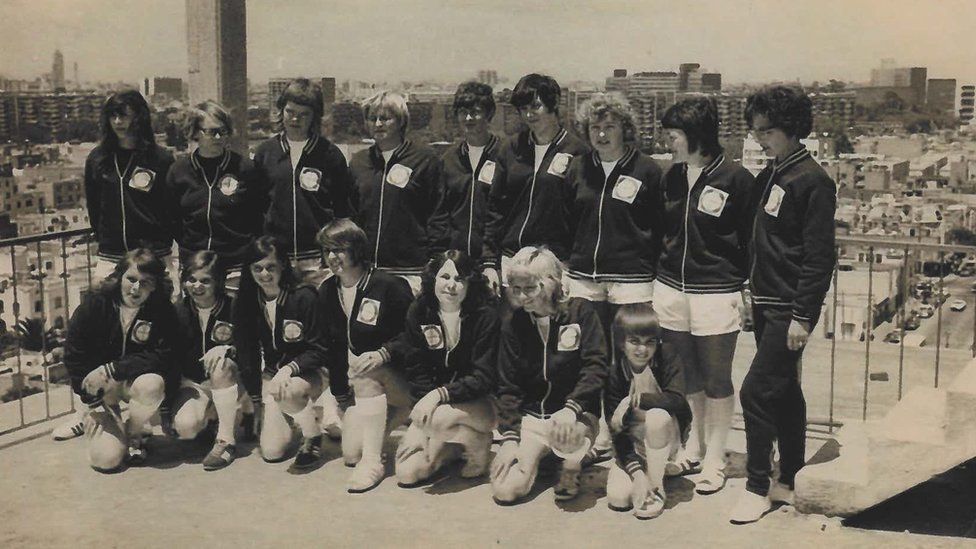 Image source, Gill SayellImage caption, During the 1971 tournament, a 50-year FA ban on women's football had only just been lifted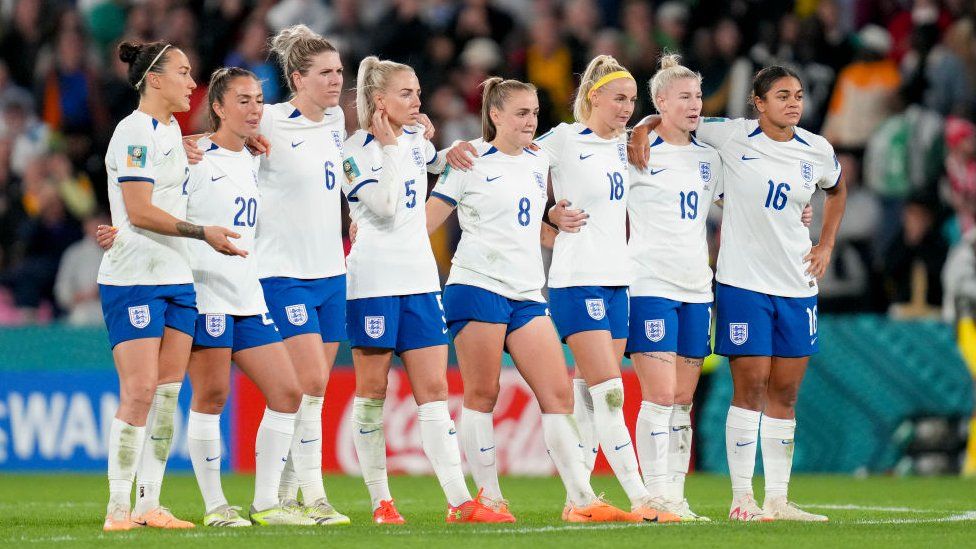 Image source, Getty ImagesImage caption, The current England players will take on Colombia in a quarter-final match this weekend
Looking ahead to the remainder of the 2023 World Cup, the two former players have high hopes for the Lionesses.
"They're obviously getting better every game. Little bit shaky in the first couple," said Ms Sayell.
Ms Lockwood, who said she was tearful watching the Euros final, admired the strong competition this year.
"I think Japan are very good, and Colombia I thought. There have been a lot of underdogs and it's thrown it wide open – it's not a four horse race, basically."
However, the women remained hopeful. "We are getting stronger every game so we will get there," said Ms Sayell.

Find BBC News: East of England on Facebook and Instagram. If you have a story suggestion email [email protected] or get in touch via WhatsApp on 0800 169 1830