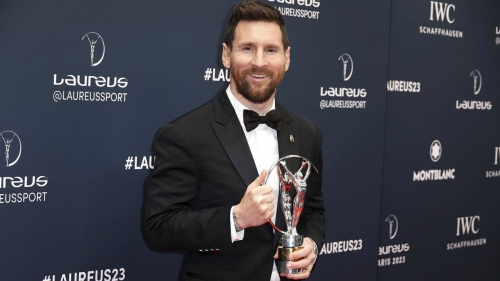 Lionel Messi on the red carpet during the Laureus World Sports Awards in Paris on May 8.
JP Pariente/SIPA/AP

CNN
—
He may have won almost everything there is to win in the game, but Lionel Messi says he'll keep playing as long as he's still enjoying his career.
The seven-time Ballon d'Or winner spoke to Laureus co-host and CNN Sport anchor Amanda Davies after being named World Sportsman of the Year at the 2023 Laureus World Sports Awards on Monday.
It's the second time Messi has won the award and he remains the only soccer player in history to be named Sportsman of the Year.
"Football is something that I have loved and enjoyed since I was a child," the 35-year-old told Davies when asked what else he wants from his career.
"I love playing it and I love everyday life. It was my whole life to be able to enjoy what I like and I'm just looking for that: to keep enjoying, to keep playing, which is what always made me happy.
"As long as that's the case, I'll keep doing it."
Messi also accepted the Team of the Year award on behalf of Argentina on Monday, following the side's epic World Cup victory last year.
After a disappointing loss against Saudi Arabia in Argentina's opening game, Messi was in mesmerizing form throughout the rest of the tournament in Qatar and scored two goals in arguably the greatest World Cup final in history.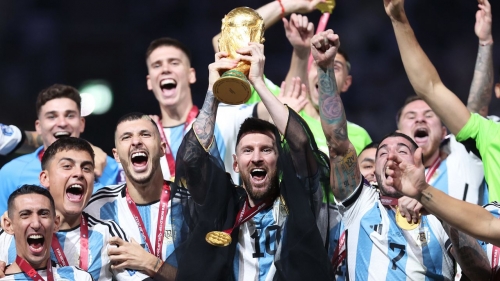 Messi lifts the World Cup trophy in December 2022.
Julian Finney/Getty Images
Despite Argentina dominating the game for large periods, France's Kylian Mbappé inspired a comeback with the game eventually being decided by a penalty shootout.
"The truth is that we had a lot of confidence in ourselves before the World Cup," Messi said, adding that the current national team has something "special."
"Although it started difficult because of the first defeat, we never stopped believing, dreaming, and when we were in that final, we were very confident that we were going to win.
"In fact, we had 80 minutes being much better than France, and in 10 minutes, the game was complicated for us.
"The whole team never fell down, it responded again, and that's because of the strength and mentality that the group had in that World Cup."
The World Cup was the only trophy that had eluded Messi up until that point and winning it further cemented himself as arguably the greatest player in history.
"It's a very special moment in my career, in my life, and there's always a time to remember that moment of that World Cup which we enjoyed a lot for a month," Messi said.
"There are always nice memories left and it's going to be for life."
Messi on being the GOAT

But Messi, who had previously retired from international football in 2016 before "luckily" reversing his decision, says being regarded as the greatest ever has never been important to him personally.
"It wasn't a thought I had throughout my career either, nor was I looking for that," he said.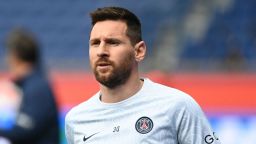 Paris Saint-Germain's Argentine forward Lionel Messi looks on as he warms up prior to the French L1 football match between Paris Saint-Germain (PSG) and FC Lorient at The Parc des Princes Stadium in Paris on April 30, 2023. (Photo by Alain JOCARD / AFP) (Photo by ALAIN JOCARD/AFP via Getty Images)
Alain Jocard/AFP/Getty Images
Lionel Messi apologizes to Paris Saint-Germain and teammates following unauthorized trip to Saudi Arabia
"I never played soccer for that. But obviously, I am grateful that people think that way."
Since the World Cup, Messi has struggled to find the form that inspired his country to victory and has seemingly fallen out with current club Paris Saint-Germain.
He was recently suspended by PSG for two weeks after leaving France to attend promotional events in Saudi Arabia; the unauthorized trip meant he missed a training session.
"I'd already had this trip planned, which I'd canceled previously, and this one I couldn't cancel," Messi, who has started training again with the team, said in an Instagram story last week.
"To repeat, I want to apologize for what I did and I await what the club decides."
Messi's future

There have been growing reports of the apparent breakdown of Messi's relationship with PSG – something highlighted by fans booing the Argentine during a match in March.
His current contract with the French capital's premier football club expires on June 30 and there were rumors Tuesday that the Argentine had agreed to leave PSG and join a club in Saudi Arabia.
However, Messi's representatives told CNN that such reports were false and that he would not make a decision on his future until the Ligue 1 season is over.
Wherever the Argentine superstar ends up though, it is sure that the eyes of the world will follow.