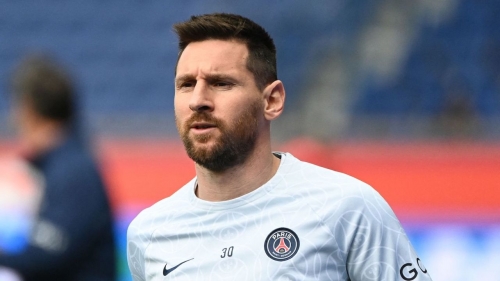 Lionel Messi has apologized to his club and teammates after taking an unauthorized trip to Saudi Arabia.
Alain Jocard/AFP/Getty Images

CNN
—
Lionel Messi apologized to Paris Saint-Germain and his teammates on Friday after taking an unauthorized trip to Saudi Arabia and missing training earlier in the week.
"I wanted to make this video after everything that's been happening," Argentina's World Cup-winning captain said in an Instagram story. "First of all, I want to apologize to my teammates and the club.
"I sincerely thought we would have a free day after the match [against Lorient], as had happened in previous weeks."
Messi was suspended by PSG for two weeks after leaving France to attend promotional events following its 3-1 defeat to Lorient at the Parc de Princes on Sunday.
The 35-year-old's trip to Saudi Arabia meant he missed the team's Monday training.
"I'd already had this trip planned, which I'd canceled previously, and this one I couldn't cancel," the seven-time Ballon d'Or winner continued. "To repeat, I want to apologize for what I did and I await what the club decides."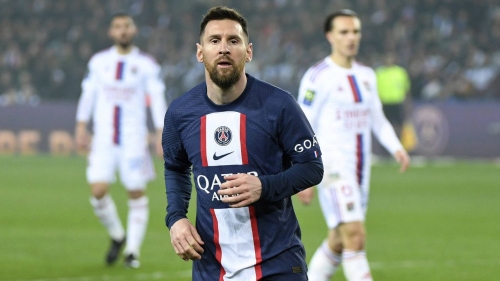 Messi has struggled to make an impact at PSG and is reportedly set to leave in the summer.
Lionel Urman/Sipa/AP
Along with undated pictures of Messi relaxing with his family in the Gulf state, Ahmed Al Khateeb, the Minister of Tourism for Saudi Arabia, tweeted Monday: "I am happy to welcome #Messi and his family to Saudi to enjoy the magical tourist destinations and authentic experiences.
"We welcome visitors from all around the world to experience a unique trip to Saudi Arabia and its hospitality."
Messi himself posted a promotion for Saudi tourism on his Instagram six days ago: "Who thought Saudi has so much green? I love to explore its unexpected wonders whenever I can. #visitsaudi."
In his scheduled press conference on Friday, PSG head coach Christophe Galtier called for greater openness among his squad of players in order to achieve their season's goal.
"We need to be united, to talk to each other, to avoid letting things go unsaid and to speak freely so that everyone can express themselves with a bit more freedom and so that everyone can perform with one aim: to be crowned champions at the end of the season," Galtier said.
PSG faces Troyes and Ajaccio over the next two weeks.
Messi's contract with the French capital's premier football club expires on June 30, and his trip to Saudi Arabia comes amid multiple reports that the 35-year-old won't stay at the Parisian club.