Former Chicago Mayor Lori Lightfoot says she has no plans on leaving the Windy City in the wake of her departure from public office.
"I have no intention to leave Chicago. My daughter is a rising sophomore in high school and I want to make sure that I am here and present for her in these most critical years. I think I owe it to my wife to be physically present and take on a greater share of the parenting and household responsibility," Lightfoot told WGN-TV's Paul Lisnek Sunday when asked if she would leave the city for a political appointment.
"Plus, I love the city. I'm not going anywhere."
Lightfoot lost her re-election bid back in February, setting the stage for a run-off between two other candidates, with Brandon Johnson ultimately clinching the victory and assuming office in May. Voters cited public safety and crime issues as their top concerns leading up to the election, followed by other issues such as the economy, education and homeless issues.
CHICAGO'S LORI LIGHTFOOT SLAMMED OVER CRIME PIVOT FOLLOWING OUSTING: 'TOO LITTLE TOO LATE'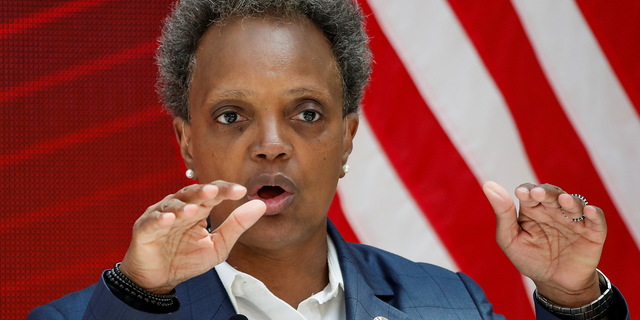 Former Chicago Mayor Lori Lightfoot speaks during a science initiative event at the University of Chicago in Chicago July 23, 2020. (REUTERS/Kamil Krzaczynski)
Under Lightfoot's tenure, Chicago was rocked by crime – similar to other cities across the nation in 2020 following the murder of George Floyd and when pandemic restrictions upended day-to-day life. In 2021, Chicago recorded more than 800 homicides, the most the city had on the books since 1996, while simultaneously dealing with other crimes such as smash-and-grab robberies, carjackings and illegal street racing.
OUSTED CHICAGO MAYOR LORI LIGHTFOOT URGES DEMS TO 'SPEAK THE TRUTH' ON VIOLENT CRIME AMID SPIKE
Chicago recorded 2,784 homicides and a total of 14,681 shooting incidents, according to police data from under Lightfoot's tenure from May 2019 to May 2023. The number of homicides and shooting incidents during Lightfoot's administration notched a 9% increase from the 2,546 homicides and 13,421 shootings that took place during her predecessor, Mayor Rahm Emanuel's, final term in office.
Lightfoot said during the interview that "voters were choosing between two polar opposites" and lamented that "a lot of the gains that we had made are starting to disappear."
BRANDON JOHNSON WINS CHICAGO MAYORAL CONTEST, REPLACING FORMER MAYOR LORI LIGHTFOOT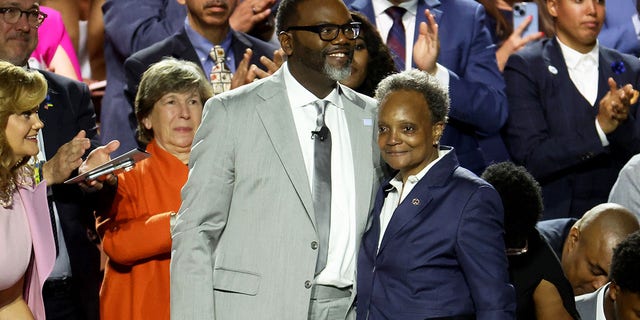 Brandon Johnson stands with then-Mayor Lori Lightfoot before he is sworn in as Chicago mayor on May 15, 2023, at the University of Illinois at Chicago. (Brian Cassella/Chicago Tribune/Tribune News Service via Getty Images)
"On crime, you live in a city, I live in a city. People are still very concerned and very fearful. And unfortunately, a lot of the gains that we had made are starting to disappear over the course of time. I think fundamentally, we still have to focus on a couple of things. You've got to deal with the immediate problem of, in my view, still too many violent, dangerous habitual offenders walking the street," Lightfoot said when asked about Johnson's initiatives to open more mental health facilities and work programs in a bid to combat crime.
LORI LIGHTFOOT TORPEDOED AFTER LOSING RE-ELECTION BID: 'GOOD RIDDANCE!'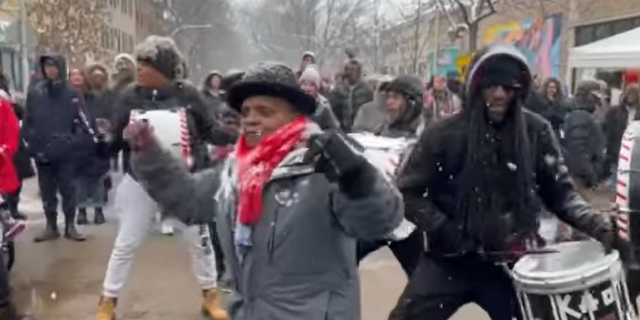 Chicago Mayor Lori Lightfoot dances in the street during a Lunar New Year Parade. (Lori Lightfoot/Facebook)
"That really lies squarely in my view, at the feet of the court, that the courts have to take into consideration, community safety in making pretrial release decisions. I was a broken record on that. I will always be a broken record on that," Lightfoot continued.
CLICK HERE TO GET THE FOX NEWS APP
The former mayor will serve as a senior leadership fellow at Harvard's T.H. Chan School of Public Health during the fall semester, where she will teach a course tentatively titled, "Health Policy and Leadership."