Liberal cities and states are continuing to sound the alarm over a surge of migrants into their jurisdictions. Some are going so far as to call on the federal government to declare a state of emergency, while maintaining welcoming rhetoric to all who come across the border.
Massachusetts Gov. Maura Healey last week declared a state of emergency "due to rapid and unabating increases in the number of families with children and pregnant people – many of them newly arriving migrants and refugees – living within the state but without the means to secure safe shelter in our communities."
The state currently has more than 20,000 families in its state shelter system and costs are around $45 million a month, her office said.
MASSACHUSETTS GOV DECLARES STATE OF EMERGENCY DUE TO SURGE OF MIGRANTS; CALL FOR FEDERAL ACTION
Massachusetts had first encountered migrant-related controversy last year when Florida Gov. Ron DeSantis sent migrants to liberal holiday destination Martha's Vineyard, sparking outrage from liberals, and counter-accusations of hypocrisy from conservatives when they were promptly bussed off the island.
In her letter to the Department of Homeland Security appealing for help, including expedited work authorizations for migrants, comprehensive immigration reform and additional financial assistance for the state, Healey noted that migrants were drawn to Massachusetts due to its liberal policies.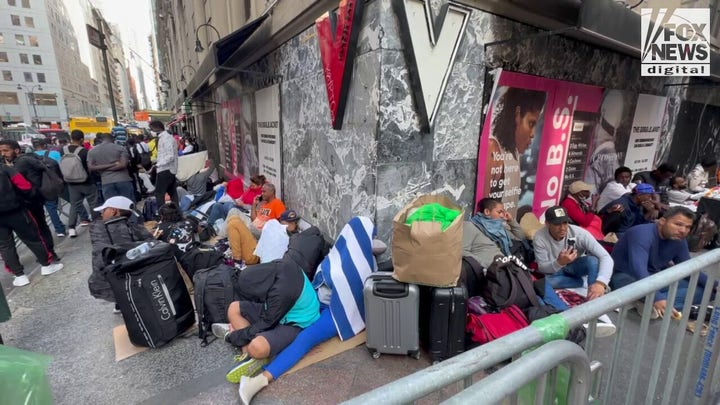 Video
"Many of these families are migrants to Massachusetts, drawn here because we are and proudly have been a beacon to those in need," she wrote in a letter to DHS Secretary Alejandro Mayorkas.
Since then, officials have called for residents to "consider hosting a family" in an extra room or suite in their home.
NYC MAYOR ADAMS SLAMS 'RIGHT TO SHELTER,' SAYS MIGRANT CRISIS 'NOT SUSTAINABLE' AFTER TOUTING SANCTUARY STATUS
Later in the week, New York City Mayor Eric Adams backed Healey, and issued his own dire warnings of the impact that the nearly 100,000 migrants who have hit the city since 2022 is having. He estimated it will cost the city $12 billion by 2025 if things do not change.
"We are also asking the federal government to declare a state of emergency. Additionally, the federal government needs to provide more funding to match the reality of the cost on the ground," he said. "Finally, we need the federal government to lead a decompression strategy at the border so cities and states across the nation can do their part to shelter asylum seekers."
He later suggested that the crisis could "decimate" the city if nothing was done, and noted the plight of other liberal cities that were facing similar migrant waves.
"New York City is the economic engine of this entire state and country. If you decimate this city, you're going to decimate the foundation of what's happening. Look at Chicago, Los Angeles, Houston, and now hear the governor of Massachusetts," he said.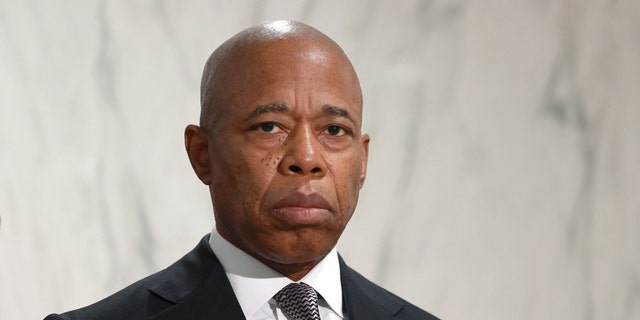 Mayor Eric Adams during briefing at the Javits Federal Building, New York City, April 17, 2023. (Luiz C. Ribeiro/New York Daily News/Tribune News Service via Getty Images)
He has also remained firm on the city's welcoming attitude to foreign nationals, noting that many Americans can trace their heritage to immigrants who came in via Ellis Island.
"This is the magic of this city. People of all backgrounds living together in one place. New York City remains a beacon for all who come to our shores," he said.
Both New York City and the state of New York have sought federal aid over the wave of migrants coming in, some by their own means and others being bussed in from Texas, which launched an effort in 2022 to send migrants to "sanctuary" cities to help relieve the burden on the Lone Star State.
"This is a hurricane hitting New York City and New York state," Gov. Kathy Hochul said in May.
DENVER MAYOR DECLARES STATE OF EMERGENCY AFTER ARRIVAL OF MIGRANTS FROM SOUTHERN BORDER: 'AN IMMENSE STRAIN'
Lawmakers at the border have bristled at some of the requests for funding, noting that the numbers of migrants reaching those cities is dwarfed by the hundreds of thousands hitting border states each month since the crisis began in 2021.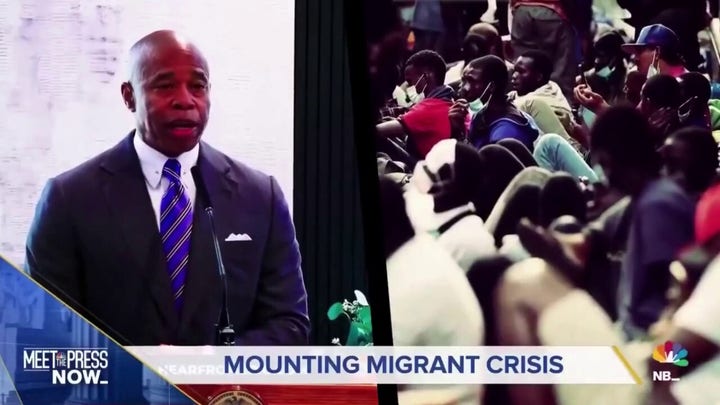 Video
In Chicago, then-Mayor Lori Lightfoot declared a state of emergency in May and said the city's resources are "now stretched to the breaking point." That has also caused consternation among the city's residents, with some complaining of the disruptive behaviors of those in shelters, as well as plans to move migrants into a community gym.
Earlier this year, the city of Denver placed a two-week limit on shelter stays as it faced a surge of migrants over the winter – with Colorado's governor clashing with the mayors of Chicago and New York over since-ended moves to bus migrants to them.
"These actions do not live up to the values of a proclaimed welcoming state and should stop immediately," Mayors Adams and Lightfoot wrote.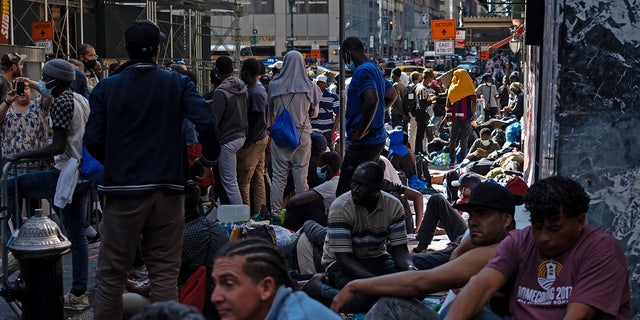 Migrants gather outside the Roosevelt Hotel, where dozens of recently arrived migrants have been camping out as they try to secure temporary housing on Aug. 2, 2023, in New York City. (Alexi Rosenfeld/Getty Images)
Gov. Jared Polis' office had defended the buses, saying that about 70% of migrants arriving in Denver did not have Colorado as a final destination. As a result, the state said it was working with nonprofits to "provide intake, processing, and transportation coordination to help migrants safely reach their desired final destination."
"People fleeing violence and oppression in search of a better life for themselves and their families deserve our respect, not political games, and we are grateful we have been able to assist migrants to reach their final destination," Polis said in a statement.
CLICK HERE TO GET THE FOX NEWS APP
Most recently, California officials objected to moves by Florida Gov. Ron DeSantis to fly migrants into the sanctuary state — accusing the state of kidnapping and exploiting migrants.
The accusations, however, were shrugged off by DeSantis, who said it was right that liberal cities bore the brunt of the crisis.
"I don't think we should have any of this. But if there's a policy to have an open border then I think the sanctuary jurisdictions should be the ones that have to bear that," he said. "We're not a sanctuary in Florida."