close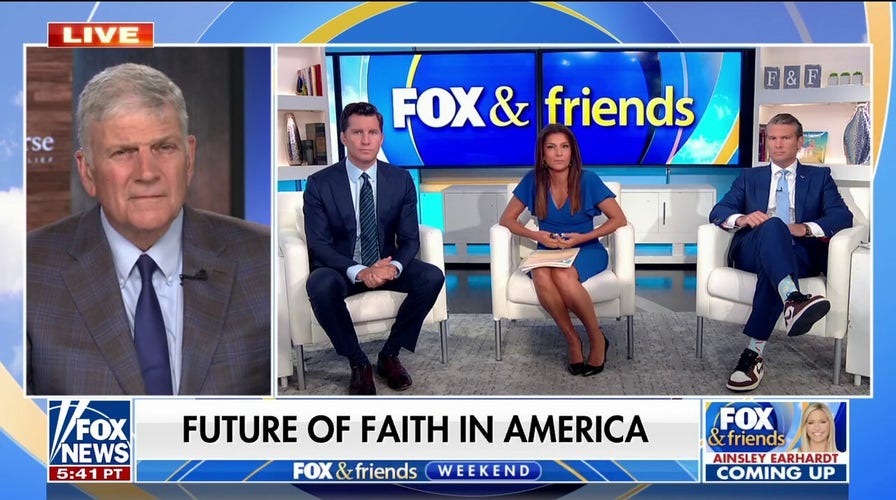 Video
Christian faith in America has 'never' been at a lower point: Rev. Franklin Graham
Samaritan's Purse President Rev. Franklin Graham weighs in on a new study that suggests Americans are rapidly losing religious faith on 'Fox & Friends Weekend.'
A lawyer representing multiple congregations facing legal hurdles in their attempts to leave the largest mainline Methodist denomination in the U.S. said the battles are ultimately financial.
"It's power, and it's money," attorney Dan Dalton told Fox News Digital.
The United Methodist Church (UMC) has been fracturing in recent years as more than 2,000 churches have disaffiliated from the UMC since 2019, when the General Conference voted 438-384 to uphold the church's ban on ordaining LGBTQ clergy and officiating at or hosting same-sex marriages.
The General Conference that year also approved Paragraph 2553 of the Book of Discipline, a church law that allows UMC churches to leave with their church buildings and property if they obtain the approval of two-thirds of their congregation and their regional governing body.
Churches wishing to leave are also expected to pay their share of clergy pension liabilities and two years of "apportionments" for the larger denomination.
METHODIST LEADERS SAY 'REBELLION AND DYSFUNCTION' OVER LGBT ISSUES SPLITTING DENOMINATION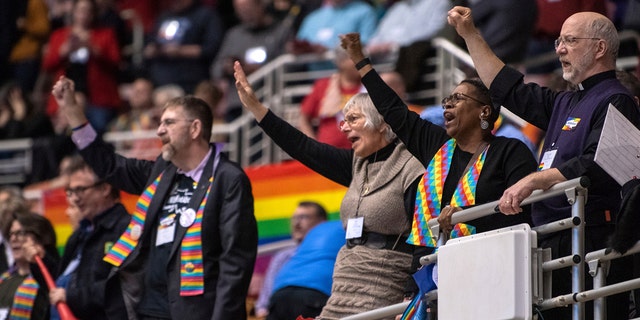 Protesters chant during the United Methodist Church's special session of the General Conference in St. Louis, Missouri, on Feb. 26, 2019. 
(AP Photo/Sid Hastings)
Several traditionalist members of the Methodist clergy told Fox News Digital in June that conservative churches are splitting off as liberal leaders within the UMC have simply chosen to disregard the 2019 vote by commissioning gay clergy and officiating same-sex weddings anyway.
Multiple conferences have paused the disaffiliation process until next year, by which time the disaffiliation clause in the Book of Discipline will have expired and the rules for leaving subject to change.
The North Georgia Conference, which a megachurch agreed to pay $13.1 million to split from last June, recently cited "misinformation" for its decision to temporarily halt any further disaffiliation efforts until the next General Conference in April 2024, according to a Dec. 28 email sent to member churches.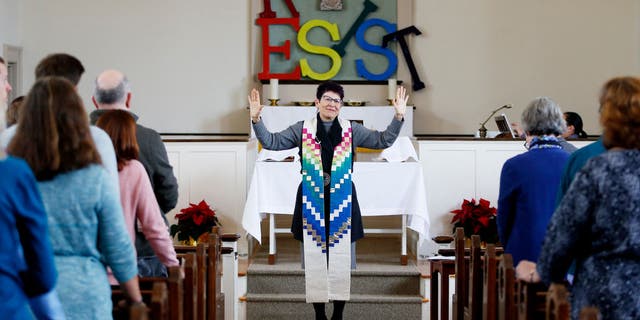 Rev. Cynthia Good, pastor at Calvary United Methodist Church in Arlington, Massachusetts, speaks to her church during Sunday services on Jan. 5, 2020.
(Jessica Rinaldi/The Boston Globe via Getty Images)
The split has grown contentious and spilled over into the courts, with churches such as the historic First United Methodist Church (FUMC) in Jonesboro, Arkansas, filing a lawsuit against the UMC after its vote to disaffiliate was rejected and its pastor was suspended in November. As many as 12 judges have already recused themselves from the case.
'It's power and it's money'
"The conferences don't have it, but the local churches do have it," Dalton, who represents FUMC, said of Methodist finances. "The conferences are seeing their churches that were providing apportionments are leaving, and the churches that don't pay apportionments to the conferences are staying. So they're seeing that their ability to survive is declining."
As the UMC hemorrhages churches, the denomination's General Conference is slated to receive its lowest budget in nearly 40 years, according to UM News.
"I think that's why they're clamping down on this whole thing, and it really all comes down to money," claimed Dalton, who pushed back against those who would frame the Methodist schism as solely over sexual morality.
UNITED METHODIST SPLIT GROWS MORE CONTENTIOUS AS GEORGIA CONFERENCE BLOCKS CONSERVATIVE CHURCHES FROM EXITING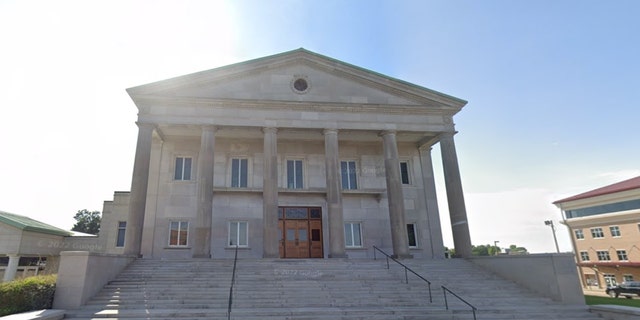 First United Methodist Church in Jonesboro, Arkansas, has been caught up in a legal battle after its disaffiliation vote was rejected and its pastor suspended.
(Credit: Google Maps)
Dalton noted that Glide Memorial Church in San Francisco, formerly the largest church in the UMC California-Nevada Conference, left the denomination in 2020 despite its liberal views regarding sexuality. He said churches are leaving the UMC mostly because the denomination is "incredibly dysfunctional," and they have determined they no longer need it to thrive.
'Bait-and-switch'
Dalton, who has spent more than 20 years representing Protestant churches that have wanted to split from their mainline denominations, said the firestorm engulfing the Methodists is "almost identical" to that which consumed the Episcopalians, Lutherans and Presbyterians in recent years over similar issues.
The attorney likened the battle among the Methodists to that which took place when many Presbyterian churches tried to break off from the increasingly liberal Presbyterian Church USA (PCUSA).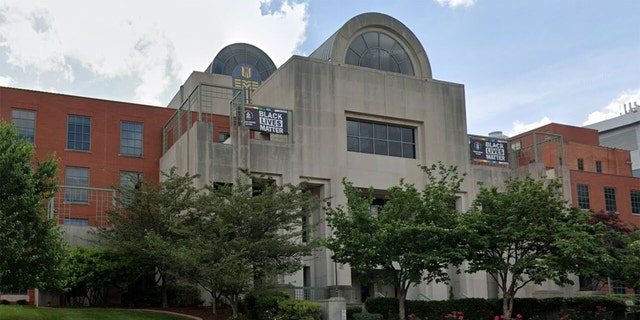 A Black Lives Matter flag adorns the headquarters of the Louisville, Kentucky-based Presbyterian Church USA (PCUSA), which has lost approximately 700,000 members since 2012.
(Credit: Google Earth)
In what he described as a "bait-and-switch," Dalton recounted that the PCUSA offered a seven-year separation period for churches that wanted to leave, but then encouraged them to remain by promising them the rules for leaving would not be changed.
"But the more churches left presbyteries, the tighter the liberal presbyteries' rules came to let churches out," said Dalton, who believes the Methodist church is now doing the same thing.
CONSERVATIVE PRESBYTERIANS LAY OUT WHY MAINLINE COUSINS ARE LOSING MEMBERS: 'SUPERNATURAL BATTLE'
"The plea of the conferences to the local churches is, 'Please stay, we'll get through this, we won't change anything,'" Dalton explained. "But we know it's going to happen. We've already seen the tea leaves from what other institutionalists within the UMC have said, written and done already. It's going to happen. They're going to change everything."
"The play in the Methodist church right now is to get valuable properties and sell them," said Dalton, who likened their strategy to when billionaire Eddie Lampert purchased declining retail properties with the sole intention of profiting from the real estate.
Fox News Digital reached out to the UMC for its take on the controversy, but did not receive comment by time of publication.
'Battle for the soul of Methodism'
Others involved with the denominational split discern deeper issues at play.
While some churches that are leaving the UMC are remaining independent, many are joining the new Global Methodist Church (GMC), which began May 1, 2022, as a traditionalist alternative for Methodist churches worldwide.
Keith Boyette, now a top staff person at the GMC, told Fox News Digital that the fracture among the Methodists did not have to be as contentious as it has become. He was involved in 2020 with crafting the "Protocol of Reconciliation and Grace Through Separation," a plan for amicable divorce whose approval was repeatedly delayed because of the pandemic.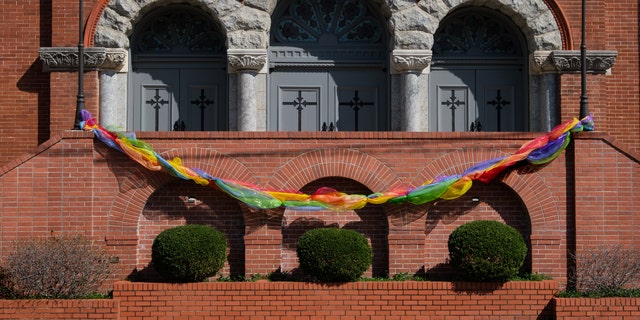 The First United Methodist Church in Little Rock, Arkansas, displays a rainbow decoration.
(dlewis33 via Getty Images)
Boyette said churches are engaged in "a battle for the soul of Methodism," and noted that Methodist congregations globally are leaving the UMC, including every one in Slovakia and Bulgaria.
Thomas Lambrecht, the vice president of the UMC's traditionalist Good News caucus, told Fox News Digital in June that the denomination is being torn asunder by "deep theological and ethical conflict" that reflects wider cultural divisions.
"We are also victimized by the same political polarization that exists in society in the U.S. today," Lambrecht said. "I think that's made the feelings around separation worse. People on both sides tend to look at people who disagree with them as being the enemy, and do and say things that are not really appropriate for followers of Jesus Christ."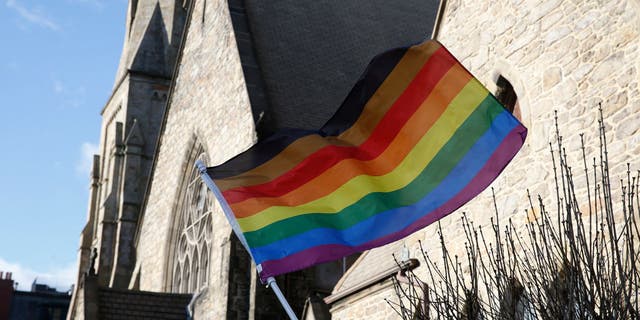 An LGBTQ+ flag flies over Union United Methodist Church in the South End of Boston on Jan. 5, 2020.
(Jessica Rinaldi/The Boston Globe via Getty Images)
"I think that we have allowed the political culture of the world today to infiltrate into the church and make our crisis worse than it had to be," he said.
Lambrecht noted that Methodists in the U.S. have faced splits before, most notably over the issue of slavery in 1844.
CLICK HERE TO GET THE FOX NEWS APP
"I'm hoping that this separation that we're experiencing now does not rise to the level of vitriol that was experienced in 1844," he said. "And I'm also hoping that our separation now does not act as a precursor to civil war like the one in 1844."
Jon Brown is a writer for Fox News Digital. Story tips can be sent to [email protected].