Russia's Foreign Minister Sergei Lavrov has promised continued military support for Mali, which has been battling a jihadist insurgency since 2012.
Last year, Mali turned its back on former colonial power France favouring help from Russia instead.
This is the foreign minister's second visit to Africa in two weeks.
Russia aims to shore up allies as the Ukraine war continues, but its involvement in West Africa pre-dates that and has been growing over time.
Mr Lavrov, who is on a two-day trip to Mali, outlined Moscow's ambition to provide military backing for governments across West Africa in the battle against Islamist militants.
Mali's military government has batted away criticism of this shift to Russia.
"We will no longer justify our choice of partner. Russia is here on demand by Mali and responds efficiently to our strategic needs," Mali's Foreign Minister Abdoulaye Diop said during a joint press briefing with his Russian counterpart.
It is now more than a year since Wagner Group fighters began operating in Mali, though the authorities have never formally confirmed this.
But evidence suggests that they have not been any more successful than other forces in dealing with the decade-long jihadist threat and insecurity may have worsened.
Civilian casualties as a result of violence more than doubled last year, according to data from the crisis mapping organisation Acled Info.
Moscow lionised
Nevertheless, Mali's military junta has dismissed reports about the country's deteriorating security situation as "fake news".
It has instead lionised Moscow for empowering the Malian armed forces after despatching heavy military equipment to Bamako on several occasions since the army seized power in August 2020.
These include Sukhoi fighter jets, as well as surveillance and combat helicopters.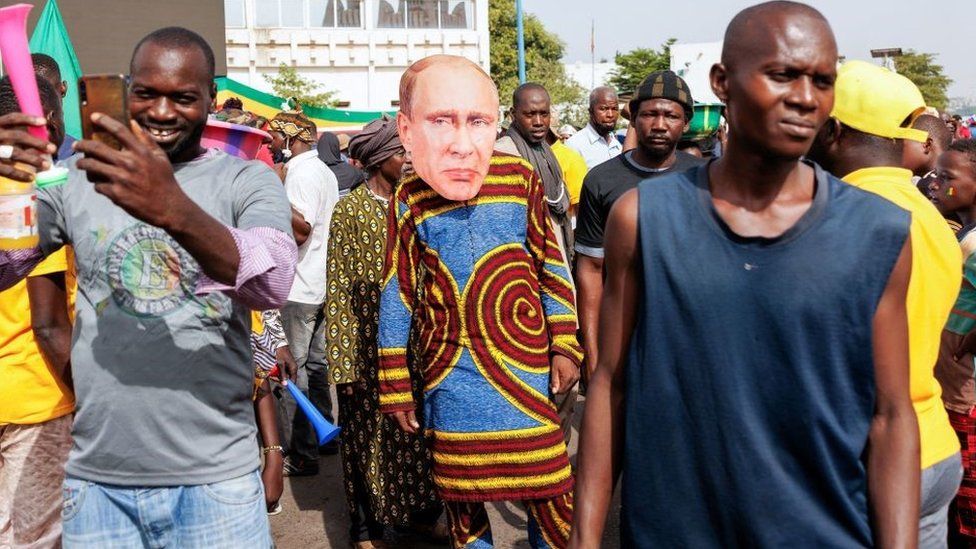 Image source, Getty ImagesImage caption, Demonstrators in Mali last year showed their support for Russia and its President Vladimir Putin
"The military success we achieved in the past two years outweighs anything that was done in past decades. Our weapons are the pride of the entire nation," Mali's interim President Col Assimi Goïta said in a speech on army day last month. He said that people had been able to return to their homes but did not offer specific examples.
Yet, the presence of Russian mercenaries abruptly halted a decade of efforts by France and its European allies to bolster Mali's attempts to counter the jihadists.
Wagner's deployment was in response to waning patience with French forces which had initially made significant strides against militants when first deployed in 2013.
The capacity of the nearly 18,000-strong UN peacekeeping mission (Minusma) to protect civilians threatens to be weakened with the impending withdrawal of nearly 3,000 troops from Germany, the UK, Ivory Coast and Benin.
Attacks by branches of the Islamic State group and al-Qaeda have over time spread into neighbouring Burkina Faso and Niger, while militant activity is gradually moving south towards the Gulf of Guinea.
Social media success
Emboldened by their work in Mali as well as its success in influencing public opinion, Wagner is making overtures to Burkina Faso – which experienced two military coups in 2022 – and possibly Ivory Coast.
But concerns have been raised about the way Wagner Group fighters operate and the UN has demanded investigations into possible war crimes by Malian soldiers and the mercenaries, which Malian authorities consistently deny.
Rights groups have documented reports of torture, summary executions and sexual assaults during joint counterinsurgency operations dubbed Keletigui that began in December 2021.
Analysis of data from Acled shows that civilians died in larger numbers than militants in such operations in 2022.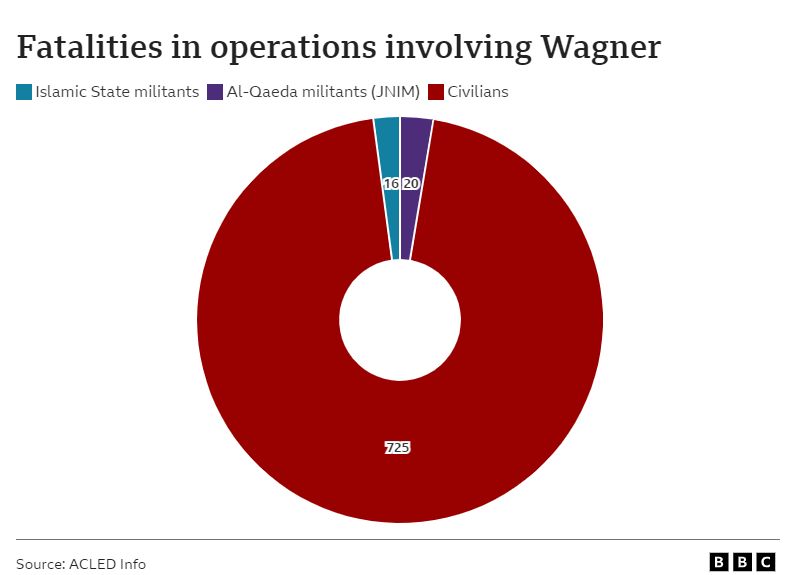 At least 700 people were killed in incidents involving the mercenaries, largely in the volatile central regions of Mali.
One of the highest death tolls came in March 2022 when at least 300 people were reportedly killed in week-long counterinsurgency operations in the central town of Moura.
Survivors told Human Rights Watch that Malian soldiers and "white soldiers speaking in a strange language" summarily executed dozens of men.
The army denied this and instead talked about how its forces had become stronger thank to Russian instructors and military equipment.
The Wagner Group – which the US alleged were contracted at a cost of $10m (£8.3m) per month – has not publicly commented on its activities in Mali.
Rather, propaganda associated with the mercenaries has inflated their military capabilities particularly in Mali and sought to discredit France and the West.
This has been widely spread on social media and the pro-Wagner messages gain some public appeal when they were shared by those Malian pressure groups which have held protests agitating for increased co-operation with Moscow.
Wagner Group founder Yevgeny Prigozhin has cheered the propaganda campaigns as "the new era of decolonisation", exploiting long-standing distrust of former colonial power France.
Forced into hiding
People and organisations trying to scrutinise Russia's influence and Wagner operations have come under attack, which has led some to fear for their safety.
Last March, Mali banned broadcasts by French public media outfits RFI and France 24 over their reports on alleged atrocities by Wagner and Mali's army. The government accused them of "sowing hatred and ascribing an ethnic angle to the insecurity in Mali".
Prominent activist Aminata Dicko was forced into hiding last week after pro-junta activists accused her of being unpatriotic for outlining alleged atrocities by the army and Wagner mercenaries while addressing the UN Security Council.
At the weekend, the junta later expelled Minusma's human rights chief for purportedly collaborating with Ms Dicko. The authorities have trumpeted military gains, but overall deaths from violence have increased between 2021 – when there were 1,913 fatalities – and 2022, which had 4,803 fatalities.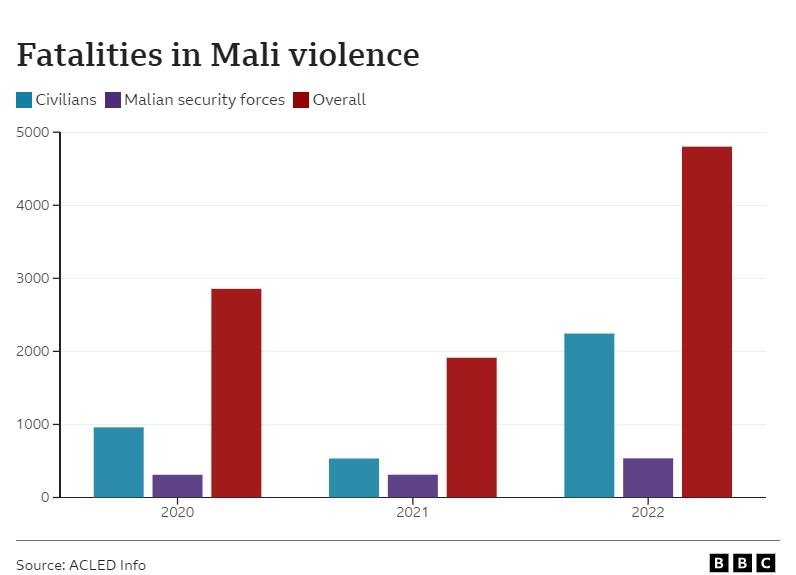 Last month, Mali's Ministry of Health and Social Development said humanitarian needs had spiked by 17% compared with 2022 because of mass displacements induced by militant violence.
In addition, mounting claims of civilian casualties by Wagner and the Mali army have given militant groups ammunition to stage retaliatory attacks and expand recruitment.

About a third of propaganda statements issued by the al-Qaeda affiliate JNIM in 2022 explicitly mentioned the Wagner Group as a target or used their presence to justify anti-army attacks.
Its IS-linked rivals also said they had killed 15 mercenaries and downed a drone belonging to the Wagner Group.
Despite these concerns, Russian, and Wagner, assistance to Mali looks set to continue.
During his visit to Mali, Mr Lavrov described how "Russian aviation equipment" was used to "carry out successful operations against terrorists in recent times".
But perhaps more significantly, he hinted that Russia could help others in the region dealing with a similar jihadist threat saying that "this concerns Guinea, Burkina Faso and Chad and the Sahel region generally and even the coastal states on the Gulf of Guinea".
Amid Russia's international isolation following its invasion of Ukraine, it is a friendship that can only blossom.