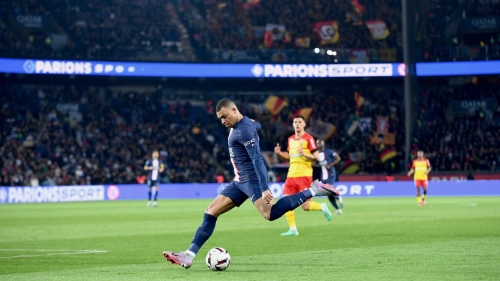 Mbappé has scored 139 goals for PSG in Ligue 1.
Philippe Lecoeur/FEP/Icon Sport/Getty Images

CNN
—
Kylian Mbappé has already achieved much in his young career. The 24-year-old has won a World Cup, scored a hattrick in a World Cup final and is captain of France.
On Saturday, he added more to his résumé by becoming Paris Saint-Germain's all-time leading scorer in Ligue 1.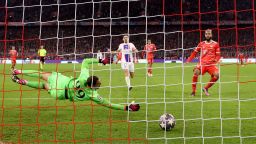 MUNICH, GERMANY – MARCH 08: Eric Maxim Choupo-Moting of FC Bayern Munich scores the team's first goal past Gianluigi Donnarumma of Paris Saint-Germain during the UEFA Champions League round of 16 leg two match between FC Bayern München and Paris Saint-Germain at Allianz Arena on March 08, 2023 in Munich, Germany.
Alexander Hassenstein/Getty Images
PSG: 'Defeat is a culture' at club as French team again dumped out of the Champions League
Mbappé was the star of the show in a crucial 3-1 victory against Lens, scoring the opener for his 139th league goal for the club. He also beautifully set up Lionel Messi – who scored three minutes after Vitinha had put PSG 2-0 up – in a brilliant team goal.
The Frenchman has achieved his feat in 169 Ligue 1 games, overtaking Edison Cavani who netted 138 times in Ligue 1 for the club in 200 league games.
Second-placed Lens is challenging PSG for the Ligue 1 title but now nine points adrift of the Parisians it is looking likely that PSG will win an 11th title.
Salis Adbul Samed's red card in the 19th minute didn't help Lens.
PSG had been going through an indifferent period, losing two home games on the bounce to give title rivals Lens and Marseille hope.
PSG coach Christophe Galtier told PSG TV after the match: "If there was a match we had to win, it was this one, after the two straight losses at the Parc. Lens are one of our rivals and obviously it was important to win.
"There are seven games left. I know that Lens and Marseille will not give up. We must continue to be focused. I just saw that we have been in top spot since the beginning of the season.
"We have to continue like that and prepare well for the Angers game, which comes early, on Friday. Our fixture list looks favorable, but it is only favorable if we invest ourselves fully and show a great determination to win."
PSG next plays Angers at the Stade Raymond-Kopa on April 21.