close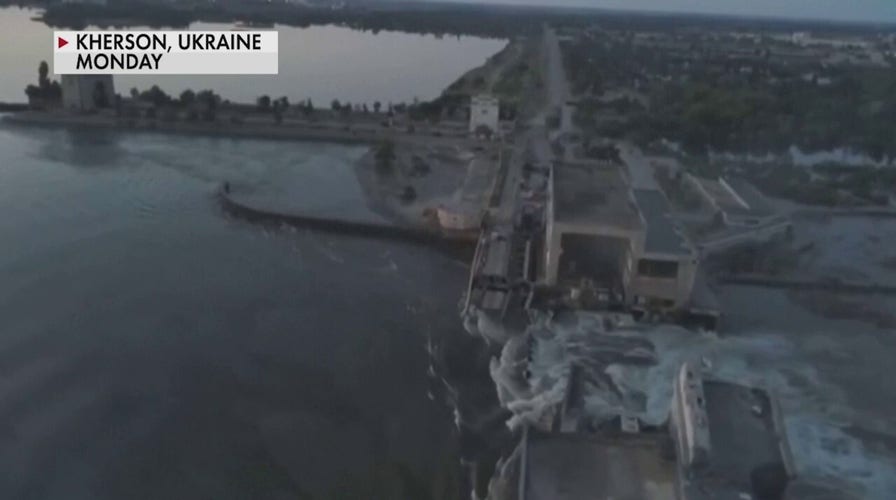 Video
Video shows major damage at Kakhovka dam in southern Ukraine
Ukraine accused Russia of blowing up the Kakhovka dam and a hydroelectric power station, forcing hundreds of thousands of residents along the Dnipro River to evacuate.
The Kremlin on Tuesday denied any fault for the damage caused to the Kakhovka hydroelectric power plant after it collapsed and sent a torrent of water into the surrounding areas in the southern Ukrainian region of Kherson. The Kremlin pointed blame squarely at Kyiv.
"This is a deliberate sabotage by the Ukrainian side," Kremlin spokesperson Dmitry Peskov told Russian media following the dam's collapse. "This sabotage could potentially cause very serious consequences for several tens of thousands of residents of the region, ecological consequences [and] consequences of a different nature which have yet to be established."
Peskov claimed Kyiv was "pursuing the goal of depriving Crimea of water" as it looks to eventually oust Russian forces that have occupied the peninsula since 2014.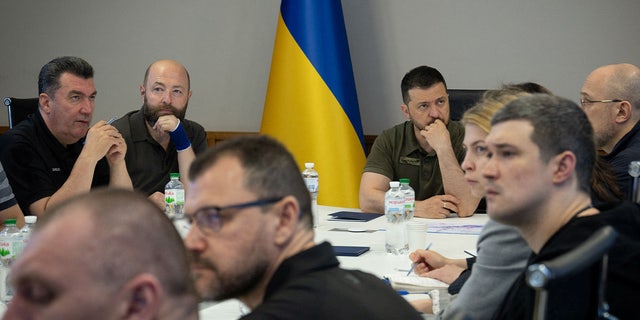 Ukraine's President Volodymyr Zelenskyy holds an emergency meeting with top state and regional officials about the Kakhovka dam destruction amid Russia's attack on Ukraine, in Kyiv, Ukraine, June 6, 2023.  (Ukrainian Presidential Press Service/Handout via REUTERS )
UKRAINE ACCUSES RUSSIA OF DESTROYING KAKHOVKA DAM, EVACUATION ORDERS ISSUED AS 'ECOLOGICAL DISASTER' WARNED
The Kremlin's press secretary further suggested the act of "sabotage," which occurred in an area occupied by Russian forces, was down to "faltering" Ukrainian offensive actions, though he did not expound on which offensive push he was referring to.
Peskov's comments came after Ukraine's Operational Command South reported that Russian forces had blown up the dam, causing irreparable damage to not only the plant's engine room but the dam itself.
Thousands of people have begun evacuating from the surrounding areas, and concerns remain over how this will affect water supplies to numerous southern regions as well as the Zaporizhzhia nuclear power plant.
"We know that from 35 to 70 settlements will be flooded. We know that there will be issues with drinking water supplies. Even areas that haven't been flooded will have drinking water issues," Ukrainian President Volodymyr Zelenskyy said referencing the Dnipropetrovsk, Zaporizhzhia and Kherson regions, as first reported by the Ukrainian news outlet Pravda.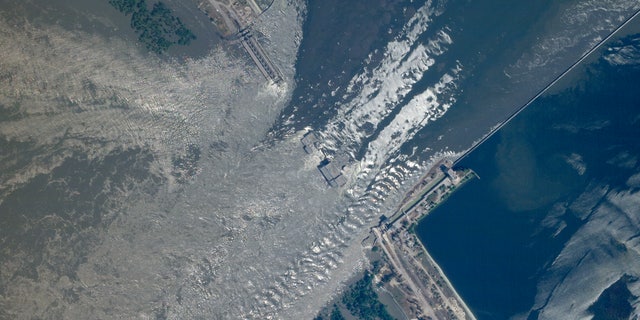 This satellite image provided by Planet Labs PBC shows an overview of the damage on the Kakhovka dam in southern Ukraine Tuesday, June 6, 2023.  (Planet Labs PBC via AP)
Zelenskyy further claimed Ukrainian intelligence had obtained information suggesting Russian forces had "rigged the dam with explosives last year."
"We shared this information obtained by our intelligence with our partners," he added.
UKRAINE READIES SPRING OFFENSIVE EXPECTED TO BE LARGEST MOBILIZATION SINCE WAR WITH RUSSIA BEGAN
Fox News Digital could not immediately verify who was responsible for the attack, and analysts from the Institute for the Study of War, which monitors closely the ground movements of both Russian and Ukrainian forces in the conflict, said it was "not ready to assess who or what is responsible for destroying the Kakhovka dam."
Though it also pointed to an October assessment it provided that forecasted Russian forces were preparing to "conduct a false-flag attack on the Kakhovka Hydroelectric Power Plant" on the basis that Moscow may have believed "that breaching the dam could cover their retreat from the right bank of the Dnipro River and prevent/delay Ukrainian advances across it."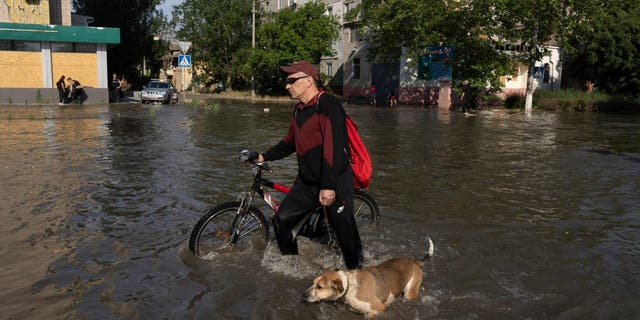 A resident with a bike and a dog walks along a street past buildings in Kherson, Ukraine, Tuesday, Jun 6, 2023 which was flooded after the Kakhovka dam was blown up overnight.  (AP Photo/Evgeniy Maloletka)
CLICK HERE TO GET THE FOX NEWS APP
The prediction came as Ukrainian forces were preparing an offensive in the Kherson region that would force the retreat of Russian troops from the left bank of the Dnipro River and liberate the city of Kherson.
"That forecast was inaccurate at the time, but the reasoning supporting the forecast was and remains valid," the ISW pointed out Tuesday.
Caitlin McFall is a Reporter at Fox News Digital covering Politics, U.S. and World news.