Ukrainian President Volodymyr Zelensky says an alleged Russian agent involved in the deadly attack in Kramatorsk will be charged with treason.
Those helping Russia destroy lives deserve the "maximum penalty", he said.
Twelve people, including three teenagers, were killed in Tuesday's missile strike on a popular restaurant.
Ukraine said the man, a resident of Kramatorsk, sent video footage of the restaurant to the Russian military hours before it was destroyed.
Fourteen-year-old twin sisters Yuliya and Anna Aksenchenko and a 17-year-old girl were among those killed.
"Russian missiles stopped the beating of the hearts of two angels," Kramatorsk city council's education department said in a statement.
At least 60 others were injured, including Colombian nationals and a leading Ukrainian writer.
On Wednesday, Ukrainian security services released a photo of a local man that they arrested, describing him as a Russian agent.
Speaking in his nightly address, Mr Zelensky explained that the country's security services had worked alongside police special forces to detain the suspect – who may face life imprisonment.
Emergency services said on Wednesday that search and rescue efforts were still ongoing.
Kramatorsk, an eastern city in the Donetsk region, is under Ukrainian control but it is close to Russian-occupied parts of the country.
In April last year, more than 50 people were killed and many more were wounded in a missile strike on a train station in the city.
The Ria lounge, which was targeted this time, was a popular venue regularly hosting international journalists, volunteers and Ukrainian soldiers taking a break from the nearby front lines.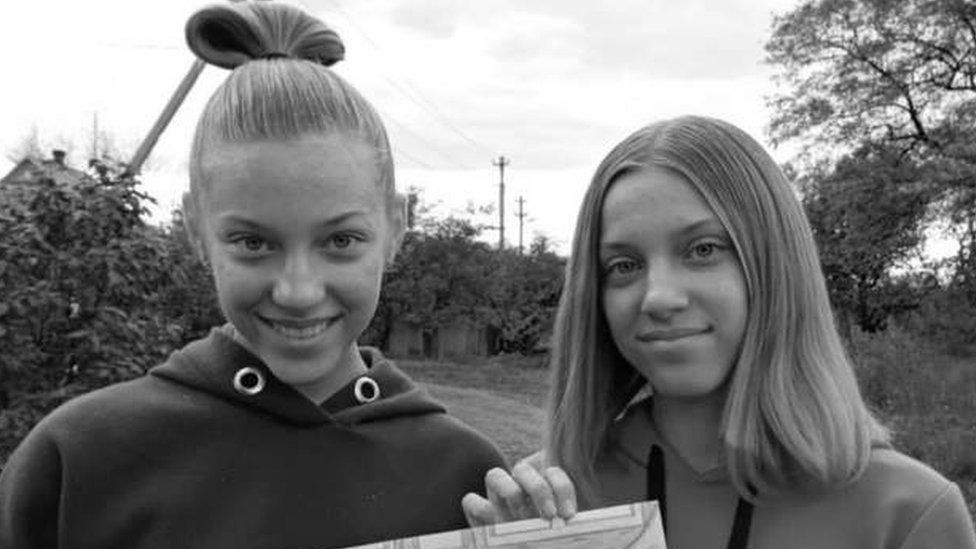 Image source, TelegramImage caption, Authorities in Kramatorsk named two of the victims of last night's attack as 14-year-old twins Yuliya and Anna Aksenchenko.
Sergio Jaramillo Caro, a former Colombia peace negotiator, told the BBC he was sitting in the restaurant when it came under attack on Tuesday night, but he only suffered minor injuries.
Mr Jaramillo Caro described the moments that followed the explosion, saying that he saw "particles moving in slow motion" as he tried to understand what was going on.
A leading Ukrainian writer sitting with them – whose identity is not being disclosed – is in a critical condition and "fighting for her life".
"Please pray for her", Mr Jaramillo Caro said.
Colombian President Gustavo Petro condemned Russia's attack on "defenceless" Colombians, saying it violated war protocols. Mr Petro went on to instruct his foreign ministry to deliver a diplomatic note of protest.
Valentyna, a Kramatorsk resident who owns a cafe near the site spoke of the damage following the attack. "Everything has been blown out there," she told Reuters news agency, adding that "none of the glass, windows or doors are left".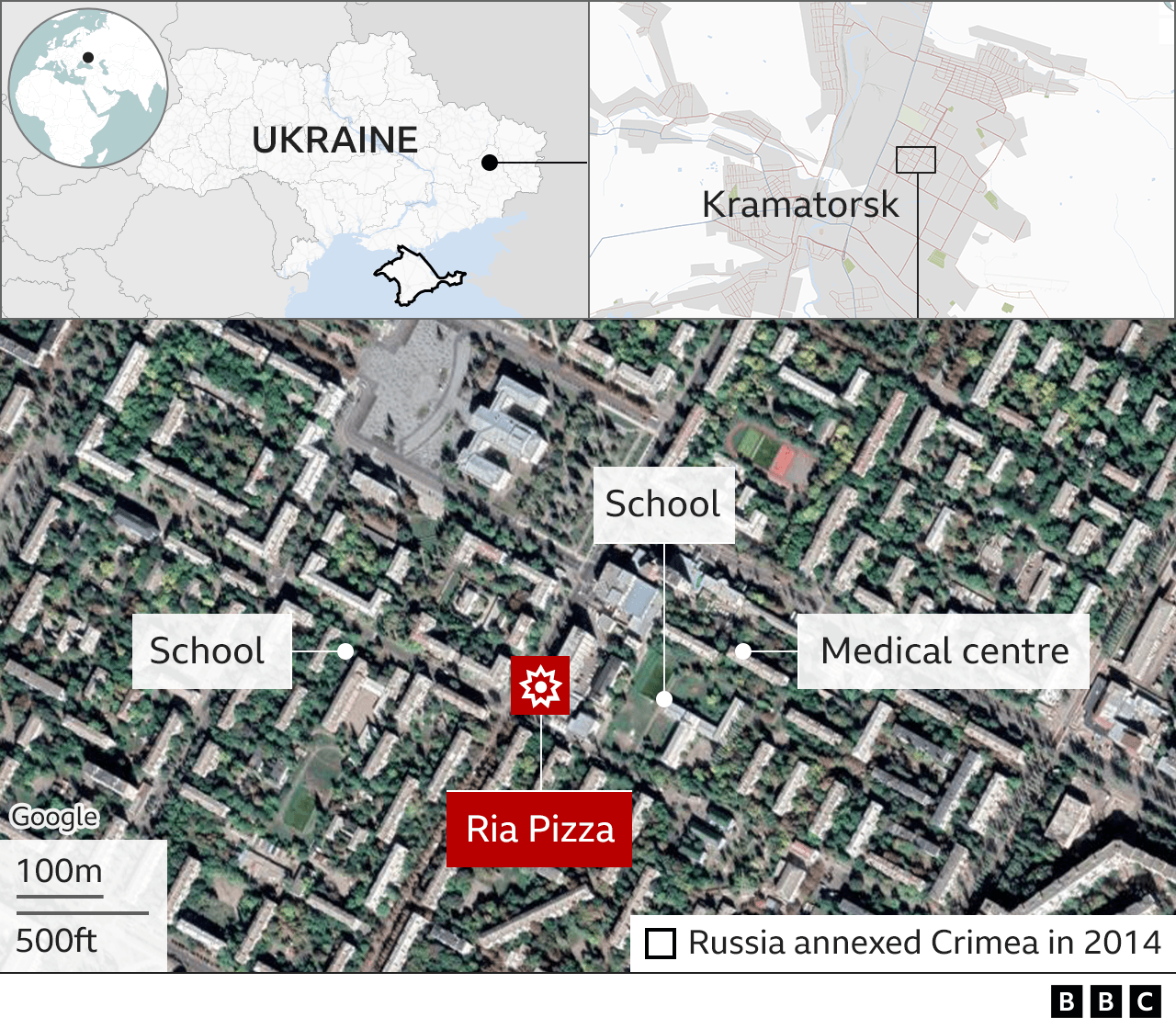 The Kremlin claimed again to only carry out strikes on military targets, and Russia's defence ministry claimed it had destroyed a "temporary deployment of [Ukrainian] commanders" in Kramatorsk, without elaborating further.
An adviser to Ukraine's defence ministry, Yuri Sak, told the BBC that Ukraine's air defences were currently "insufficient to cover the full territory of Ukraine".
Ukraine continues to ask its allies to provide them with modern fighter jets to help it defend itself from Russian strikes.
Last month, the US said it would support the war-torn country by allowing Western allies to supply American-made F16s, and by training Ukrainian pilots to use the jets.
This video can not be played
To play this video you need to enable JavaScript in your browser.
Media caption,
Watch: Shock and destruction after Russian missiles hit restaurants