Donna Mills believes her dedication to breaking a sweat has been essential to remaining youthful.
The former "Knots Landing" star caused a stir in December when she revealed some of her secrets to staying in shape to AARP – The Magazine. Now, the 82-year-old is sharing a sneak peek into her workout regimen for those seeking to kick off their New Year's resolutions.
"I've never stopped exercising just because I'm getting older," the actress told Fox News Digital. "I think a lot of people tend to have the mindset of, 'I'm too old now. I don't need to do that anymore.' But I think it's the opposite. You have to keep moving. I think it's so important to sweat every day.
"There are days when it can be difficult because I have to be at the set at seven o'clock in the morning. But I think the key is carving out that time each day when you can just sweat. I think that's really important. Your body will just kind of atrophy if you don't keep using it."
'KNOTS LANDING' STAR DONNA MILLS, 81, DETAILS HER SECRETS TO STAYING FIT: 'I'M CAREFUL'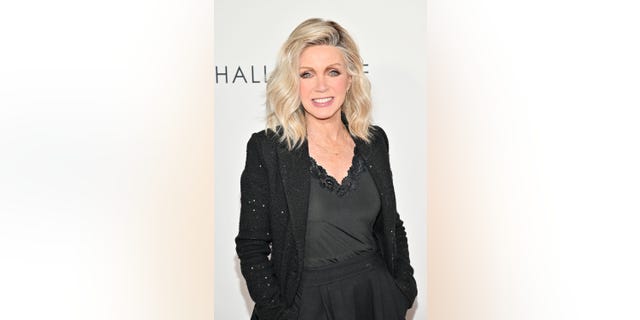 At age 82, Donna Mills exercises daily with the help of her Peloton bike and a ballet barre.
(Michael Buckner/Variety via Getty Images)
Mills said she's not a fan of going to the gym because it can be awkward "having other people around" during the middle of a workout. So, she decided to create a space in her home where she can work out any time. She's also a fan of tennis and plays five times a week for two hours.
"I have a Peloton, which I absolutely love," she said. "It helps me to explore the world while I'm on it. It's really nice and fun, which I also think is important if you want to stick to something. There are some classes on it too that you can do if you need the extra motivation."
"It takes you to many beautiful places virtually. I also keep a set of light weights nearby. Nothing heavy. I'm also a dancer, so I have my own ballet barre to stretch. It's really good to keep your legs in shape and maintain that elasticity. If you don't have one, a kitchen counter works just fine."
Mills previously told AARP that, during her soap opera years, she "never ate pasta, sugar, bread, ice cream, cookies or any of that stuff." Mills admitted that the no-nonsense approach isn't the easiest, but it kept her figure in camera-ready shape.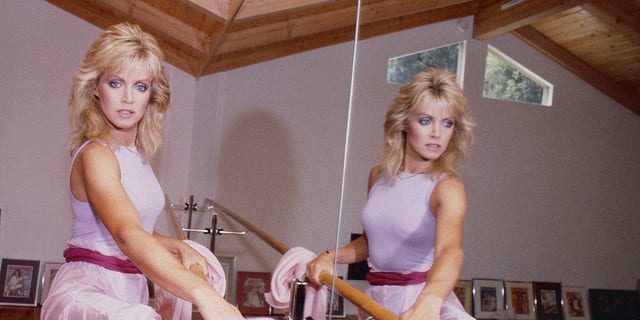 Portrait of American actress Donna Mills as she performs barre exercises in her home dance studio in Beverly Hills, Calif., March 18, 1983. She still follows the same practice at home in 2023.
(Bob Riha, Jr./Getty Images)
"I keep saying to myself, 'You gotta go back to what you did then," she chuckled. "That kept me extremely healthy. I never missed a day's work on 'Knots Landing.' For nine years I never missed a day of work. And I think it's because I just ate really well, which kept me healthy."
"It's not that I just didn't eat pasta. I didn't eat starches. I ate mostly protein, vegetables and that was it. I seldom even had a glass of wine because there was too much sugar in it, and I never had sugar back then. I really do still believe that white sugar is poison."
While she's relaxed about her eating habits, Mills said she prioritizes eating "clean and green" with a vegetable-rich diet.
CLICK HERE TO SIGN UP FOR THE ENTERTAINMENT NEWSLETTER
Mills also reflected on taking a break from Hollywood. She became a mother at age 54 when she adopted her daughter Chloe.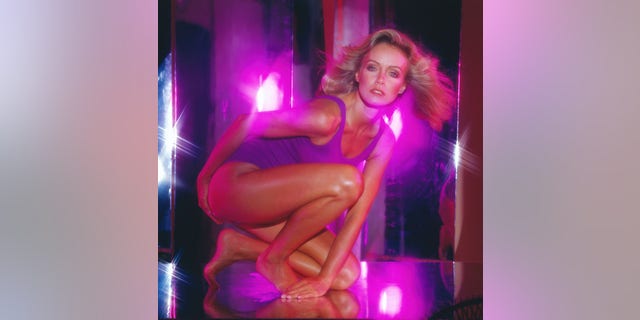 American actress Donna Mills kneels on a stage in a publicity portrait for the TV soap opera "Knots Landing" in June 1980. She later took a break from Hollywood to raise her daughter.
(CBS Photo Archive/Getty Images)
"I worked the first couple of years when she was an infant, a little tiny thing," said Mills. "That's because I could take her with me on set, and it was wonderful. She was with me all the time. But once she started going to school, I knew I wasn't going to leave her for the movies. I didn't want to take her out of her school either. So it wasn't a difficult decision. Fortunately, I was in a position where I didn't have to work. And it was the most wonderful time. My entire focus was just being her mom. I have never regretted making that decision."
'KNOTS LANDING' STAR DONNA MILLS EXPLAINS WHY SHE TOOK A BREAK FROM HOLLYWOOD FOR 18 YEARS
Chloe, now 28, is a model and an executive at Soho House, an elite, private club for those involved in the arts, politics and media.
Mills previously revealed that her love life didn't flourish until she was in her 60s.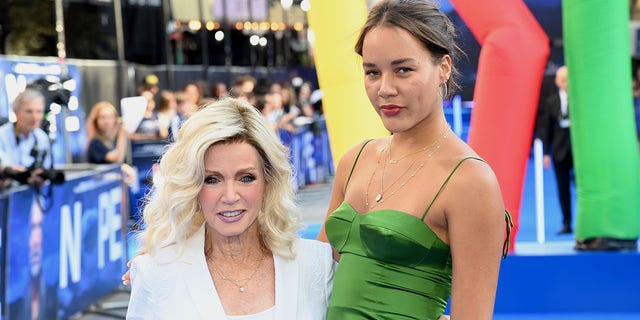 Donna Mills and daughter Chloe attend the U. K. premiere of "Nope" at Odeon Luxe Leicester Square July 28, 2022, in London. 
(Dave J Hogan/Getty Images)
"I met [actor and producer] Larry Gilman at age 60," Mills told AARP. "I lucked out. Before him, I kind of went for the bad boys. But when I met him, I just knew I was going for the not-bad boy."
Life, she said, has proven to be fruitful.
CLICK HERE TO GET THE FOX NEWS APP
"We have a big hill behind our house," Mills shared. "Larry wanted to build a vineyard up there. And I was just like, 'No, you're crazy, the vines will dislodge the hill.' I was worried. It was one of the few fights we ever had. He didn't listen to me, and it's good he didn't. The vines solidified the hill, and now we have our own commercial vineyard. And it is just beautiful."