close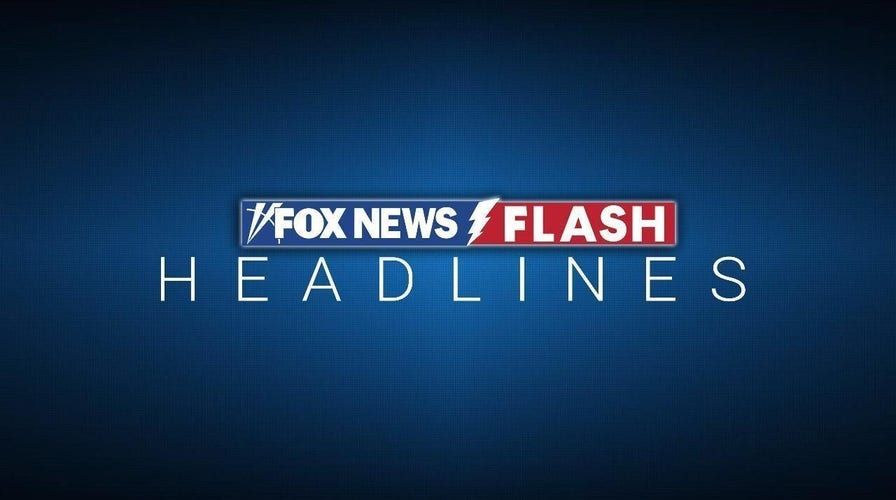 Video
Fox News Flash top headlines for March 3
Fox News Flash top headlines are here. Check out what's clicking on Foxnews.com.
King Charles III will travel to France and Germany for his first state visits since becoming monarch, Buckingham Palace said Friday, underscoring Britain's efforts to build bridges with its European neighbors following years of strained relations caused by Brexit.
Charles and Camilla, the queen consort, are set to visit the European Union's two biggest countries March 26-31, hosted by Presidents Emmanuel Macron of France and Frank-Walter Steinmeier of Germany, the palace announced.
"The visit will celebrate the U.K.'s relationship with France and Germany, marking our shared histories, culture and values," the palace said. "It is also a chance to look forwards and show the many ways our countries are working in partnership, whether that be to tackle climate change; respond to the conflict in Ukraine; seize trade and investment opportunities or share the best of our arts and culture."
Highlighting the significance of the trip is the fact that it will be the first state visit by a British monarch since 2015; the late Queen Elizabeth II, Charles' mother, stopped traveling abroad in her later years.
The announcement came just days after Charles met with European Commission President Ursula von der Leyen at Windsor Castle and British Prime Minister Rishi Sunak announced a breakthrough in talks to resolve the dispute over post-Brexit trading arrangements for Northern Ireland.
Sunak will be anxious to use the soft power of the monarchy to highlight the thaw in relations between the U.K. and the EU, which have been strained by Britain's decision to leave the bloc.
MEGHAN MARKLE, PRINCE HARRY'S FROGMORE COTTAGE EVICTION: PRINCE ANDREW 'INSULTED' BY NEW MOVE, EXPERTS SAY
The trip to France and Germany is being made at the request of the British government and at the invitations of the two governments, the palace said.
The royals will travel first to France, where they will be greeted by Macron and take part in a ceremony of remembrance at the Arc de Triomphe in Paris. Charles will later meet with members of the National Assembly and Senate and attend a state banquet at the Chateau de Versailles.
The French leg of the trip will also include traveling to Bordeaux, which is home to a large British community. The royal couple plan to visit an organic vineyard and one of the areas devastated by wildfires last summer.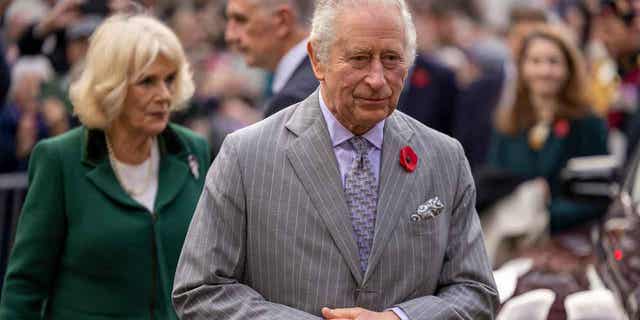 Britain's King Charles III walks to meet members of the public following a ceremony in York, England, on Nov. 9, 2022. King Charles III will travel to France and Germany for his first state visits since becoming monarch. (James Glossop/Pool Photo via AP, File)
Charles and Camilla are scheduled to travel to Germany on March 29, where they will be greeted by Steinmeier and Charles plans to address the Bundestag, Germany's parliament. Steinmeier will also host a state banquet for the royal couple.
Charles will also meet with Ukrainian refugees in Germany, visit a joint U.K.-German military unit and travel to Hamburg, where he will visit sustainable energy projects.
KING CHARLES, OTHER BRITISH ROYALS TRAVEL WITH BAGS OF BLOOD FOR THIS REASON, FORMER PRESS SECRETARY SAYS
While Britain's royals have ceded most of their powers to the nation's elected leaders, the aura of the monarchy and the pomp and ceremony of royal visits are still seen as a way to burnish the U.K.'s image and bolster ties with nations around the globe.
This role was epitomized by Elizabeth, who made 121 state visits during her 70-year reign, leading royal historian Robert Hardman to dub her "Queen of the World."
When Charles met with von der Leyen on Monday, Buckingham Palace was quick to stress that he was working in concert with the government.
"The king is pleased to meet any world leader, if they are visiting Britain, and it is the government's advice that he should do so," the palace said before that meeting.
The French leg of the trip may have a particular significance for Charles, who is said to have formed a close relationship with Macron because of the two men's shared focus on protecting the environment and fighting climate change.
Mutual respect also was expressed by Germany's president. In a video message, Steinmeier said he last met Charles at Elizabeth's funeral and invited him to visit Germany as king. He said that Charles' decision to visit half a year later shows how much the king values the friendship between Germans and Britons.
CLICK HERE TO GET THE FOX NEWS APP
The German president said Charles' decision to travel to Germany and France "is also an important European gesture."
"I would like to say to him, but of course also to all Britons: We in Germany, we in Europe, want close and friendly relations with the United Kingdom after Brexit as well," Steinmeier said.
In November, South African President Cyril Ramaphosa made the first state visit to Britain of Charles' reign. But the visit had been in the works before the late queen's death.