close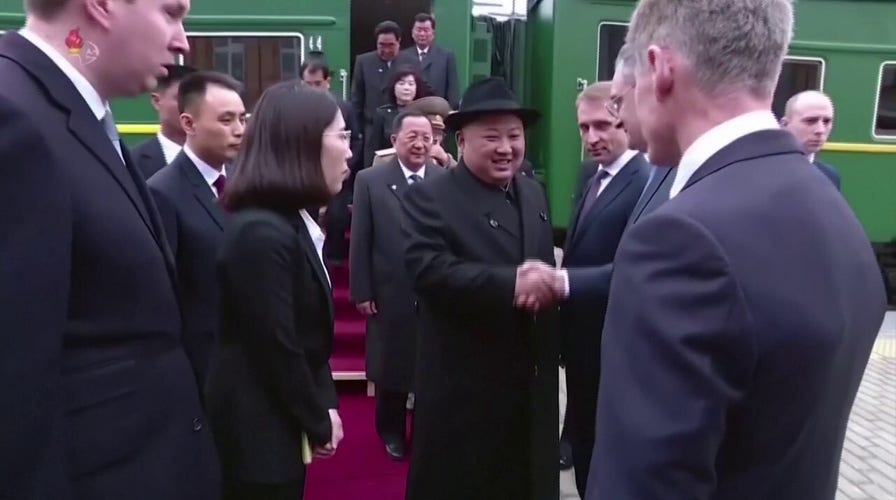 Video
Kim Jong Un riding on his armored train in 2019.
North Korean TV shows video of Kim Jong Un riding on a train in 2019. Video shows him in Beijing and Russia. (REUTERS / KRT)
North Korean leader Kim Jong Un arrived in Russia on Tuesday aboard a dark green armored train for a controversial meeting with Russian President Vladimir Putin.
Kim arrived in Russia on his personal train, a slow-moving, bulletproof fortress that can only travel about 25 miles per hour on North Korea's archaic rail system, according to a report from Reuters.
Ahn Byung-min, a South Korean expert on North Korean transportation, told Reuters that the train works better to secure the North Korean leader and would be more comfortable than the country's aging fleet of planes.
"Even if it is slow, train is safer and more comfortable than anything else for a North Korean leader," Ahn said.
SOUTH KOREA WARNS PUTIN TO 'ACT RESPONSIBLY' WITH KIM JONG UN: 'MANY COUNTRIES ARE WATCHING'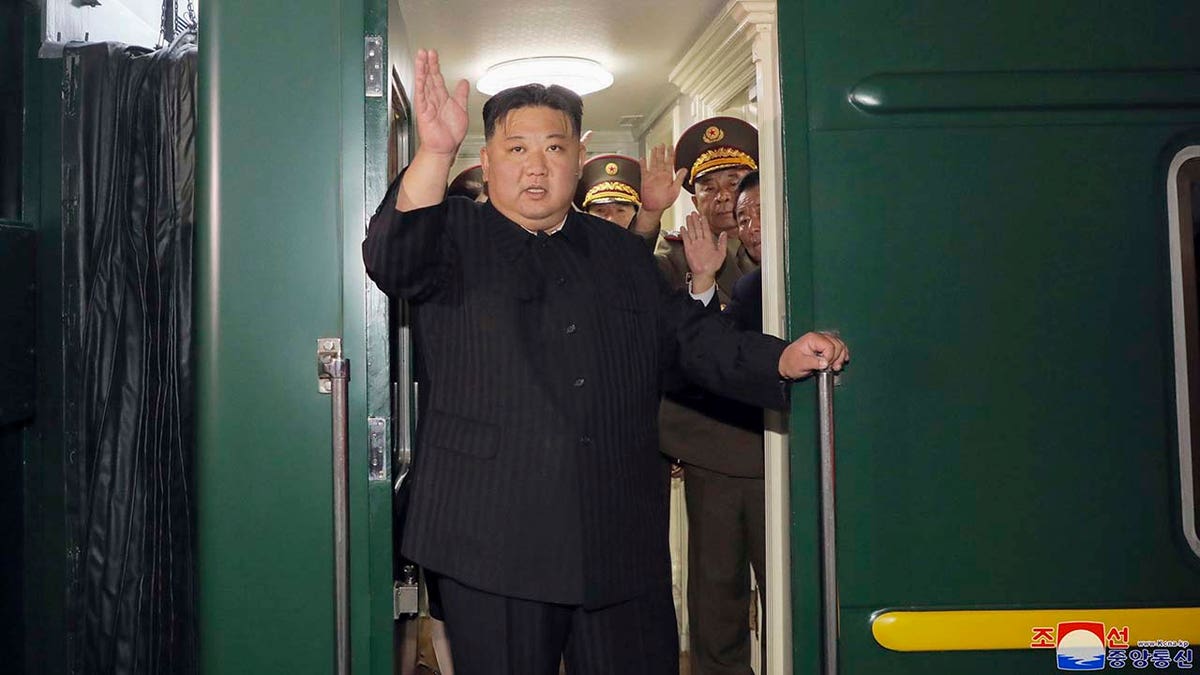 North Korea leader Kim Jong Un waves from a train in Pyongyang, North Korea, on Sunday as he leaves for Russia. (Korean Central News Agency/Korea News Service via AP, File)
Kim arrived in Russia after departing the North Korean capital on Sunday, according to a report from The Associated Press.
The trains used by Kim are said to have 10 to 15 carriages, many of which are designed only for use by the dictator himself. Other carriages host security and medical staff, according to the Reuters report.
The use of trains is nothing new for North Korean leaders, with former dictators Kim Il Sung and Kim Jong Il also making extensive use of rail during their time in power. For the current North Korean leader, his trip will be interrupted in Russia so that the wheels of the train can be changed in order to work on Russian rail lines.
Despite reports that Kim would meet with Putin in Vladivostok, a Russian city close to the border with North Korea, Russian news agency RIA-Novosti reported that the train carrying Kim headed north and crossed the Razdolnaya River and away from Vladivostok. The train eventually arrived in Ussuriysk, a town about 60 kilometers (about 37 miles) north of Vladivstok, according to South Korean news agency Yonhap.
PUTIN AND KIM JONG UN TO MEET IN RUSSIA IN DEFIANT MESSAGE TO WEST
Kim's final destination in Russia is still unknown, though some Russian news agencies have speculated that the meeting with Putin will take place at the Vostochny spaceport, where Putin is slated to visit soon but has so far declined to tell reporters the purpose of his visit there. But that facility is about 900 kilometers (about 560 miles) northwest of Ussuriysk.
The North Korean leader is reportedly accompanied on the trip by a ruling party official who is in charge of munitions policies. Those reports could confirm widespread speculation that Russia is seeking munitions from North Korea to help with the country's war effort in Ukraine, while Kim may be seeking economic aid and military technology in exchange.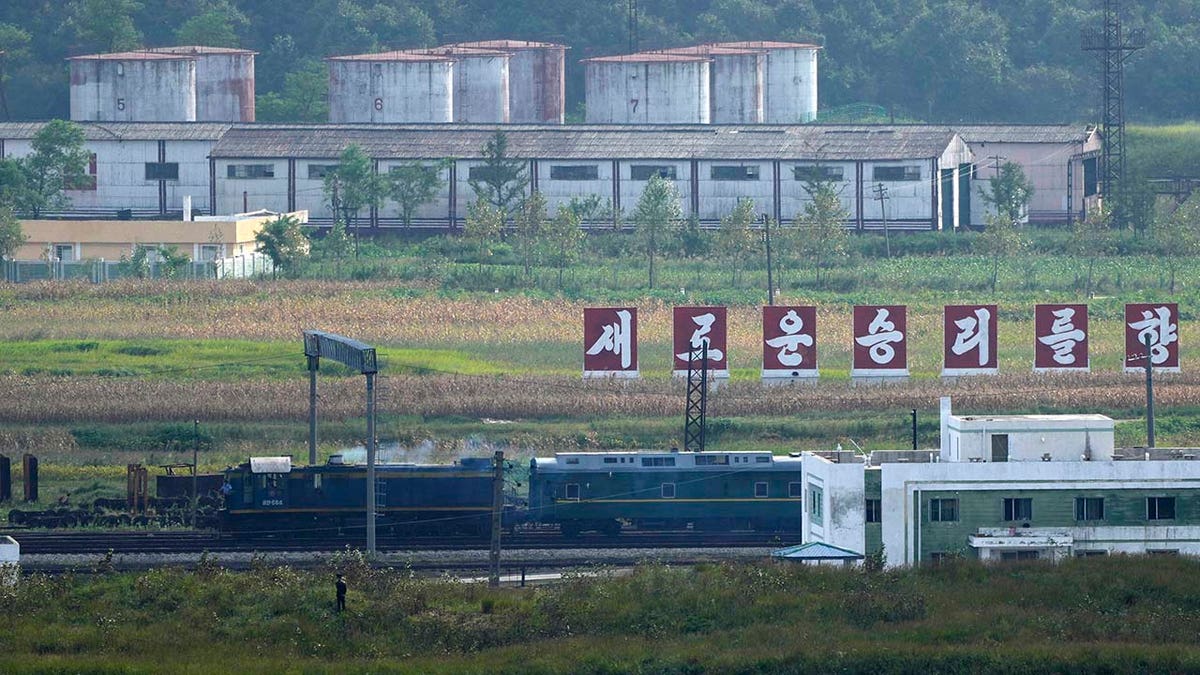 A green train with yellow trimmings, resembling one used by North Korean leader Kim Jong Un on his previous travels, is seen on the North Korea border with Russia on Monday. (AP Photo/Ng Han Guan)
Rebekah Koffler, a strategic military intelligence analyst, former senior official at the Defense Intelligence Agency and author of "Putin's Playbook," told Fox News Digital on Monday that cooperation between the two countries is likely to be mutually beneficial to both and a threat to Western interests.
US THREATENS NORTH KOREA OVER RUSSIA ARMS DEAL, SAYS COUNTRY WILL 'PAY A PRICE'
"Russia, as one of the world's leaders in nuclear, satellite, space launch, and missile technologies, can help North Korea beef up its military-industrial technology base," Koffler noted. "It is no coincidence that North Korea recently unveiled its new tactical nuclear attack submarine. North Korea growing its arsenal of weapons of mass destruction is obviously not in the U.S. interest."
U.S. National Security Council (NSC) spokesperson John Kirby said last month that talks between Russia and North Korea on the isolated country sending arms to Russia have been "actively advancing," despite public assurances from North Korea in recent months that they would not be sending arms to aid the effort in Ukraine.
"We have new information, which we are able to share today, that arms negotiations between Russia and the DPRK are actively advancing," Kirby said. "Following these negotiations, high-level discussions may continue in coming months. Now, among these potential deals, Russia would receive significant quantities and multiple types of munitions from the DPRK, which the Russian military plans to use in Ukraine."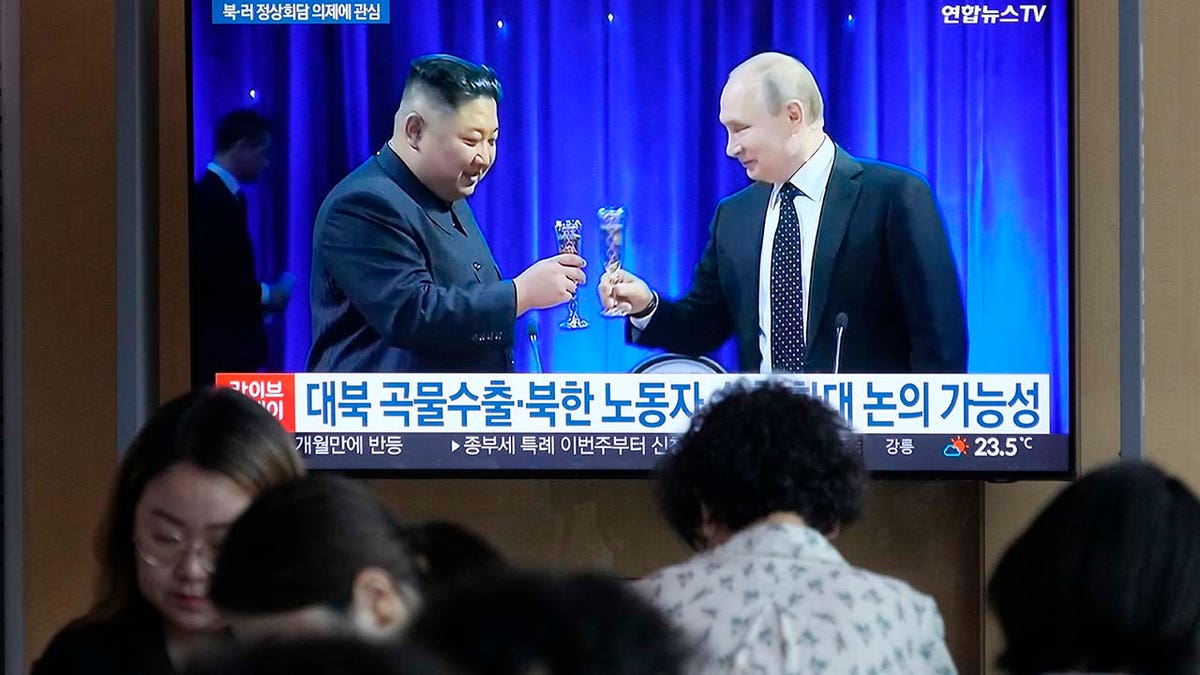 A TV screen shows a file image of North Korean leader Kim Jong Un, left, and Russian President Vladimir Putin during a news program at the Seoul Railway Station in Seoul, South Korea, on Tuesday. (AP Photo/Ahn Young-joon)
CLICK HERE TO GET THE FOX NEWS APP
Adrienne Watson, a NSC spokesperson, told Fox News Digital on Monday that arms discussions are likely to continue as the two leaders meet in Russia.
"As we have warned publicly, arms discussions between Russia and the DPRK are expected to continue during Kim Jong-Un's trip to Russia," Watson said. "We urge the DPRK to abide by the public commitments that Pyongyang has made to not provide or sell arms to Russia."
The Associated Press contributed to this report.