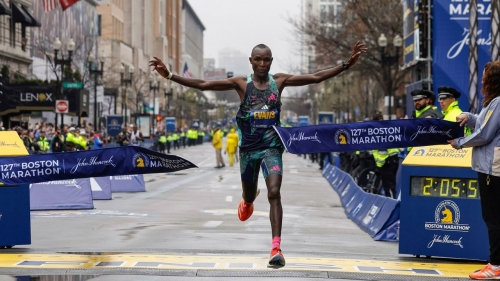 Evans Chebet became the first man since 2008 to retain his Boston Marathon title.
Winslow Townson/AP

CNN
—
Kenya's Evans Chebet won his second consecutive Boston Marathon men's elite race on Monday.
Chebet finished in an unofficial time of two hours, five minutes and 54 seconds. He is the first man to defend his title since Robert Cheruiyot did so in 2008.
Tanzanian Gabriel Geay came in second, finishing in 2:06:04, while Kenyan Benson Kipruto placed third in 2:06:06.
More than 30,000 athletes from all 50 states and more than 100 countries participated in the famed 26.2 miles course, starting in rural Hopkinton and finishing on Boylston Street.
This year's race marked the 10-year anniversary of the double bombings that took place near the finish line, killing three people and injuring at least 264.
More to follow.