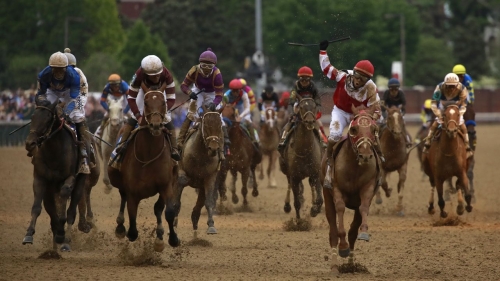 Rich Strike crossed the finish line in first to win the 148th running of The Kentucky Derby at Churchill Downs.
Luke Sharrett/Bloomberg/Getty Images

CNN
—
The 149th edition of the Kentucky Derby takes place Saturday with all eyes waiting to see if there's another potential upset on the cards.
Rich Strike roared to victory last year against all odds with a late surge on the inside, flying past the rest of the field at Churchill Downs.
Ridden by Venezuelan jockey Sonny Leon, Rich Strike was the longest shot in the field at 80/1 and proved that anything can happen in one of sport's most prestigious races.
Dubbed the "Greatest Two Minutes in Sports" – a nod to its approximate run time – the Kentucky Derby is the first leg of US horse racing's coveted Triple Crown, which also includes the Preakness Stakes and the Belmont Stakes.
Here's all you need to know about the Derby before the race takes place.
How to watch

The Derby will air in the US on NBC, Peacock, the NBC website and its app with coverage of all of Saturday's races starting at midday.
The iconic race is set to start at 6:57 p.m. ET.
What's it all about?

The Kentucky Derby is the longest running annual sporting event in the US and it has become far bigger than just the race itself.
As seen in American rapper Jack Harlow's 'Churchill Downs' music video filmed at the event last year, the Derby is a celebration of luxury.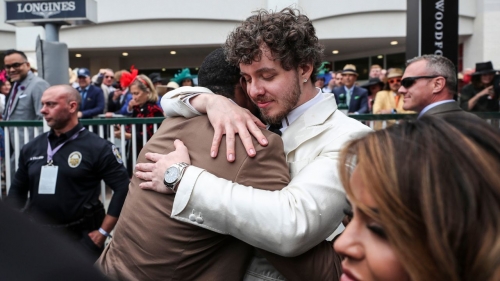 Jack Harlow made an appearance at the 148th Kentucky Derby and will be back for the 149th running.
Matt Stone/Courier Journal/USA Today Network
Tonya Abeln, Vice President of Corporate Communications at Churchill Downs, touched on the all-encompassing nature of the event.
"It's such a convergence of fashion and lifestyle and culinary influence," Abeln told CNN Sport.
"So even if you're not interested in the horse racing piece of it, there's always something that people connect with."
Abeln confirmed that Harlow would be making an appearance again this year, but that there would be no music video filmed.
In keeping with the celebrity theme, Super Bowl Champion and MVP Patrick Mahomes will be this year's Riders Up presenter.
The Kansas City Chiefs quarterback will be tasked with instructing the riders to mount their horses before the race.
You also don't have to be at Churchill Downs to enjoy the race, with home parties taking place all across the US – and the party menu plays an important part, Abeln explained.