Kentucky Attorney General Daniel Cameron, a Black Republican, is calling out Democrats' treatment of other Black and minority conservatives as the GOP continues to make gains in communities that have traditionally voted Democratic.
In an exclusive interview with Fox News Digital, Cameron, a candidate hoping to unseat vulnerable Democratic Gov. Andy Beshear in this year's election, argued a person should be judged on values rather than skin color and that the patriotism, common sense and fair play of the Republican Party were also important to the fabric of the nation and Kentucky.
"I think, for far too long, some Democrats have tried to ask folks that look like me to vote in one specific way, and if you don't, and if you express a difference of opinion or thought, then they recoil at that, and they give you a lot of grief on Twitter and other social media platforms," Cameron told Fox.
"But I hope what I've demonstrated, whether in my time as running for attorney general and winning that race, or even now as I run for governor, is that here in Kentucky we don't care what you look like, we care about your values."
SQUAD DEM LAUNCHES WILD RANT DEFENDING 'WOKENESS,' SAYS CHIP ROY WANTS 'OLD AMERICA' THAT 'ENSLAVED AFRICANS'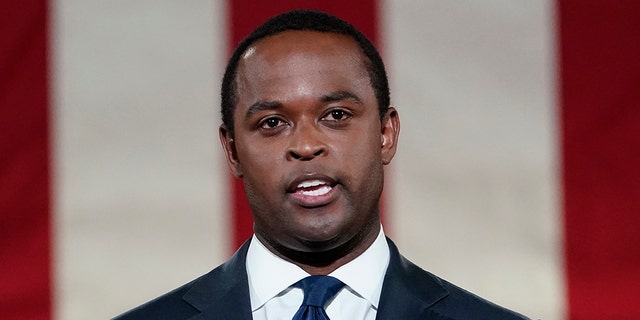 Kentucky Attorney General Daniel Cameron speaks during the Republican National Convention from the Andrew W. Mellon Auditorium in Washington Aug. 25, 2020.
(AP Photo/Susan Walsh)
Republicans have continued to make gains among minority communities across the country, much to the frustration of Democrats. The GOP had its most diverse slate of candidates ever in last year's midterm elections.
With those gains, minority Republicans have increasingly faced Democrats' scrutiny, including facing demeaning name-calling and being excluded from groups like the Congressional Black Caucus (CBC).
In 2021, Sen. Tim Scott, R-S.C., another Black Republican, was called "Uncle Tim" on social media in reference to the derogatory phrase "Uncle Tom," which has been historically used for Blacks viewed as deferential to Whites.
During the race for House speaker earlier this month, Rep. Byron Donalds, R-Fla., was called "a prop" by far-left "Squad" member Rep. Cori Bush, D-Mo., after he was nominated by peers for the position. After taking office in 2021, Donalds was also denied entry into the CBC, which is made up completely of Black Democrats despite claiming to be bipartisan.
RISING GOP STAR VOWS TO STAND AGAINST 'EXCESSES OF THE BIDEN ADMINISTRATION' IN QUEST TO UNSEAT DEM GOV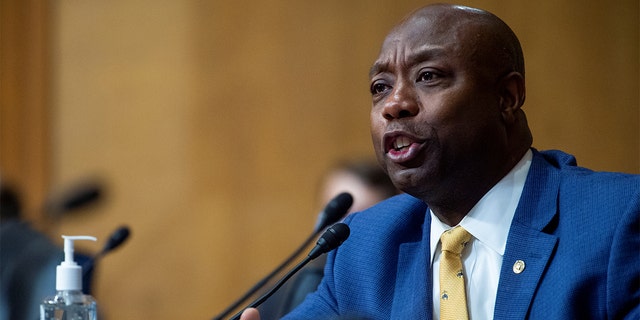 Sen. Tim Scott, R-S.C., questions Chris Magnus as he appears before a Senate Finance Committee hearing on his nomination to be the next U.S. Customs and Border Protection commissioner in the Dirksen Senate Office Building on Capitol Hill in Washington, D.C., Oct. 19, 2021.
(Rod Lamkey/Pool via Reuters)
After rejecting such characterizations, Cameron praised the history of the Republican Party and the role he said "common sense and fair play" have played within the party.
"I firmly and fully believe in the American spirit and the innovative spirit of the hardworking men and women all across this country. In fact, I often talk about the role that common sense and fair play have played in the Republican Party," Cameron said.
TRUMP UN AMBASSADOR VOWS 'FULL COURT PRESS' TO COMBAT CHINA'S FENTANYL 'ABUSES' IN THIS STATE IF ELECTED GOV
"It was common sense and fair play that told Abraham Lincoln that this nation couldn't live up to its founding unless it got rid of slavery. It was common sense and fair play that told Teddy Roosevelt that the financial health and interest of this country couldn't just be held in the hands of a few in big business. It was common sense and fair play that told Ronald Reagan that he had to get the thumbs of the bureaucrats in Washington, D.C., off the backs of the hardworking men and women of this country. Otherwise, we were going to lose that patriotic and innovative spirit.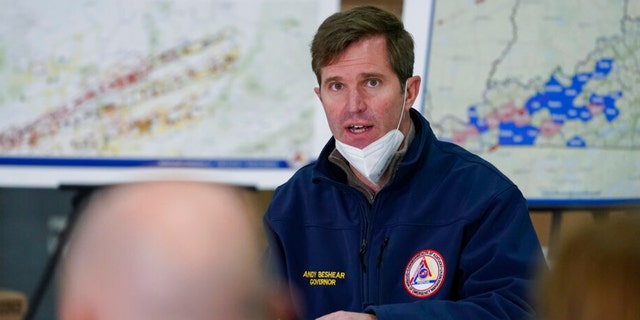 Democratic Kentucky Gov. Andy Beshear speaks as he attends a briefing by local leaders on storm damage from tornadoes and extreme weather with President Biden at Mayfield Graves County Airport in Mayfield, Ky., Dec. 15, 2021.
(AP Photo/Andrew Harnik)
"So patriotism is important to the fabric of the commonwealth. We've got a lot of pride in this state — in our history — and we value the rights that are given to us by God. And I want to be a governor that recognizes and shares those values with the men, women and children of all 120 counties."
Cameron is facing 11 other Republicans in the gubernatorial primary race, including former U.N. Ambassador Kelly Craft, state Agriculture Commissioner Ryan Quarles and state Auditor Mike Harmon.
CLICK HERE TO GET THE FOX NEWS APP
The Republican primary will be held Tuesday, May 16. The winner is expected to face Beshear in the November general election.