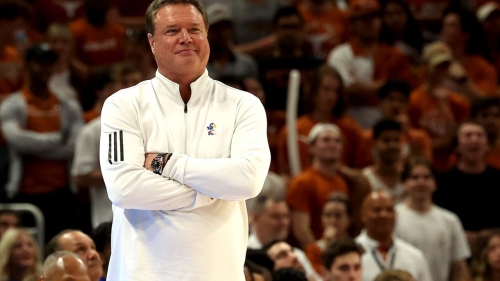 Bill Self said he is doing "well" and is "100% positive" he will return to coach next season.
Chris Covatta/Getty Images

CNN
—
Kansas men's head basketball coach Bill Self said he is doing "well" and is "100% positive" he will return to coach next season while speaking to the media for the first time following a health scare last month.
"I'll be honest, I haven't done a lot since the Big 12 tournament but I'm exercising almost daily and I don't know if you guys can believe this, they told me I need to improve my diet and exercise more," Self said.
"I don't know if anybody can believe that and I'm actually in the process of doing both and been pretty diligent at that but I feel fine. My energy level is probably back to where it was prior to the episode, but not where it's getting ready to go I believe."
Self quickly dispelled rumors of a potential retirement, reaffirming his commitment to the school.
"I am 100% positive I will be coaching at the University of Kansas this upcoming season and hopefully many more after that," Self said.
The 60-year-old missed the Big 12 tournament and the men's NCAA tournament after complaining of chest tightness and balance concerns, according to the University of Kansas Health System. Self later underwent a standard heart catheterization and had two stents put in for the treatment of blocked arteries.
Self said doctors told him there was no way he would be able to coach in the conference tournament and would have been difficult to coach in the team's first-round win over Howard.
"The Big 12 Tournament was out. There was no way I was coaching the Big 12 Tournament. Absolutely no way. I thought I would coach against West Virginia and they laughed at me," Self said.
"And then I said: 'Well, I'll coach the next game' and they laughed at me. And then they said: 'Well, maybe you can coach in you know, two or three weeks.' I said: 'No, no, I gotta be able to go in five days.'"
Self added that doctors felt if he had coached in the first round, there was a good chance he wouldn't have been able to coach in the second round due to a "concern of elevated heart rate."
"The risk of my blood pressure elevating was something that they saw as a potential major concern, so that was eliminated," Self said. "We had to win the Arkansas game for me to coach in the West Regional."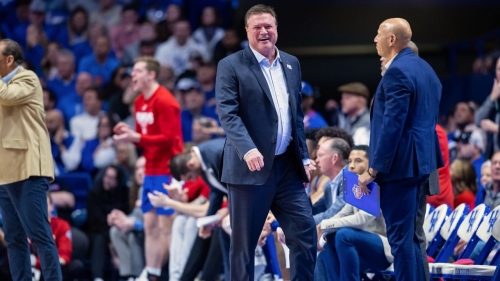 The 60-year-old missed the Big 12 tournament and the men's NCAA tournament.
Michael Hickey/Getty Images
The Jayhawks would go on to lose in the second round of the men's tournament to Arkansas. Self said the team played up to their potential when asked about the loss.
"Whatever their ceiling was, they got about as close to it as they possibly could this year," Self said. "I don't want to use the word overachieve. I never like overachieve because overachieve makes it sound like they did something they weren't capable of doing.
"They were obviously capable of doing it or they wouldn't have done it but to win this league and have those young guys compete at the level they did over a period of time, over the course of months, I'll remember that and that'll be my closure more so than what could have happened on the last possession of the last game."
Self added that his health scare was something he's "never experienced before" but he never felt as though he was in "danger" because he understood he was getting good care.
"It was kind of like an out-of-body type experience that you really don't know what's going on, you have no control over what's going on," Self said. "So it was something I'd never experienced before, but it was never to the point where I felt like I was in danger. I was in such good care and all that stuff, I just knew I wasn't right."
Self said this health scare allowed him to "reflect" on his future in coaching and his health going forward.
"I miss my job," Self said. "I love my job and I wanna do my job for a long time. That's what is positive. Now for me to be as effective doing that, I think I have to you know, wake up a little bit and maybe do some things from a lifestyle standpoint, a personal habit standpoint that I've been very, very, very inconsistent with my entire adult life.
"I said it jokingly earlier, can you imagine the doctors telling you you need to lose weight, eat right and exercise? You know, I've been told that a long time, but I'm taking that serious for the first time I probably have in my life."
Self, who has been the coach at Kansas for 20 years, helped lead the Jayhawks to a 28-8 record this season. Last season, Self helped lead the program to its fourth NCAA men's championship.