close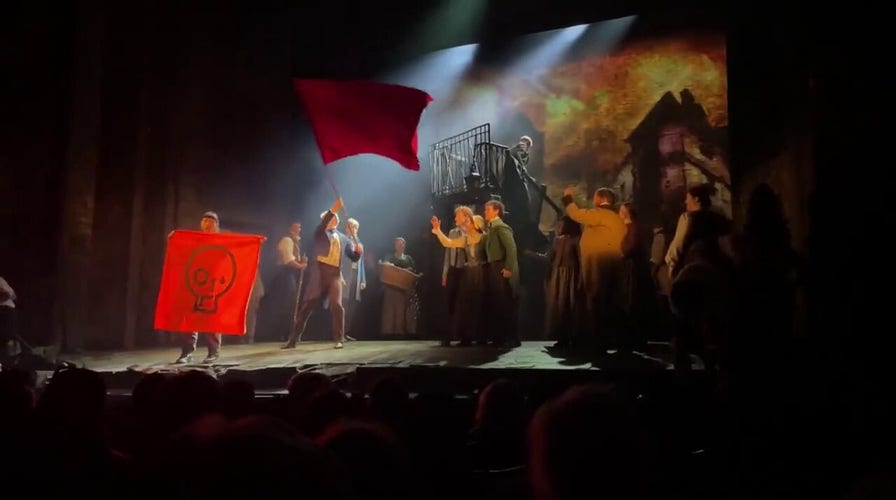 Video
Climate protesters shut down Les Miserables performance in London
A crowd in London is heard booing and jeering climate protesters who interrupted a performance of Les Miserables. (Credit: Just Stop Oil/LOCAL NEWS X/TMX)
A video has emerged of an enraged crowd booing and calling Just Stop Oil protesters "stupid people" after the climate activists interrupted a "Les Miserables" show in London, forcing it to shut down.
The U.K.'s Metropolitan Police says five people have since been arrested on suspicion of aggravated trespass after "demonstrators infiltrated the performance" on Wednesday night in London's West End.
Video taken of the incident begins with one protester standing at the front of the stage and unfurling an orange flag with a skull on it before shouting "Just Stop Oil!" at the audience. Behind her, the ensemble is belting out the chorus of the iconic song "Do You Hear the People Sing?"
More protesters then are seen onstage holding a banner with the phrase "Just Stop Oil" as the crowd starts booing and a production crew ushers the cast off the stage.
GERMAN DRIVER ERUPTS IN ANGER AS HE SLAPS AND GRABS CLIMATE PROTESTER BLOCKING ROAD IN BERLIN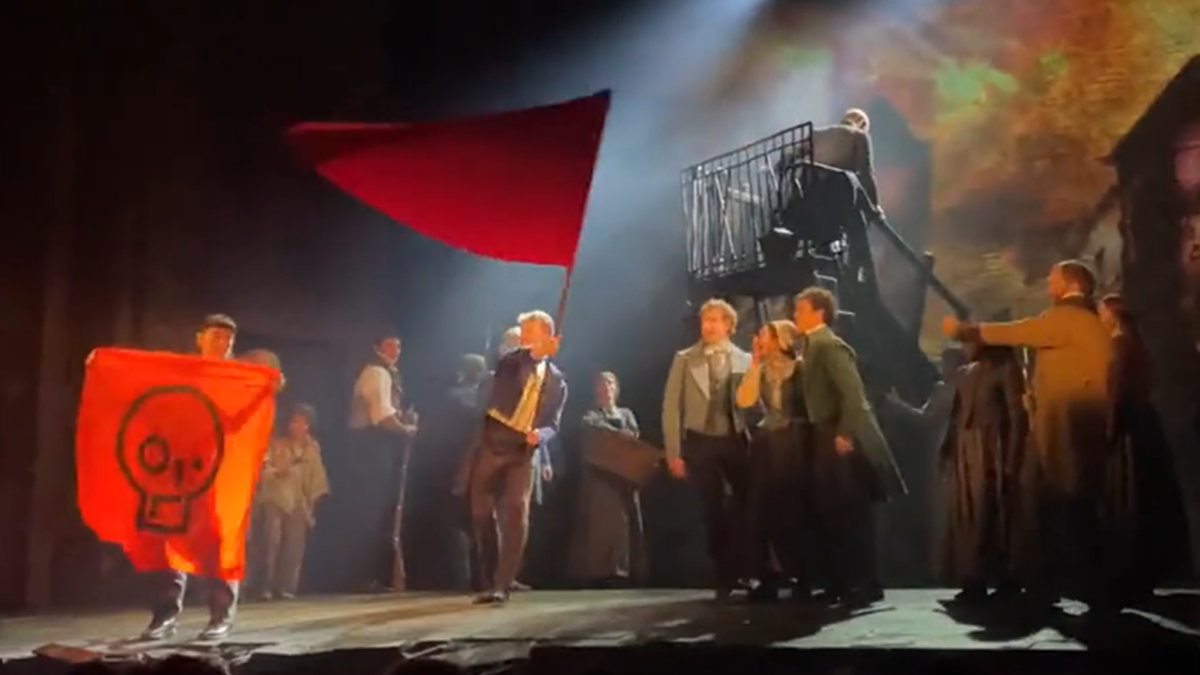 A climate protester is seen on stage Wednesday night in London during a performance of "Les Miserables." (Just Stop Oil/Local News X/TMX)
"Get off, you stupid people. How dare you!" a woman in the audience can be heard saying in disgust.
"Get off the stage!" another man yells.
The curtain then lowers and the boos grow louder.
Just Stop Oil, which describes itself as a "nonviolent civil resistance group demanding the UK Government stop licensing all new oil, gas and coal projects," later tweeted that four of the demonstrators locked themselves to the stage.
PORTUGUESE DRIVERS TAKE MATTERS INTO THEIR OWN HANDS WITH CLIMATE ACTIVISTS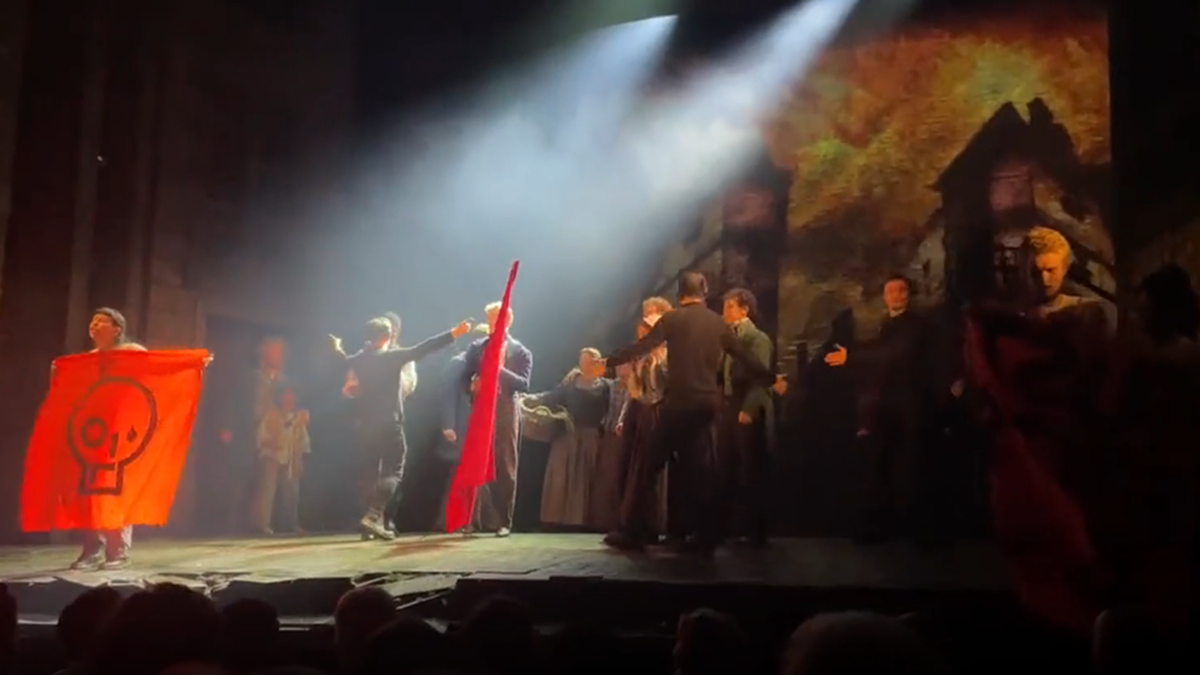 The production crew is seen ordering the "Les Miserables" cast off the stage as the performance is disrupted. (Just Stop Oil/Local News X/TMX)
The group later released a video purportedly showing two of the demonstrators explaining their behavior.
"I'm Noah, I'm 18 and I'm taking action with Just Stop Oil because my whole life has been overshadowed by the knowledge that unless we do something about the climate crisis it will destroy absolutely everything, and yet we continue to do nothing, and we continue to watch our leaders for the sake of greed continue to destroy everything," one of the people in the video says. "And I'm not willing to sit by and let them do that."
Met Police said those arrested are ages 28, 23, 22, 19 and 18.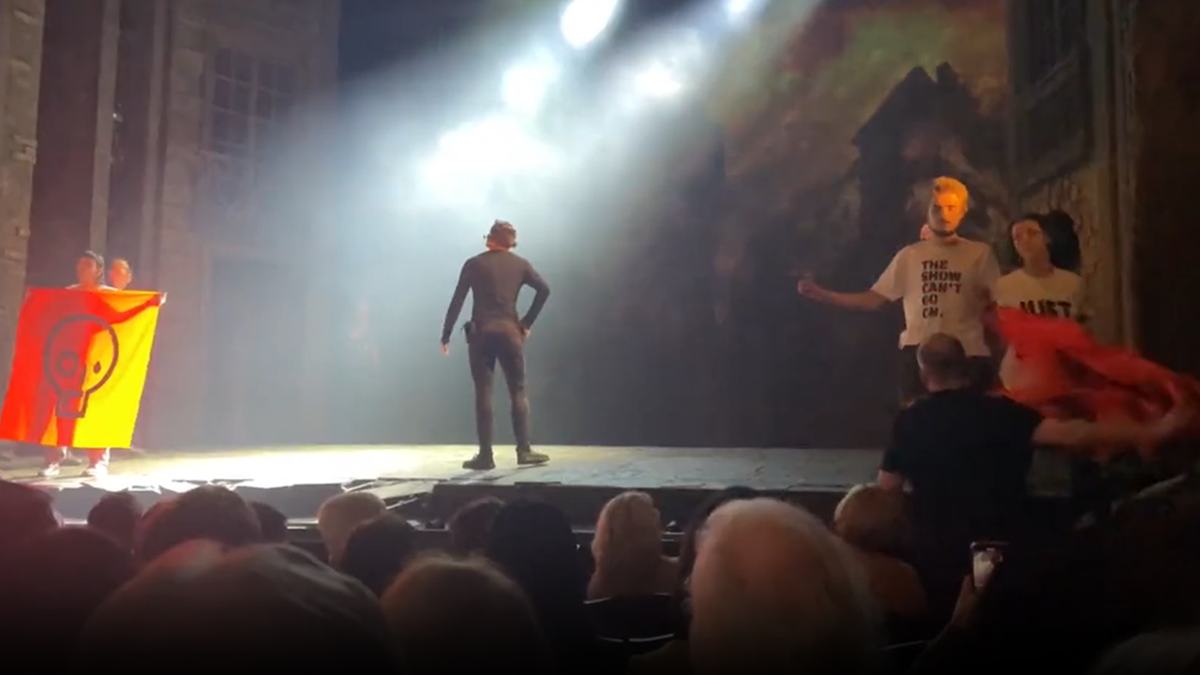 A person can be seen ripping a banner away from the Just Stop Oil protesters on stage. (Just Stop Oil/Local News X/TMX)
CLICK HERE TO GET THE FOX NEWS APP
"Many of those in the audience will have traveled significant distances, having purchased tickets months in advance, and it is unacceptable that demonstrators have targeted a specific group of people in order to ruin what should have been a special night out," Detective Inspector Chris Rudd of the Met's Public Order Command said in a statement.
Greg Norman is a reporter at Fox News Digital.