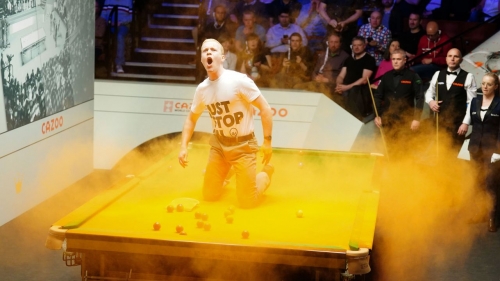 A Just Stop Oil protester jumps on the table and throws orange powder paint during a match.
Mike Egerton/PA Images/Getty Images

CNN
—
A protester disrupted the World Snooker Championship on Monday by climbing onto the table and throwing a bag of orange powder paint over the playing surface.
Video footage shows the man – who was wearing a 'Just Stop Oil' t-shirt – running from the crowd and leaping onto the table during the game between Robert Milkins and Joe Perry.
While kneeling on the table, he then managed to empty a pack of orange powder paint on the green surface before being bundled away by security.
At the same time, another protester could also be seen trying to disrupt the other game between Mark Allen and Fan Zhengyi, but she was stopped by the referee and quickly taken away by security.
Despite the incident lasting no more than a few seconds, the clean up operation took a while longer.
Protesters are detained by police during day three of the Randox Grand National Festival at Aintree Racecourse, Liverpool. Picture date: Saturday April 15, 2023.
Tim Goode/Press Association/AP
Debate rages on in UK after more than 100 people arrested over Grand National protests
The game between Milkins and Perry was postponed until Tuesday as the table needed to be re-clothed, while the game between Allen and Fan restarted after a 40-minute delay.
Protest group Just Stop Oil named the two activists as Margaret Reid, 52, and Eddie Whittingham, 25, and said the pair were "demanding" UK sporting institutions to "join in civil resistance" against the use of fossil fuels.
In a press release, the organization said the pair had been taken away by security and arrested. CNN has reached out to South Yorkshire Police to confirm.
"I have never seen that before at a snooker event. It's a first," former world champion and current pundit Stephen Hendry told the BBC during its coverage of the tournament. "It's scary, actually."
The World Snooker Tour, who organizes the tournament, tweeted on Monday: "This is the Crucible. The show will go on."
In addition to sporting events, Just Stop Oil activists have targeted art galleries. In 2022, members of the protest group threw soup at Vincent Van Gogh's "Sunflowers" in the National Gallery in London.
The World Snooker Championship is being played at the iconic Crucible Theater in Sheffield, UK, and is now the latest high-profile sporting event to be disrupted by activists.
Saturday's Grand National horse race was also delayed after animal rights protesters managed to breach the security barriers and run onto the track.
Police said more than 100 people were arrested as a result.