close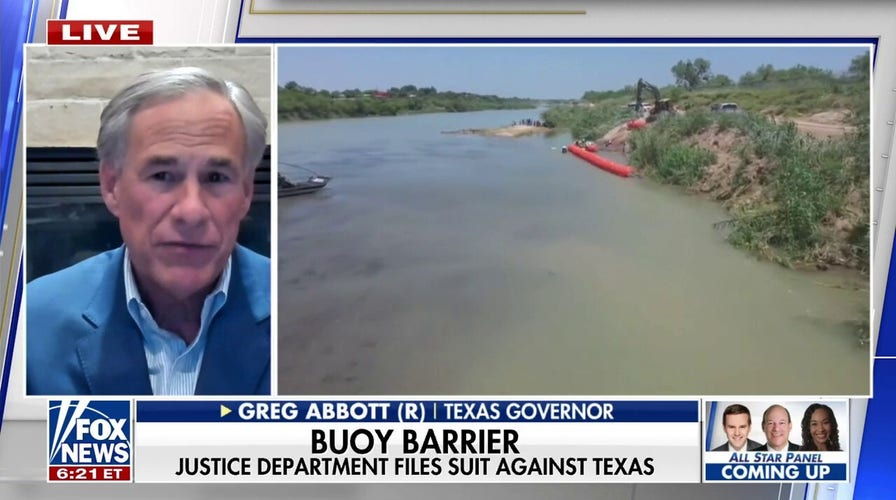 Video
Greg Abbott: Buoy barriers have repelled 'hundreds of thousands' of migrants
Gov. Greg Abbott, R-Texas, reacts to the Justice Department's lawsuit over Texas' border response on 'Special Report.'
A case over whether Texas can keep a floating barrier on the U.S.-Mexico border will land before a federal judge Tuesday as Republican Gov. Greg Abbott looks to keep the barrier amid efforts from the Biden administration and Mexico to remove it.
On Tuesday, U.S. District Judge David Ezra will hear the lawsuit brought by the Justice Department, which argues the barrier poses humanitarian and environmental risks and could further strain international relations with Mexico.
In defense of the buoy barrier – which was installed on the Rio Grande in July near the border city of Eagle Pass – Abbott said it was erected to prevent a surge of migrants into the U.S. as a result of the Biden administration and Congress failing to secure the border.
"President Biden abandoned his duty to secure our border. Under his open border policies, every state in America is a border state," Abbott wrote on X, formerly Twitter, Monday evening. "America's Governors will not stand idly by and allow this crisis to continue unchecked."
JUSTICE DEPARTMENT SUES TEXAS OVER FLOATING BORDER BARRIER IN THE RIO GRANDE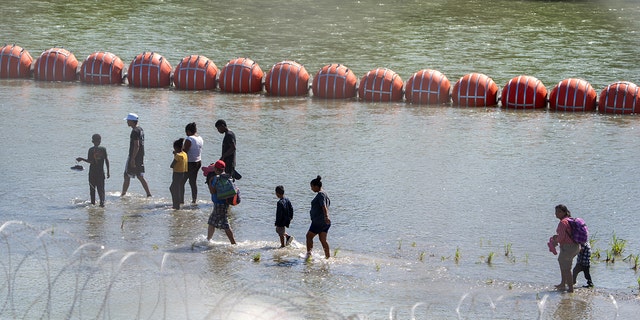 Migrants walk by a string of buoys placed on the water along the Rio Grande border with Mexico in Eagle Pass, Texas. The buoy barrier is intended to prevent a surge of migrants from entering the U.S. illegally. (SUZANNE CORDEIRO/AFP via Getty Images)
The hearing in Austin comes as numerous legal challenges are thrown at Texas' Operation Lone Star – Abbott's initiative to secure the border and crackdown on illegal immigration that included the construction of the floating barrier.
The hearing also comes days after Texas officials had to reposition the wrecking ball-sized buoys closer to U.S. soil as the governor claimed it had allegedly drifted closer to Mexico's side of the river.
During a trip to Eagle Pass, Texas, on Monday, Abbott said the barrier was moved "out of an abundance of caution."
"I don't know whether they were true or not," the governor added. He has also credited buoy barriers with repelling "hundreds of thousands" of migrants.
During Monday's visit to the border town, Abbott was joined by four Republican governors who have helped Texas in its efforts to secure the southern border.
Flanked by Iowa Gov. Kim Reynolds, Nebraska Gov. Jim Pillen, Oklahoma Gov. Kevin Stitt, and South Dakota Gov. Kristi Noem, Abbott said Monday: "These Governors here with me today are deploying military and law enforcement officers to help Texas secure the border."
The Republican governors of Iowa, Nebraska, Oklahoma and South Dakota – who have all sent armed law enforcement personnel and National Guard members to reinforce the southern border – joined Texas Gov. Greg Abbott for a visit to Eagle Pass. (Gov. Greg Abbott/X)
"We have 14 Governors who are deploying personnel to secure the border that President Biden has abandoned," the Texas governor continued, according to a news release. "President Biden is not doing his job, and he is responsible for the largest amount of illegal immigration in the history of the United States and has rolled out a deadly welcome mat with a record number of people dying attempting to cross the border.
Abbott continued: "There is a reason the United Nations has named the border between the United States and Mexico the deadliest land border in the entire world. President Biden is responsible for that deadly border, and we're not going to stand idly by. We, as states, share an obligation and that's to step up and address this unparalleled catastrophe caused by President Biden."
BORDER PATROL UNION RIPS REP. JOAQUIN CASTRO'S CRITICISM OF TEXAS RIO GRANDE WATER BUOYS: 'UNHINGED DIATRIBE'
Reynolds described Texas as "ground zero" for immigration and emphasized it was "front and center of the border crisis."
"On day 1 of the Biden Administration, they reversed policies that protect the sovereignty of this country and its citizens," she added. "Iowa is located at the intersection of two major interstates, and it is a pathway for Mexican cartels and humans traffickers in the Midwest. I thank the 14 other Governors who have stepped up to do the job that President Biden has failed to do. It is time for the President to do his job."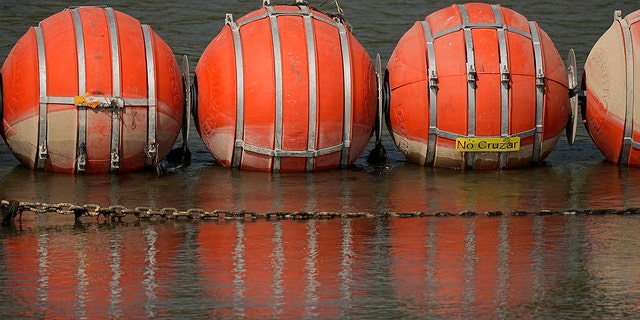 Buoys being used as a barrier are chained along the center of the Rio Grande in Eagle Pass, Texas.  (AP Photo/Eric Gay)
In the same meeting, Pillen accused Biden of letting the "crisis at the border go unchecked, and it is growing."
"This is a national security issue that must be addressed," the Nebraska governor added. "We stand with Governor Abbott as his state works daily to halt the influx of illegal drugs, weapons, and criminals into the U.S."
"What we're literally witnessing is a war zone, and it is astonishing to witness our President allow this to happen," said South Dakota Gov. Noem. "The cartels are out for blood, and they are facilitating the trafficking of our children every day. The lack of humanity in these policies. These policies are inhumane of what they're doing to people and these families. This country needs to realize that our President breaks the law and ignores the law. I thank Governor Abbott for all that he's done to fight this fight. I'm all in helping support Operation Lone Star."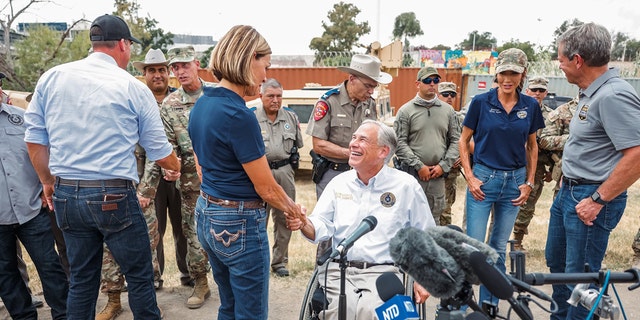 Iowa Gov. Kim Reynolds, Nebraska Gov. Jim Pillen, Oklahoma Gov. Kevin Stitt, and South Dakota Gov. Kristi Noem, and Texas Gov. Greg Abbott held a news conference in Eagle Pass, Texas, on Monday to address the crisis at the border. (Gov. Greg Abbott/X)
Stitt also criticized the Biden administration, accusing the White House of being "asleep at the wheel" and claiming the "chaotic scenes at the southern border are a stark reminder of the consequences of disastrous open border policies."
The Oklahoma governor added: "Make no mistake, every state has become a border state, but I'm encouraged by my fellow Republican Governors who are stepping up to secure the border. It is essential that we protect our communities by supporting our law enforcement and putting a stop to the flow of illegal drugs pouring into our nation."
CLICK HERE TO GET THE FOX NEWS APP
The 14 states that have deployed personnel and sent resources to strengthen the southern border include Arkansas, Florida, Iowa, Idaho, Nebraska, North Dakota, Ohio, Oklahoma, South Carolina, South Dakota, Tennessee, Virginia, West Virginia and Wyoming.
The Associated Press contributed to this report.