A federal judge on Wednesday denied Democrat presidential candidate Robert F. Kennedy Jr.'s request for a restraining order against Google and YouTube that he argued would prevent his primary campaign against President Biden from being further censored on the video sharing platform.
U.S. District Judge Trina Thompson, nominated by Biden in 2021, issued an 11-page decision saying RFK Jr. did not meet the threshold for a preliminary injunction to be granted on First Amendment grounds because Google and YouTube are private entities and not state actors as part of the government.
Google cited its COVID-19 medical and vaccine "misinformation" policies in taking down three videos of Kennedy shared on YouTube. Those were his speech at New Hampshire's Saint Anselm College uploaded by Manchester Public Television on March 3, his interview with podcaster Joe Rogan uploaded on June 17, and his June interview with Jordan Peterson.
In his complaint filed this month in the U.S. District Court for the Northern District of California, Kennedy sought a temporary restraining order to restore those videos and prevent the defendants from using those same policies to remove future videos of Kennedy during his 2024 presidential campaign.
JUDGE SCHEDULES EMERGENCY HEARING IN RFK JR'S LAWSUIT OVER YOUTUBE ALLEGEDLY CENSORING HIS CAMPAIGN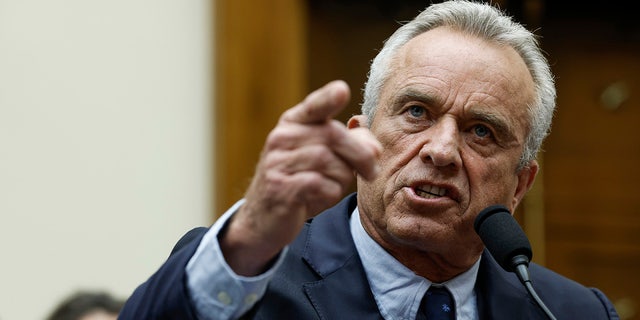 Democrat presidential candidate Robert F. Kennedy Jr. speaks during a hearing with the House Judiciary Subcommittee on the Weaponization of the Federal Government on Capitol Hill on July 20, 2023. (Anna Moneymaker/Getty Images)
The lawsuit sought timely relief as Kennedy's campaign is likely to pick up after Labor Day.
Kennedy's complaint cited the case of Missouri v. Biden, in which a federal judge in Louisiana issued a scathing July 4 opinion that ordered the Biden administration to limit communications with social media companies with regard to First Amendment-protected free speech of Americans.
However, Thompson wrote Wednesday that unlike in that Fifth Circuit case, Kennedy is suing private entities and not the government, saying there was no evidence before the court that government officials demanded Google adopt a COVID-19 medical misinformation or vaccine misinformation policy.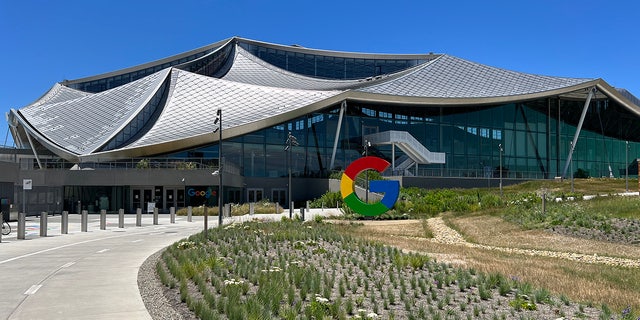 Google denies allegations it's unjustly censoring RFK Jr.'s campaign. (Zhang Yi/VCG via Getty Images)
RFK JR SAYS BIDEN ADMINISTRATION REJECTED HIS REQUEST FOR SECRET SERVICE PROTECTION IN 2024 RACE
Thompson based her opinion on a Ninth Circuit decision that ruled Twitter, the social media site now called X, exercised its "own independent judgment" in adopting content moderation policies and enforcing them.
The judge said Kennedy "has not shown that he has been irreparably harmed by Google or YouTube because he does not demonstrate urgency or that his speech will be censored on other social media platforms." Thompson further wrote that "a temporary restraining order does not serve the public interest of preventing the spread of illness and medical misinformation."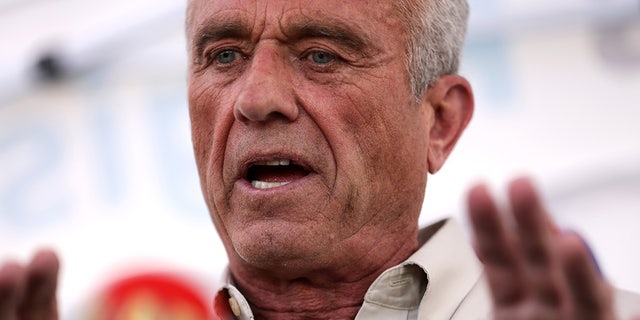 Democrat presidential candidate Robert F. Kennedy Jr. during the Iowa State Fair on Aug. 12, 2023, in Des Moines. (Alex Wong/Getty Images)
Thompson also said Kennedy has expressed that he is still able to post content on Facebook and X that runs afoul with Google's policy, and "there are numerous other ways" Kennedy can share video content concerning his viewpoints on vaccinations and COVID-19.
Fox News Digital reached out to Kennedy's campaign and Google for comment on the court ruling, but they did not immediately respond.
CLICK HERE TO GET THE FOX NEWS APP
Kennedy testified before the House Judiciary Select Subcommittee on the Weaponization of the Federal Government in July with regard to the investigation led by Rep. Jim Jordan, R-Ohio, into the Biden administration's alleged collusion with social media companies to censor free speech. Republicans charged that Democrats tried to censor Kennedy during the hearing about censorship.
Google has said Kennedy's lawsuit is "meritless," telling Fox News Digital that "YouTube applies its Community Guidelines independently, transparently, and consistently, regardless of political viewpoint."
The next hearing in the case is set for Nov. 7, when the judge will consider Kennedy's motion for a preliminary injunction and defendants' motion to dismiss.