close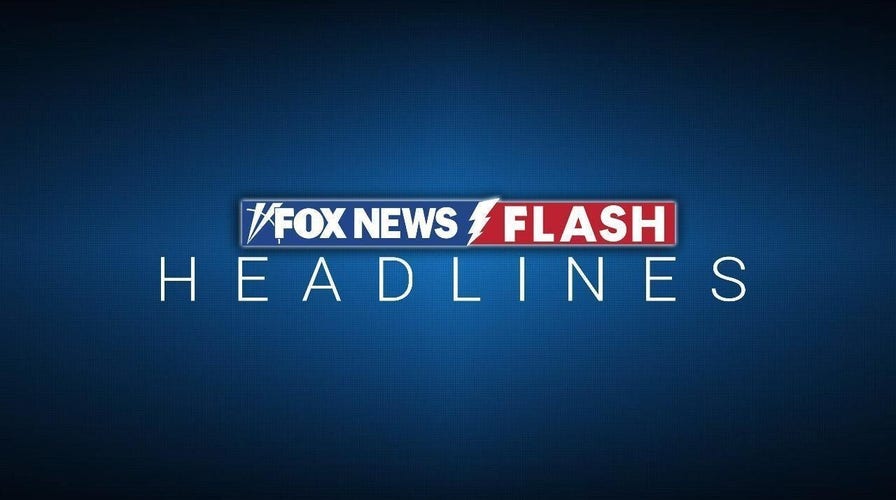 Video
Fox News Flash top headlines for February 15
Fox News Flash top headlines are here. Check out what's clicking on Foxnews.com.
Jordan's foreign minister Tuesday met with Syrian President Bashar Assad in Damascus, vowing to continue delivering earthquake aid and work to find a political solution to Syria's 12-year conflict, Syrian state media reported.
Ayman Safadi's visit to the earthquake-hit country makes him the first Jordanian official to do so since the onset of Syria's conflict in 2011. It marks a new thaw in relations between the two countries and more generally between Assad and the Arab world.
Jordan's King Abdullah II had called Assad last week to express Amman's willingness to send humanitarian aid. Since then, cargo planes and trucks loaded with assistance from the neighboring country have reached Syria to help with relief efforts. The 7.8 magnitude earthquake killed over 1,400 people in government-held areas and displaced thousands more.
Safadi also met with Syrian counterpart Faisal Mekdad.
US MILITARY SHOOTS DOWN IRANIAN-MADE DRONE OVER OIL SITE IN SYRIA
"We discussed our bilateral relations and efforts to find a political solution to the Syrian crisis that ends this catastrophe," Safadi said after meeting Mekdad at Damascus airport. "A solution that preserves Syria's unity and sovereignty."
According to a statement from Assad's office, the Syrian president thanked Jordan for its support, and told Safadi that the Syrian people "welcome any positive positions towards them, especially from brotherly Arab countries."
Jordan, like most Arab countries since the start of Syria's civil war, reduced diplomatic relations with Syria in 2011. The kingdom also hosted Western-backed opposition groups and took in hundreds of thousands of refugees.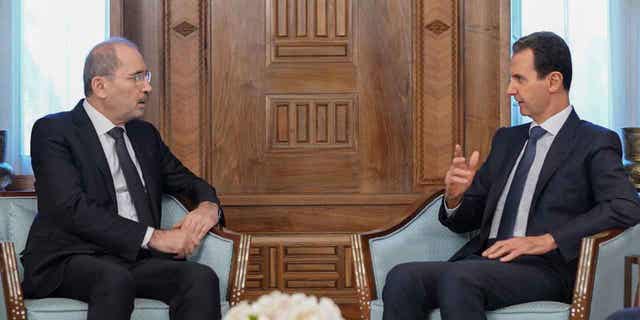 Syrian President Bashar Assad, right, meets Jordanian Foreign Minister Ayman Safadi in Damascus, Syria, on Feb. 15, 2023. Safadi vowed to continue delivering earthquake aid to Syria during the meeting with Assad in Damascus. (Syrian Presidency Facebook page via AP)
Arab and Western countries generally blamed Assad for the deadly crackdown on the protests that erupted in 2011, and supported the opposition in the early days of the conflict, which displaced and killed millions of people.
Assad has since regained much of Syria's territory with the backing of key allies Russia and Iran, and some Arab countries that once shunned him have been slowly rekindling ties in recent years.
SYRIA DISMISSES GLOBAL CHEMICAL WATCHDOG'S STATEMENT REGARDING 2018 CHLORINE GAS ATTACK IN DOUMA
King Abdullah II and Assad spoke for the first time in a decade in October 2021, discussing cooperation to bolster both countries' ailing economies over the phone.
United Arab Emirates Foreign Minister Abdullah bin Zayed Al Nahyan met with Assad in Damascus on Sunday, while other Arab countries close to the United States, most notably Saudi Arabia and Egypt, have delivered aid to Damascus.
Some experts say that the earthquake and humanitarian crisis that compounded Syria's woes may accelerate normalization efforts between Assad and Arab countries that have shunned him for over a decade.
The United States, which has strict sanctions on Syria, has eased some of them since the earthquake for humanitarian relief. But the U.S. has been critical of countries renewing relations with the embattled president without a political settlement to end the conflict.
CLICK HERE TO GET THE FOX NEWS APP
Stephen Rapp, a former U.S. ambassador-at-large for war crimes issues who plays a leading role in the international effort to bring Assad and his top officials to justice for war atrocities, visited a disaster area in rebel-held Jinderis and Afrin in northwest Syria on Tuesday. He criticized the Syrian president for holding up access to aid to opposition areas before finally authorizing the U.N. to open new crossings almost a week after the quake.
"There is the crime that this area is besieged by Assad and the international community has been complicit in that siege in the sense that we've allowed them to strangle the area and haven't recognized that the law permits the cross-border assistance," he told The Associated Press after his tour of the devastated areas.