The Avengers assembled online for a little comic relief after Jeremy Renner admitted he suffered from more than 30 broken bones following a traumatic snowplow accident on New Year's Day.
Renner shared an update Saturday with his social media followers after being released from the hospital just days before.
On the first day of the year, the "Hurt Locker" star was crushed by his 14,000-pound snowcat while attempting to tow a vehicle out of his driveway following a snowstorm in the Lake Tahoe area.
He had to be airlifted from the scene after being run over by the PistenBully, and suffered blunt chest trauma and orthopedic injuries. Renner has since been in recovery.
JEREMY RENNER REVEALS SNOWPLOW ACCIDENT LEFT HIM WITH '30 PLUS BROKEN BONES'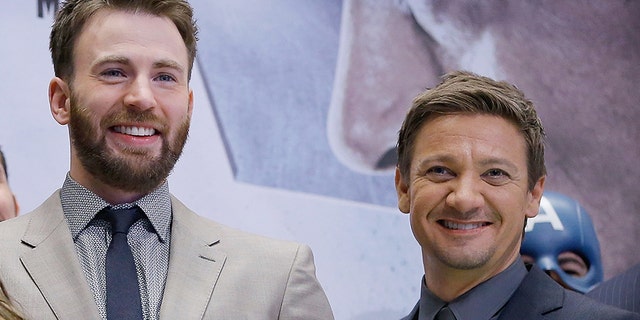 Jeremy Renner and Chris Evans have fun on Twitter after Renner's shocking snowplow accident.
(John Lamparski)
Renner received physical therapy in a photo shared online.
JEREMY RENNER IS MISSING HIS 'HAPPY PLACE' FOLLOWING SEVERE INJURIES FROM SNOWPLOW ACCIDENT
"Morning workouts, resolutions all changed this particular new years …. Spawned from tragedy for my entire family, and quickly focused into uniting actionable love," he wrote.
"I want to thank EVERYONE for their messages and thoughtfulness for my family and I …. Much love and appreciation to you all."
CLICK HERE TO SIGN UP FOR THE ENTERTAINMENT NEWSLETTER
Renner added, "These 30 plus broken bones will mend, grow stronger, just like the love and bond with family and friends deepens. Love and blessings to you all."
Chris Evans wanted to make sure everything was accounted for from the accident.
"That's one tough mf'er. Has anyone even checked on the snowcat??? Sending so much love," Evans wrote.
"Love you brother…. I did check on the snow cat, she needs fuel," Renner responded.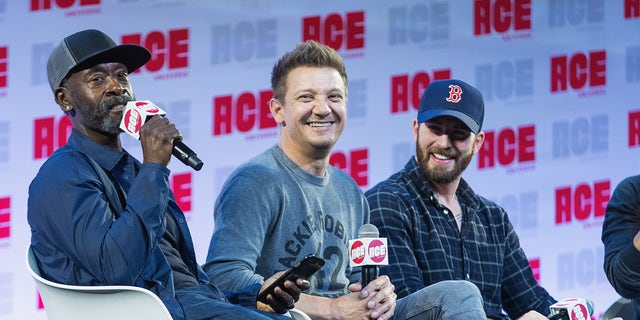 Don Cheadle, Jeremy Renner and Chris Evans speak on stage during ACE Comic Con.
(Mat Hayward)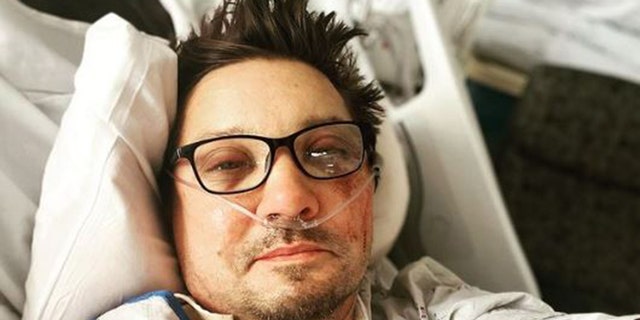 Jeremy Renner shares selfie from hospital bed
(Jeremy Renner/ Instagram)
Renner was "completely crushed" and had difficulty "breathing" after the accident on Jan. 1, according to 911 call logs obtained by Fox News Digital.
In addition, he was "bleeding heavily from his head and other unknown injuries" and the caller believed that Renner's "right side of his chest is collapsed" and "upper torso is crushed."
He had to undergo surgery, and it's unclear when Renner was discharged from the hospital. Season two of "Mayor of Kingstown" premiered on Jan. 15, where Renner stars as Mike McLusky.
Renner became a two-time Oscar nominee with "The Hurt Locker" and "The Town." He earned his own Disney+ series, "Hawkeye," after multiple appearances in MCU films, including "The Avengers" series.
CLICK HERE TO GET THE FOX NEWS APP