"Jeopardy!" producers are listening to their fans and making some changes.
During a recent episode of the "Inside Jeopardy!" podcast, producers Michael Davies and Sarah Foss discussed their New Year's resolutions regarding the show, as well as the mistakes they made this past season and how they think they can improve the show. One thing Davies noted was that the post-season episodes "really worked" but can be done in a better way.
"My first resolution is that we are going to expand post-season next year," Davies said. "We had sort of slightly weird thing where we kicked off the regular season for five weeks, then we went into post-season, and we came back and went back into regular season again, and I think what we're going to do next season is we're going to kick off the season with the post-season, and then go into regular season thereafter."
The post-season shows include "Jeopardy! Tournament of Champions" and the "Second Chance Tournament." By adding these to the beginning of the season, producers will avoid interrupting regular gameplay and won't interfere with a potential winning streak the audience is invested in.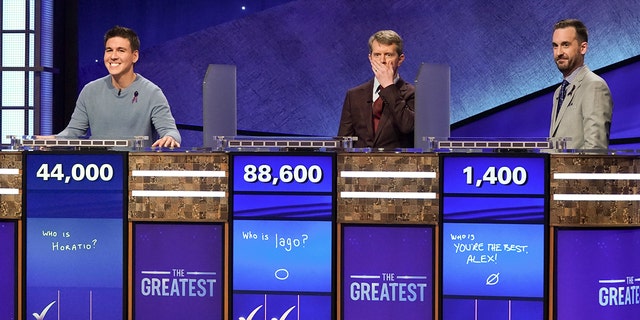 Producers of "Jeopardy!" promise regular game play won't be interrupted by a spin-off tournament show.
(Eric McCandless/ABC via Getty Images)
'JEOPARDY!' HOST KEN JENNINGS DEFENDS 'WHAT'S A HOE' ANSWER 18 YEARS LATER, AFTER CLIP GOES VIRAL
While they are excited about the success of the post-season shows and expanding those, Davies wanted to acknowledge that he and Foss "understand the value of new players getting the opportunity to get on the Alex Trebek stage and getting opportunities to play," and says that adding more post-season episodes won't take away from new players taking the stage.
"We can expand the post-season, we can expand it to nine weeks, 10 weeks, 11 weeks, whatever we decide, eight weeks, there would be plenty of weeks for regular gameplay still," he said. "I think we're going to expand the post-season. I think it's going to be a really important thing."
Foss added, "I think it may mean we have less of some of the more traditional tournaments that we've had in the past, because we are hearing our fans and our players say they want more chances for people to have that first-time opportunity, and some of our tournaments in the past haven't necessarily allowed for a spot in the TOC, so this might be a way to have that balance."
The show currently has two hosts who take on different responsibilities, with Ken Jennings hosting the regular syndicated episodes, and Mayim Bialik hosting the High School Reunion Tournament and "Celebrity Jeopardy!" which airs on Thursdays.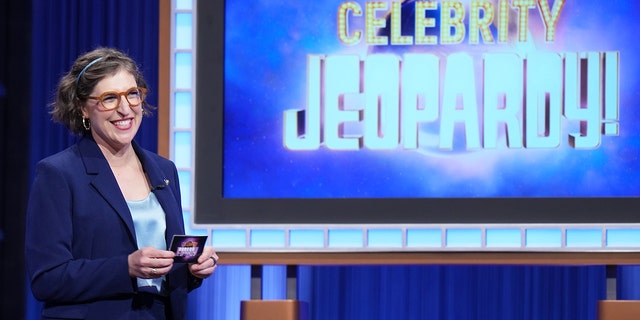 Mayim Bialik hosts "Celebrity Jeopardy!" which airs on Thursday nights.
(Tyler Golden/ABC via Getty Images)
Davies is so impressed by the success of "Celebrity Jeopardy!" saying that "based on that show's performance," it has gone from a syndicated show to "a Primetime fixture."
One of Davies' other resolutions for 2023 is to finally get "Jeopardy! Masters" off the ground, calling the project his "baby" and his "fondest dream." He explained that the show is something he has wanted to make happen since his first day on the job, but the timing wasn't right until now.
"We have these pro-level, elite level players, and our fans . . . tell us on social media all the time you watch the show through these people," he said. "I just look at the ratings, and when we have a super champion there in the mix, and suddenly when we had them playing against each other, the quality of the programs, the ratings of those programs, the social media interactions, the engagement with those programs, it was off the charts."
CLICK HERE TO SIGN UP FOR OUR ENTERTAINMENT NEWSLETTER
He ended by saying, "We're going to make 'Jeopardy! Masters' happen," with Foss exclaiming that fans will see it in 2023. The next challenge they face is deciding which past champions they're going to choose to participate in the new spin-off.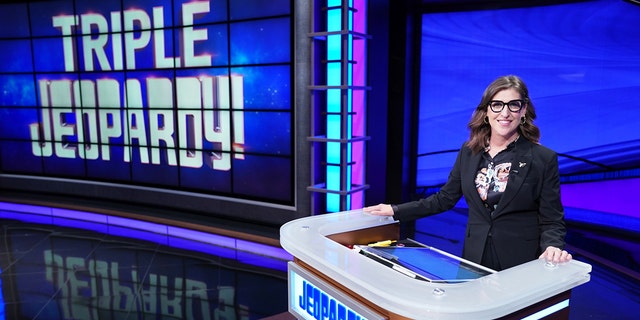 "Jeopardy!" has been renewed for five more years, through the 2027-2028 season.
(Tyler Golden/ABC via Getty Images)
CLICK HERE TO GET THE FOX NEWS APP
The start date for season 40 has yet to be released, however it was announced on Wednesday that the show has been renewed through the 2027-2028 season.