The relationship between the late queen's favorite son and a convicted sex offender with a Gatsby-like persona may have been closer than once realized.
Prince Andrew, the disgraced Duke of York, is finding himself in the spotlight once more.
The son of Britain's Queen Elizabeth II and Prince Philip is the subject of an A&E docuseries, "Secrets of Prince Andrew." The special explores the 63-year-old's life and his disastrous BBC "Newsnight" interview from November 2019. It features new interviews with palace insiders, lawyers and experts.
Fox News Digital was given an advance screening of the docuseries, which premieres Monday night. An attorney for the royal told Fox News Digital he would have no comment.
PRINCE ANDREW'S INFAMOUS BBC INTERVIEW ABOUT JEFFREY EPSTEIN TO BE TURNED INTO MOVIE: WHAT TO KNOW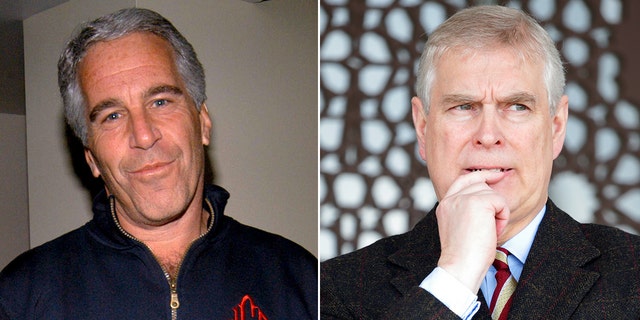 The Duke of York's (right) controversial connection to late American financier and convicted sex offender Jeffrey Epstein (left) is being explored in the docuseries "Secrets of Prince Andrew." (Getty Images)
"[Andrew and Epstein] came extremely close," royal biographer Andrew Lownie claimed in the documentary. "You know, real best buddies. There were seven different numbers for Andrew in Epstein's little black book. He had the most intimate details of Andrew's life. Epstein said, 'There's only one person who likes sex more than me, and that's Andrew.'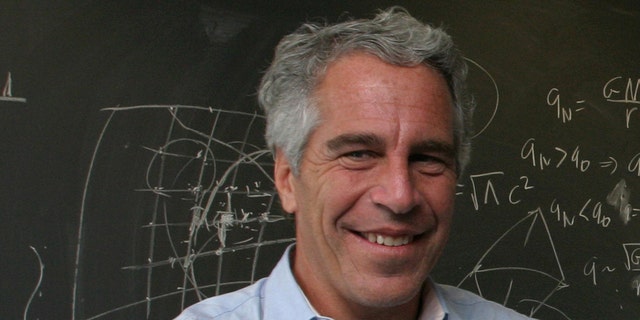 Jeffrey Epstein reportedly had multiple phone numbers for Prince Andrew in his little black book. (Rick Friedman/Rick Friedman Photography/Corbis via Getty Images)
"There's no doubt that they were seeing each other almost every month.
"[Andrew is] entertaining Epstein and Ghislaine Maxwell at Balmoral. [Maxwell was described] as the plus one of Epstein. Whether she's the girlfriend or [he] becomes her sugar daddy, it's not clear. They stayed at Balmoral. They were at Sandringham. They were invited to personal birthday parties at Windsor. They met other members of the royal family. Epstein and Ghislaine were invited to the heart of the British monarchy."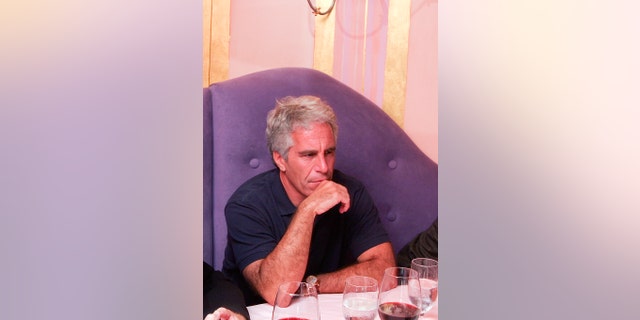 According to the documentary, Prince Andrew found a friend in Jeffrey Epstein (pictured here). But the American financier was using the royal. (Getty Images)
"The fact that [Epstein] was invited as a guest of Andrew would've been to private events," added Dickie Arbiter, former Buckingham Palace press secretary. "Andrew would've sought permission from the queen to invite him. The queen would believe her children. … [And] who heard of Epstein in [the] 1990s? … If Andrew fell under his spell, [Epstein] could provide exotic holidays. He could provide yachts, provide girls."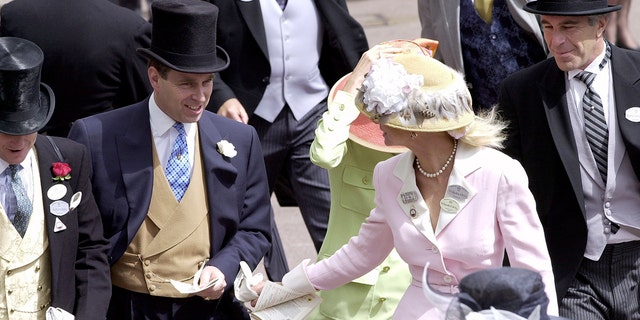 Jeffrey Epstein (right) is seen here at the Royal Ascot Race with Prince Andrew (left). (Tim Graham Photo Library via Getty Images)
In his interview with "Newsnight," Andrew claimed he met Epstein in 1999 through Maxwell. Andrew said he's known Maxwell, the socialite daughter of press baron Robert Maxwell, since her university days. However, a 2001 letter to The Times of London from Alastair Watson, the prince's former private secretary, suggested Andrew and Epstein knew each other from the early '90s.
Andrew insisted he and Epstein were "not that close." The Times of London reported that the pair traveled together in Phuket, Thailand, where they were spotted on a yacht surrounded by topless women. The outlet reported that the holiday was paid for by Epstein.
"Either deliberately someone leaked information, or paparazzi got to hear about the trip," said Lownie. "But there were lots of sightings of [Andrew] cavorting around the far east, having a good time. And the photographs ran across The Mirror. Didn't look very good for a senior royal to be on rich people's yachts with topless girls who were young enough to be his daughter. This didn't really reflect well on the royal family. There is a sense of, 'What are we going to do with him?'"
CLICK HERE TO SIGN UP FOR THE ENTERTAINMENT NEWSLETTER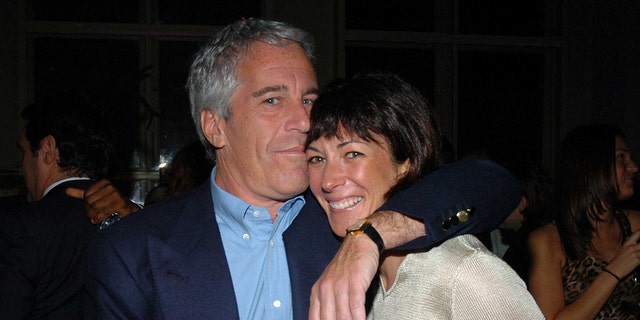 Jeffrey Epstein (left) and Prince Andrew met through mutual pal Ghislaine Maxwell (right). (Joe Schildhorn/Patrick McMullan via Getty Images)
It's also been reported the pair met at least 10 times in New York, the Virgin Islands and Palm Beach.
While Andrew may have seen a friend in Epstein, the American financier saw a golden ticket. In her book, "The Palace Papers," former Vanity Fair editor Tina Brown wrote how Epstein boasted to his pals about using the Duke of York's friendship.
"Privately, Epstein told people that Andrew was an idiot, but — to him — a useful one," Brown wrote. "A senior royal, even if tainted, is always a potent magnet abroad. Epstein confided to a friend that he used to fly the Duke of York to obscure foreign markets, where governments were obliged to receive him, and Epstein went along as HRH's investment adviser. With Andrew as frontman, Epstein could negotiate deals with these (often) shady players."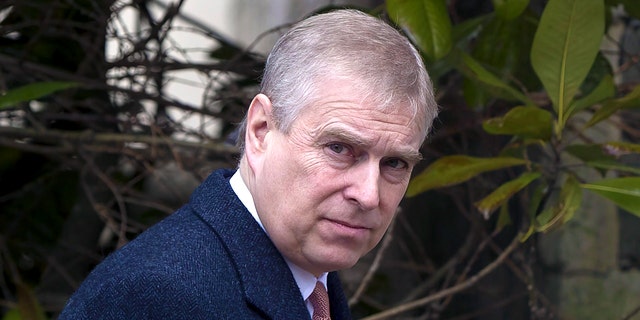 Prince Andrew, nicknamed "Randy Andy," was said to be Queen Elizabeth II's favorite son. (REUTERS/Neil Hall)
Investigative reporter Vicky Ward made similar findings.
"It's become apparent to me from my reporting that Jeffrey Epstein was incredibly skilled at reading people and at manipulating people," she explained. "He was brilliant at summing up people very, very quickly and figuring out what it was that they needed. Prince Andrew was not the only person to be fooled by Jeffrey Epstein. … Jeffrey Epstein was a brilliant, manipulative, deceptive con artist."
Former model Lisa Phillips recalled meeting Epstein in 2000 after a Caribbean shoot. She and a pal were invited to his private Little St. James Island. The friend had told Phillips that the billionaire "does amazing things for models" and he's "a really great guy."
VIRGINIA GIUFFRE WON'T 'REMAIN SILENT' ON PRINCE ANDREW SEXUAL ABUSE ALLEGATIONS ONCE GAG ORDER LIFTS: LAWYER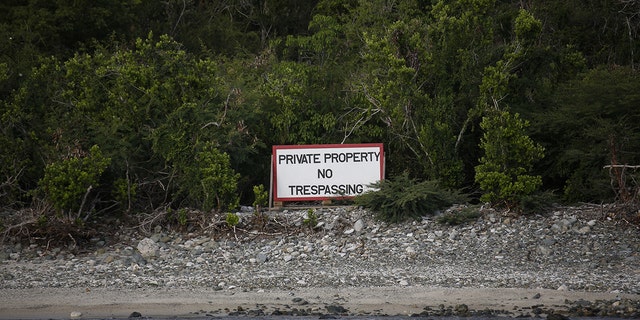 A "private property" sign is displayed on Little St. James, Jefferey Epstein's private island, in St. Thomas, Virgin Islands, July 10, 2019. (Marco Bello/Bloomberg via Getty Images)
"We went over to his island, had dinner and we were sitting with a bunch of other young women I thought were the same age as me. You know, early 20s, maybe late teens," Phillips recalled. "And then I was introduced to Jeffrey, a really charming man who asked me so many questions and paid so much attention to me. … At that moment, a man walked in and said hello to me and the other women. … Then he quickly left.
"The model had said to me, 'Did you know that was Prince Andrew?'" Phillips shared. "I don't think I was supposed to even see him, but he walked up at that moment to say goodbye. … Jeffrey pursued me very heavily after that to be in his world. And knowing that Jeffrey introduced me to a prince, he didn't want anybody knowing about it."
Phillips claimed in the documentary she was groomed by Epstein.
In 2010, Andrew and Epstein were photographed together in Central Park. Reporter Annette Witheridge recalled tracking down the prince in New York with photographer Jae Donnelly. Witheridge and Donnelly sat outside Epstein's lavish townhouse for what "felt like three days."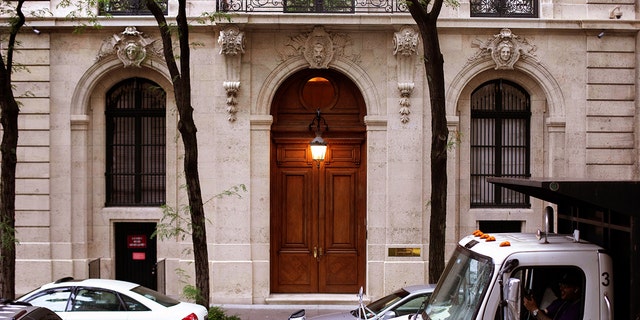 A home belonging to Jeffrey Epstein at East 71st street on the Upper East Side of Manhattan July 8, 2019, in New York City. (Kevin Hagen/Getty Images)
"During this time, there were young girls going in and out, like every hour and a half, two hours," she claimed. "Two would come in, one would go out. … Why would Andrew be as stupid as to be staying at the home of a convicted sex offender? … Without that picture of Andrew, we could never have proved he was there."
"Were it not for that photograph, I'm not sure that anyone would've paid attention to Jeffrey Epstein," said Ward. "The great irony of this story is that the person who really made Jeffrey Epstein a household name was Prince Andrew."'
Arbiter said that if the queen had known about who Epstein really was, she would have ordered her son to end the friendship.
GHISLAINE MAXWELL SAYS SHE BELIEVES JEFFREY EPSTEIN WAS 'MURDERED' IN POST-CONVICTION PRISON INTERVIEW: REPORT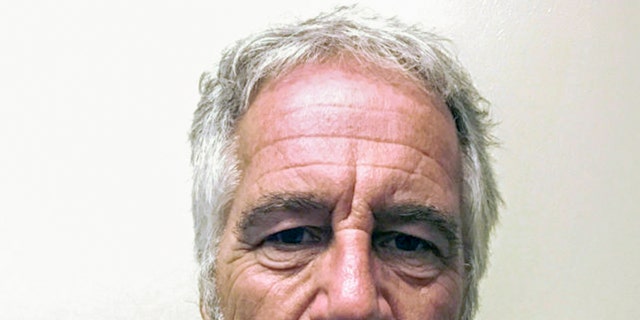 Jeffrey Epstein's mugshot, circa 2019. The financier was found dead Aug. 10, 2019. (Kypros/Getty Images)
"If the queen had known all the details about Jeffrey Epstein having just come out of an 18 months sentence, she would've told him not to go, and [Andrew] would've listened," he said. "Unfortunately, the late queen was a bit soft on her children. But, given all the facts, she would've hardened and would've said no. He always listened to his mother, always. The problem is Andrew would do things without telling anybody."
Virginia Roberts Giuffre has said Epstein forced her to have sex with Andrew in 2001 when she was 17. The American woman said Epstein flew her around the world on his private planes to have sex with powerful men, and that she had sexual encounters with the prince in London, New York and the Virgin Islands. Andrew has vehemently denied the allegations.
In a 2023 interview with UK's TalkTV, Maxwell, 61, claimed a widely circulated photograph of Giuffre posing with Andrew is "fake." In his own interview, Andrew said, "I don't recollect that photograph ever being taken."
"He's convicted based on innuendo," Allan Starkie, a former business manager to Andrew's ex-wife Sarah Ferguson, insisted.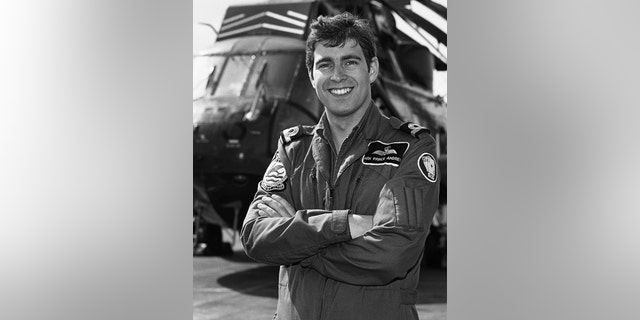 Prince Andrew on board the HMS Invincible during the Falklands War, in which he served as a helicopter pilot. (© Hulton-Deutsch Collection/Corbis via Getty Images)
"He's a war hero for God's sake," he added, referring to Andrew's service as a helicopter pilot during the Falklands War.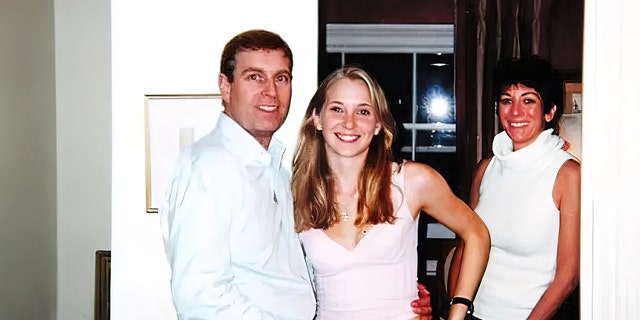 A photo from 2001 included in court files shows Prince Andrew with his arm around the waist of 17-year-old Virginia Giuffre, who claimed the Duke of York sexually abused her. Andrew denied the charges. In the background is Epstein's girlfriend, Ghislaine Maxwell.  (U.S. Second Circuit Court of Appeals)
Phillips said a friend once confided in her, alleging she was ordered by Epstein to have sex with the prince. She said the pal would have been 19 or 20 at the time.
"It was just traumatizing," said Phillips. "She was a completely different person. … I stopped speaking to Jeffrey after that. I went to talk to him about it and what was going on. He said, 'It's good to have things on people.' He had a lot of secrets on a lot of high-powered men."
QUEEN ELIZABETH 'REMAINED INCREDIBLY CLOSE' TO PRINCE ANDREW 'RIGHT UP UNTIL HER DEATH,' ROYAL AUTHOR CLAIMS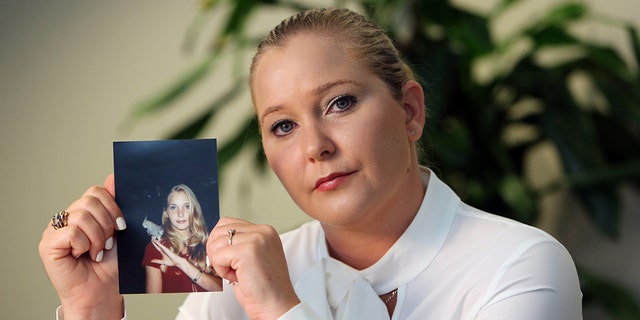 Virginia Roberts Giuffre holds a photo of herself at age 16, when she says Palm Beach multimillionaire Jeffrey Epstein began abusing her sexually. (Emily Michot/Miami Herald/Tribune News Service via Getty Images)
Epstein was found dead in a New York jail cell in 2019. The 66-year-old was awaiting trial on federal sex trafficking charges. Later that year, Andrew spoke to "Newsnight."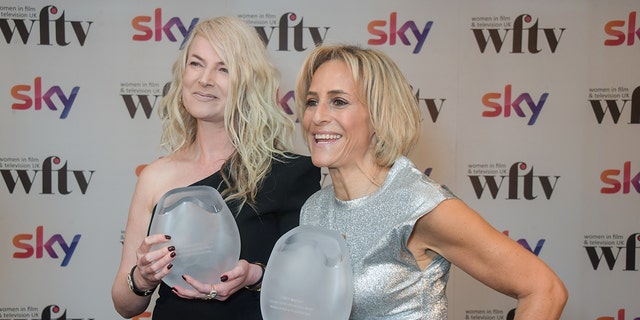 Sam McAllister (left) and Emily Maitlis (right) were awarded for securing a televised interview with Prince Andrew. (David M. Benett/Dave Benett/Getty Images for WFTV Awards)
"He believed he had not been guilty of any inappropriate conduct," said media lawyer and friend Paul Tweed. "He felt that he could explain that position. … I told him, 'Absolutely not. Don't do it.' … I didn't believe that 'Newsnight' interview was going ahead."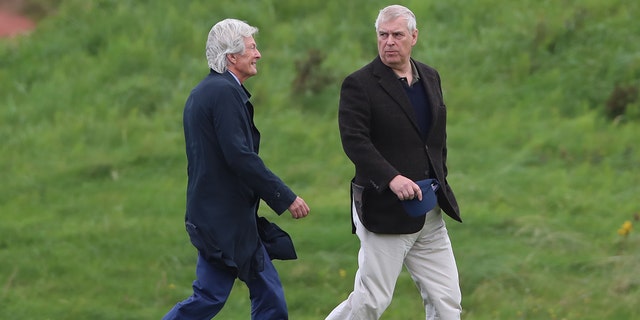 Paul Tweed (left) warned Prince Andrew (right) not to do what would become his nuclear TV interview. (Liam McBurney/PA Images via Getty Images)
Following his interview, Andrew announced he was stepping back from royal duties. He was stripped of his honorary military titles. The queen also removed his honorary leadership of various charities, known as royal patronages, and barred him from using the title "his royal highness" in official settings.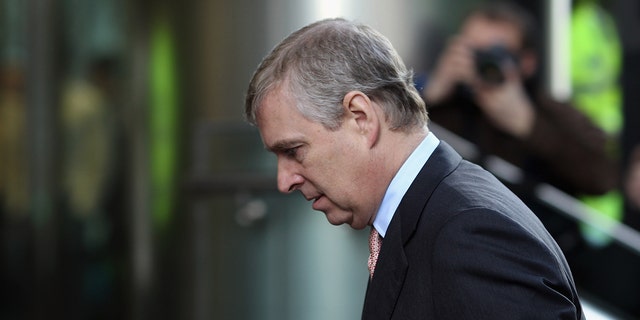 Prince Andrew stepped back from royal duties in late 2019. (Dan Kitwood/Getty Images)
In 2022, a U.S. judge dismissed the sex abuse lawsuit against Andrew, who reached a settlement with Giuffre, 40. The prince made a substantial donation to his accuser's charity and declared he never meant to malign her character.
The documentary shared that the queen was in poor health as Andrew faced mounting criticism. Insiders suspected the doting matriarch, who was "his champion," ultimately "lost the strength" to "keep fighting in his corner." While not disclosed, Time magazine reported that the monarch contributed $2.7 million to the estimated $16.3 million settlement.
The queen died in September of that year at age 96. Andrew has since kept a low profile.
"Secrets of Prince Andrew" airs Aug. 21 at 8 p.m. The Associated Press contributed to this report.