close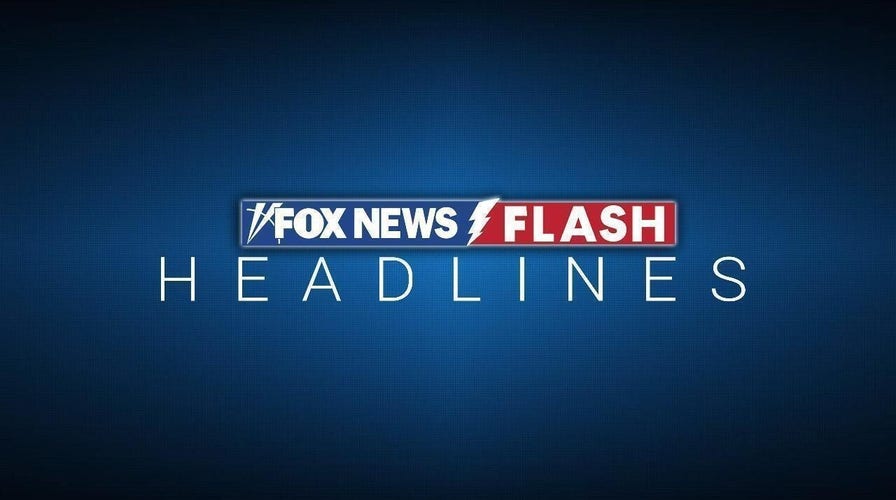 Video
Fox News Flash top headlines for June 13
Fox News Flash top headlines are here. Check out what's clicking on Foxnews.com.
The powerful lower house of Japan's parliament on Tuesday passed a bill to promote understanding of LGBTQ+ issues amid protests by activists that last-minute revisions by Prime Minister Fumio Kishida's conservative party favored opponents of sexual equality instead of guaranteeing equal rights.
The passage followed only a few hours of debate in a lower house committee last Friday, an unusually short period. The bill is expected to be approved quickly by parliament's upper house, which is also controlled by Kishida's governing bloc.
Japan is the only member of the Group of Seven leading industrialized nations which does not have LGTBQ+ legal protections. Support for same-sex marriage and other rights has grown among the Japanese public, but opposition remains strong within the governing Liberal Democratic Party, known for conservative values and a reluctance to promote gender equality and sexual diversity.
US, JAPAN, AUSTRALIA TO FUND UNDERSEA CABLE PROJECT TO COMBAT CHINA'S INFLUENCE IN INDO-PACIFIC REGION
LGBTQ+ activists have increased their efforts to achieve an anti-discrimination law since a former Kishida aide said in February that he wouldn't want to live next to LGBTQ+ people and that citizens would flee Japan if same-sex marriage were allowed.
The final version of the bill passed Tuesday states that "unjust discrimination" is unacceptable but doesn't clearly ban discrimination, apparently because some governing party lawmakers oppose transgender rights. Some party members said more consensus building is needed before anti-discrimination measures are introduced.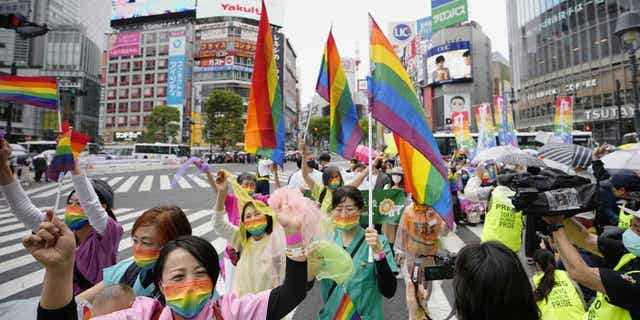 LGBTQ rights supporters march in a parade through the famed Shibuya entertainment district in Tokyo, Japan, on April 24, 2022. The more powerful lower house of Japan's parliament passed a bill on June 13, 2023, promoting the understanding of LGBTQ+ rights in the country. (Iori Sagisawa/Kyodo News via AP)
US, JAPANESE, PHILIPPINE COAST GUARD SHIPS HOLD DRILLS NEAR SOUTH CHINA SEA AS TENSIONS INCREASE WITH CHINA
The bill states that the public's understanding of various sexual orientations and gender identities is "not necessarily sufficient." It says conditions should be created so that "all citizens can live with peace of mind," which critics say shows the governing party prioritized the concerns of opponents of equal rights over the rights of sexual minorities.
"We have sought the enactment of an anti-discrimination law," the Japan Alliance for LGBT Legislation said in a statement. "This bill does not focus on the people concerned, and instead focuses on the side that has discriminated against us and caused our suffering. It's the complete opposite of what we need."
CLICK HERE TO GET THE FOX NEWS APP
Recent surveys show a majority of Japanese back legalizing same-sex marriage and other protections. Support among the business community has rapidly increased.
A court in Fukuoka in southern Japan ruled last Thursday that the lack of legal protections for LGTBQ+ people appears to be unconstitutional. It was the last of five court cases brought by 14 same-sex couples in 2019 that accused the government of violating their equality. Four of the courts ruled that current government policy is unconstitutional or nearly so, while a fifth said a ban on same-sex marriage was constitutional.