Jamie Foxx recently gave fans an update on his health after an undisclosed medical complication landed him in the hospital in April. In the post, Foxx credited his family with helping him make it through.
In an official social media post, Foxx explained he "went through something that I thought I would never, ever go through" and had maintained his silence on his condition because he "didn't want you to see me like that."
He thanked God, his medical team, and his daughter, Corinne Marie, and sister Deidra Dixon for his recovery.
JAMIE FOXX RECEIVES BLESSINGS FROM HOLLYWOOD AFTER BREAKING SILENCE ON MEDICAL COMPLICATION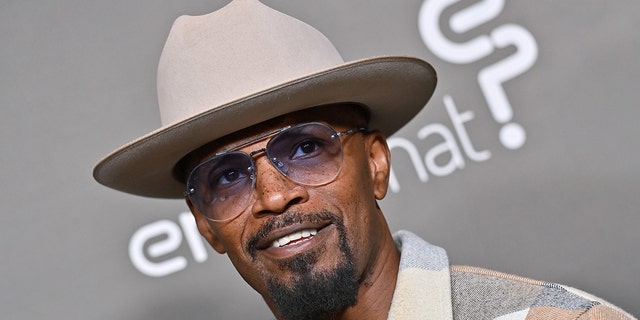 Jamie Foxx updated fans Friday after his medical complication in April. (Axelle/Bauer-Griffin / File)
"So today, and to God, to a lot of great medical people, I'm able to leave you this video. I cannot tell you how great it feels to have your family kick in in such a way," Foxx said.
APP USERS CLICK HERE
          View this post on Instagram                      
He also highlighted how his family, particularly Corinne and Deidra, maintained his privacy: "And you all know they kept it airtight, didn't let nothing out. They protected me, and that's what I hope that everyone could have in moments like these."
"To be honest with you, my sister, Deidra Dixon, my daughter, Corinne Marie, saved my life," the Oscar-winner said in the video.
Foxx has been close with his family over the years, revealing on "The Late Late Show with James Corden" in 2021 that he had 14 people living with him, including his divorced mother and stepfather.
Here's a closer look at Foxx's deep and loving family bonds.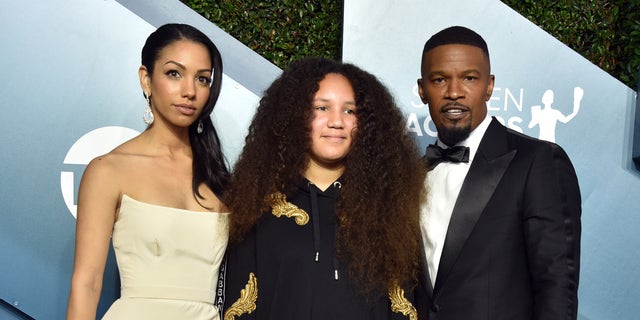 Corinne Foxx and Anelise Bishop are shown with their father, Jamie Foxx, in 2020. (Gregg DeGuire / Getty Images for Turner / File)
JAMIE FOXX FEELS 'LOVE AND LIGHT' FROM BARBRA STREISAND AFTER 'RAY' STAR BREAKS SILENCE ON HOSPITALIZATION
Daughters Corinne and Anelise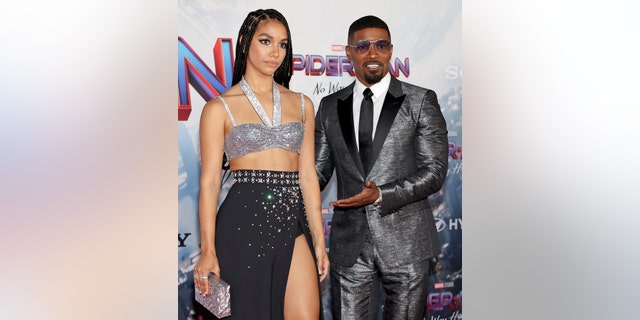 Corinne Foxx let the world know that her father was "on his way to recovery" in April. (Emma McIntyre / File)
Foxx shares his eldest daughter, Corinne, 29, with ex Connie Kline and youngest daughter Anelise Bishop, 14, with ex Kristin Grannis.
Corinne spent the past several months managing information about her father's condition.
In April, she announced that Foxx had suffered a health scare, saying, "We wanted to share that my father, Jamie Foxx, experienced a medical complication yesterday. Luckily, due to quick action and great care, he is already on his way to recovery."
"We know how beloved he is and appreciate your prayers," the statement continued. "The family asks for privacy during this time."
She also called out media speculation that Foxx was preparing for "the worst" on her Instagram story, writing, "Update from the family: Sad to see how the media runs wild. My Dad has been out of the hospital for weeks, recuperating. In fact, he was playing pickleball yesterday! Thanks for everyone's prayers and support! We have an exciting work announcement coming next week too!"
Corrine has been working closely with Foxx in recent years, hosting the game show "Beat Shazam" with him since its third season in 2019.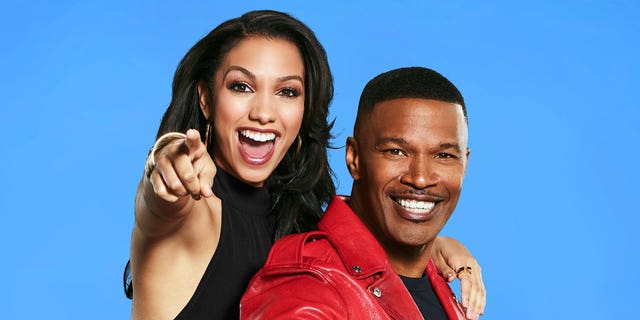 Foxx shares his eldest daughter, Corinne, 29, with ex Connie Kline. Corrine has been working closely with Foxx in recent years, hosting the game show "Beat Shazam" with him since its third season in 2019. (FOX)
JAMIE FOXX LANDS NEW SHOW AS HE RECOVERS FROM MYSTERY ILLNESS
She's been a frequent guest of his on the red carpet as well, and she accompanied him to the 2005 Academy Awards, where he won best actor for his role in "Ray" and thanked her during his speech.
"I want to thank my daughter for telling me just before I got up here, 'If you don't win dad, you're still good,'" he said at the time.
While Corinne seems to have inherited her father's acting and presenting talent, his younger daughter, Anelise, is following in his musical footsteps.
In a 2020 interview with "Entertainment Tonight," Foxx said she had taken up piano, which he began playing as a child as well.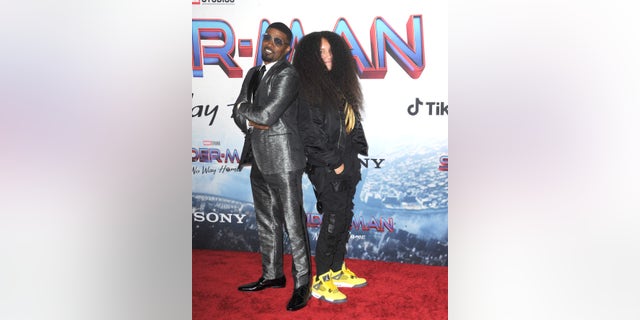 Jamie Foxx and daughter Anelise Foxx share a talent for music and piano. (Albert L. Ortega / File)
"​​That's what's been good is we have been able to connect like that," he said. "My 11-year-old now knows how to play the piano so well, she actually plays my songs while I sing to them."
He added, "She said, 'I am going on tour with you.' I am blessed, we are all blessed."
Foxx cherishes his close bond with his daughters, telling Ellen Digital's "Dad Confessions" they can "come tell me anything, and we can talk about anything. I know that sounds simplistic, but that's everything in the world."
JAMIE FOXX TO DAUGHTER'S BOYFRIENDS: YOU MESS UP, 'I WILL CUT YOUR HEAD OFF'
As for his personal relationships, Foxx remains private as well.
He reportedly dated Katie Holmes from 2013 to 2019, when they were photographed together at the Met Gala, seemingly making it official, but later reports claimed the relationship was over.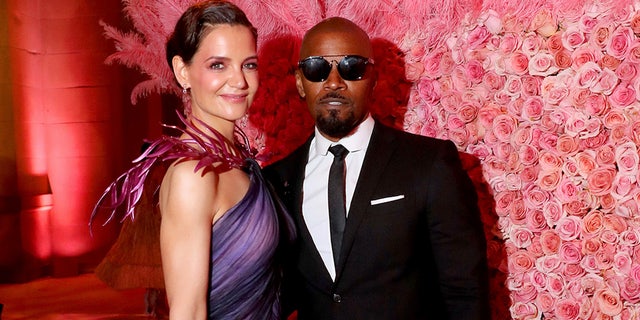 Katie Holmes and Jamie Foxx quietly dated for years before making their red carpet debut in 2019 at the Met Gala, but they broke up only weeks later. (Kevin Tachman / MG19 / File)
In his 2021 memoir, "Act Like You Got Some Sense," Foxx wrote about his views on marriage and why it's not of interest to him.
"I've just never been convinced that marriage was a good idea for me. I've had friends that have great marriages, others not so much. And it never seemed like marriage was necessary to raise my children in a safe and loving atmosphere," he wrote.
"I just don't think I'm the marrying type," he continued. "At least not for now – maybe in a few decades when I'm in a wheelchair and need somebody to push me around and change my diaper."
SISTINE STALLONE AND CORINNE FOXX REVEAL THE INDUSTRY ADVICE THEIR FAMOUS FATHERS GAVE THEM
Sisters Deidra and DeOndra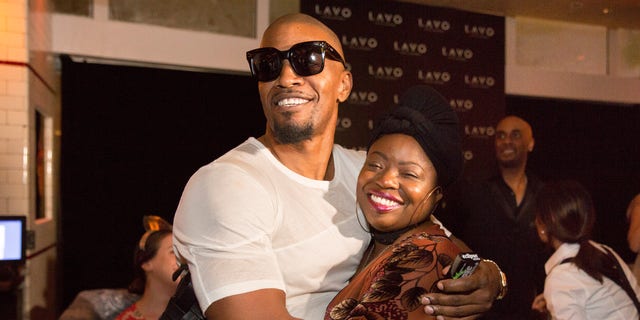 Jamie Foxx hugs his sister., Deidra Dixon, at the LAVO Singapore Grand Opening at Marina Bay Sands in 2017. He credited her and his daughter, Corinne, with keeping his medical issues private until he was ready to speak out. (Ore Huiying / Getty Images for TAO Group / File)
Foxx has two half-sisters from his mother, Louise Annette Talley, and stepfather George Dixon's relationship: Deidra and DeOndra.
Deidra works with Foxx regularly as a hairdresser. In a 2020 tribute post he shared about her, Foxx noted she has been a "Personal hairstylist on all of the marvel films" and that … "She created the hairstyle for 'Django [Unchained].'"
In a 2004 GQ profile on Foxx, he referred to Deidra as "a real fireplug." She, in turn, seemed to joke about keeping him humble by responding "Jamie Foxx my a–!" when asked about him.
APP USERS CLICK HERE
          View this post on Instagram                      
The profile noted that Deidra and their younger sibling, DeOndra, who had Down syndrome, had been moved into Foxx's home and that some people expressed hesitation at the idea.
He recalled a friend asking, "'Can you handle all this, Jamie? You sure you can deal' And I said, 'You know what? If I can't take care of my sister who has Down syndrome, what will people think of me?' Sitting up in Mr. Chow, drinking Dom Pérignon and doing interviews with GQ, and my sister is somewhere? So, no, we won't have any of that."
DeOndra died in 2020 at age 36 after years of being by Foxx's side as well as an ambassador for the Global Down Syndrome Foundation.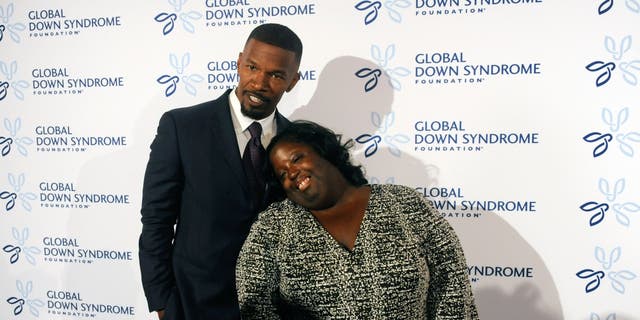 Jamie Foxx poses for pictures with his sister, DeOndra Dixon, before the start of the 2016 Global Down Syndrome Foundation "Be Beautiful, Be Yourself" fashion show. DeOndra died in 2020 at age 36. (Jason Connolly / AFP via Getty Images / File)
Her death devastated Foxx, as he shared on Instagram.
"My heart is shattered into a million pieces… my beautiful loving sister Deondra has transitioned…," Foxx wrote at the time. "I say transitioned because she will always be alive… anyone who knew my sis… knew that she was a bright light…"
JAMIE FOXX OPENS UP ABOUT DEATH OF SISTER DEONDRA DIXON: 'IT WAS SO ABRUPT'
Parents and grandmother
During his 2005 Oscar speech, Foxx noted that Corinne shares a middle name with his grandmother, Estelle Marie Talley, who raised him.
He called Estelle "his first acting teacher" and credited her tough love and being "whupped" by her to help him become a "Southern gentleman."
"And she still talks to me now, only now she talks to me in my dreams," he said, noticeably tearing up and pausing mid-speech. "And I can't wait to go to sleep tonight because we got a lot to talk about. I love you."
Foxx was born Eric Bishop in Terrell, Texas, to Darrell Bishop (who later changed his name to Shahid Abdula after his conversion to Islam) and Louise Annette Talley Dixon. Less than a year after his birth, he was adopted and raised by Estelle.
APP USERS CLICK HERE
          View this post on Instagram                      
JAMIE FOXX: 5 THINGS YOU MIGHT NOT KNOW ABOUT ACADEMY AWARD-WINNING STAR
In a 2020 Entertainment Weekly interview, Foxx noted that his mother was also the adoptive daughter of Estelle, making her "literally, legally," his sister.
Though his biological parents weren't always involved in his childhood, Foxx never felt a lack of love from his grandparents.
"Although my parents weren't around, my grandparents adopted me when I was 7 months old. I was never short on the love of a mother and father, though it came from an earlier generation of family," he told Oprah Winfrey in a 2005 interview with O Magazine.
Later, in his memoir, he admitted there were times when he felt abandoned by their absence.
"When you're adopted and you know who your biological parents are… it's like, 'Hey, I'm right f–king here,'" he writes. "It's like you're a used car that got sold and you see your previous owner taking the bus. You're telling me you'd rather ride in a bus that smells like piss than drive your own son? I'm mixing metaphors here, but I wanted to make sure that my children never felt like an abandoned Volvo."
APP USERS CLICK HERE
          View this post on Instagram                      
JAMIE FOXX SURPRISES WOMAN IN CHICAGO BY RETRIEVING LOST PURSE, SHE SAYS ACTOR IS 'STRONG AND WELL'
Foxx never fully reconciled his relationship with his biological father, recalling in his memoir the last time they spoke was during his time on "The Jamie Foxx Show," when his father came to Los Angeles to see Nation of Islam leader Louis Farrakhan speak – and not to visit him as he had thought and hoped.
"Let it be known that I didn't care what religion he was; he could have been Jewish, Baptist, Rastafari, or Seventh Day Adventist for all I cared, I just wanted and needed his time," Foxx wrote. "That was the last time my father and I spoke. I wished we could have made a connection. I didn't wish him any ill will though."
It was Dixon who informed Foxx of his father's death, and he opted to not attend the funeral.
Foxx said of the decision, "The relationship was dead for so long, I had already mourned it many times over. But I did send him a spiritual blessing: I told him I hoped what he was looking for in the spiritual world, he'd find."
Eventually, Foxx's relationship with his mother improved.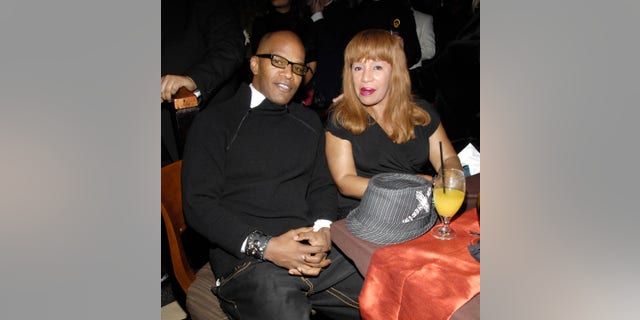 Jamie Foxx and his mother, Louise, in 2008. In 2020, Foxx revealed she had been living with him for the past 12 years. (John M. Heller / File)
CLICK HERE TO SIGN UP FOR THE ENTERTAINMENT NEWSLETTER
On the BBC's "Graham Norton Show" in 2020, he revealed she'd been living with him for 12 years at that point.
"I would always send her tickets on Christmas, [saying] if you ever want to come … so finally she accepted, she comes, we have a good Christmas. And then New Year's comes, and her birthday is on New Year's, so we party for [her] birthday, and all of a sudden it's February, she hadn't left," he recalled.
"I was like, 'Are you trying to tell us something?' She said, 'Well, you know, I just want to hang out.' And so now she's been living with us for 12 years."
He also revealed that his stepfather, with whom Foxx has a close relationship, lives in the house as well, though he and Foxx's mother are no longer married.
"What's crazy is, he still dates, so he has dates. But she'll go on his side of the house just to see who's in there, like 'Hmm, so this is what we're doing, Dixon?'" he joked. "So, I'm in my room, I get a knock on my door. It's him [asking], 'Could you tell her stay off my side of the house? I got company.'"
"But it's a weirdly fun household," he added.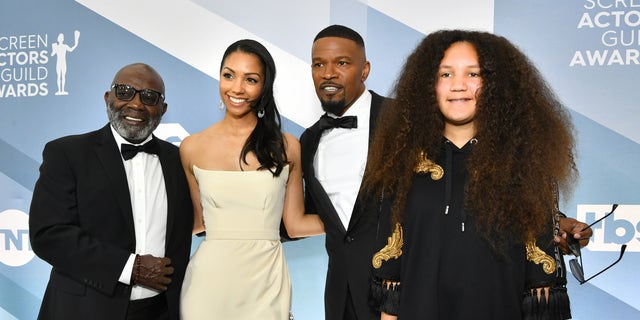 George Dixon, left, with Corinne Foxx, Jamie Foxx and Anelise Bishop at the 2020 Screen Actors Guild Awards. (Amy Sussman / WireImage / File)
CLICK HERE TO GET THE FOX NEWS APP
Foxx moved Dixon into his home after he served time in prison for "25 dollars worth of illegal substance," as he explained to "Entertainment Tonight" in 2020.
In his memoir, he detailed extending the offer to have Dixon, who he often calls "Pops" or even his father, to come live with him after his release.
"As I had promised him when he was in prison, I was ready to pull him in close," he wrote. "I told him, 'Things are going good for me now. I worry about you when you're out of my sight. I want you to come live with me.' I could tell that his spirit had been broken, but he was looking for another chance and I was more than happy to provide him with that. I wanted to help him make up for those lost years."