He is currently overseeing two separate criminal investigations into a former American president, but Jack Smith is no stranger to bringing high-stakes cases.
Over the past two decades, Mr Smith, 54, has pursued public officials in the US and abroad – with a mixed record of success.
The veteran prosecutor has cut a low profile since his appointment as special counsel in the two investigations of Donald Trump by the US Department of Justice.
In announcing his selection last November, Attorney General Merrick Garland called him "the right choice to complete these matters in an even-handed and urgent manner".
Mr Trump meanwhile has characterised Mr Smith as a "deranged" man at the forefront of a "political witch hunt" against him.
The special counsel has indicted Mr Trump over alleged efforts to overturn the 2020 election. He has also indicted the ex-president on 40 felony counts over his alleged mishandling of classified documents.
At Mr Trump's arraignment hearing in Washington DC on Thursday, Mr Smith sat in the court's front row about 20ft away from the former president. The two seemed to exchange glances.
Much like the man he is now investigating, John Luman Smith is a New York native.
A Harvard Law School graduate, he began his prosecutorial career in 1994 as an assistant district attorney in the Manhattan district attorney's office.
Over the next decade, he climbed up the ranks of the US attorney's office in Brooklyn, where he pursued violent gangs, white-collar fraudsters and public corruption cases.
Follow live: Trump to appear in court on latest charges
How big are Donald Trump's legal problems?
He once spent a weekend sleeping in the hallway of an apartment building so he could convince a woman to take the witness stand in a domestic violence case, the Associated Press (AP) reported.
During that time, Mr Smith was also among those who investigated the infamous assault of Haitian immigrant Abner Louima with a broomstick by New York police.
His work on the team led in part to his recommendation as special counsel in the Trump cases, according to the New York Times.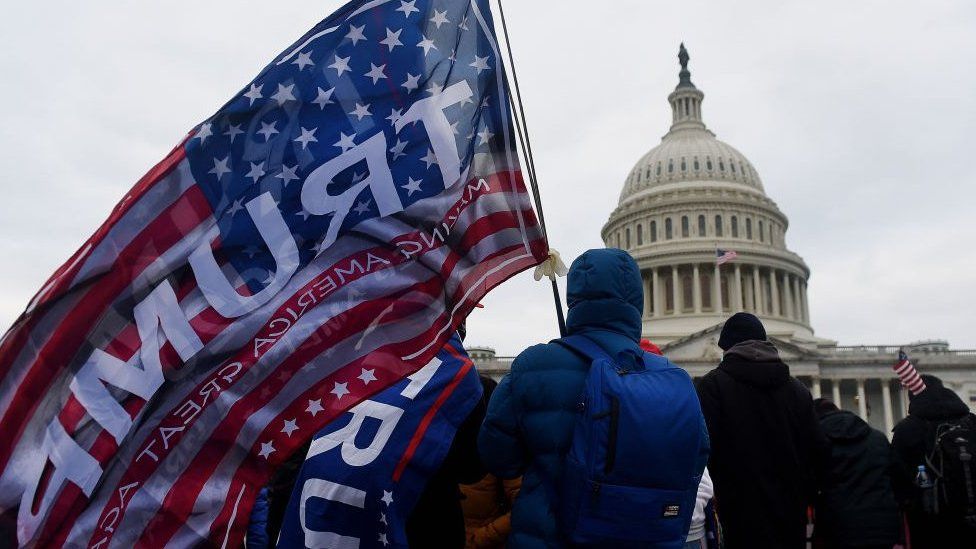 Image source, Getty ImagesImage caption, Trump's role in the events leading up to the Capitol riot is being investigated
In 2008, Mr Smith went overseas to The Hague in the Netherlands where he oversaw war crimes investigations as a junior investigator for the International Criminal Court.
He returned to the justice department two years later as chief of the department's public integrity unit, which prosecutes federal crimes such as public bribery and election fraud.
In a 2010 AP interview, he described the career transition as leaving "the dream job for a better one".
But when he took over, the unit was recovering from a prosecutorial debacle that had seen a banner criminal conviction tossed out by a judge.
Mr Smith's stint began with the closure of some long-running investigations into members of Congress without charges, but he pressed ahead with other efforts.
Under his tenure, prosecutors brought a public corruption case against former Virginia Governor Bob McDonnell, a Republican, in a case unanimously overturned by the US Supreme Court in 2016.
How Trump, Biden and Clinton documents cases compare
The unit also prosecuted former Democratic vice-presidential nominee John Edwards, but a jury acquitted Mr Edwards on one count and was deadlocked on others, and he was never tried again.
Mr Trump has seized on these examples to argue Mr Smith has "destroyed a lot of lives", while also skewering him over his involvement in a tax scandal over the alleged targeting of conservative groups.
"What he's done is just horrible," the ex-president told Breitbart. "The abuse of power – it is prosecutorial misconduct."
Mr Smith has also had many notable victories, including sending former New York state Assembly Speaker Sheldon Silver to prison on corruption charges.
He also convicted ex-Arizona congressman Rick Renzi, a Republican, of corruption. Mr Renzi later received a presidential pardon from Mr Trump.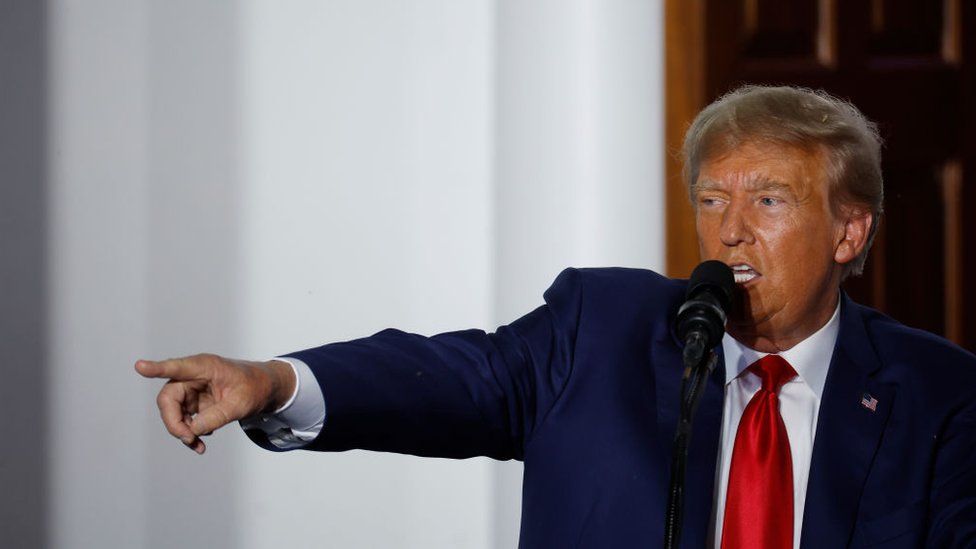 Image source, Getty ImagesImage caption, Mr Trump has accused Mr Smith of 'prosecutorial misconduct'
In 2015, Mr Smith accepted a post with the federal prosecutor's office in Nashville, Tennessee, so he could be closer to family.
He left in 2017 for a private health care company after being passed over for a permanent appointment under the Trump administration.
By 2018, he was back at The Hague where he took up a post as the court's chief prosecutor of war crime allegations in the 1990s Kosovo conflict.
When Mr Garland offered Mr Smith the job of special counsel in Washington, his team was preparing for the trial of Kosovo's former president Hashim Thaci, the Times reported.
Though eager to return to the justice department, Mr Smith was at the time recovering from surgery to his left leg after a bicycle accident and did not return to the US until January 2021.
It is at least the second major injury he has suffered while cycling.
Rivals' silence shows Trump's dominance in 2024 race
In the 2000s, he fractured his pelvis after being struck by a truck, an incident which he claimed in an interview has led to multiple physical therapy visits.
As avid a runner as he is a cyclist, Mr Smith has completed more than 100 triathlons since 2002, even representing Team USA in World Triathlon.
His friend and former colleague, New York attorney Moe Fodeman, described Mr Smith to CNN last year as a "literally insane" triathlete and "one of the best trial lawyers I have ever seen".
Other former co-workers have spoken of Mr Smith's fearless and proactive manner, and many say that Mr Trump's efforts to malign him will come up empty.
"If I were the sort of person who could be cowed -— 'I know we should bring this case, I know the person did it, but we could lose, and that will look bad' – I would find another line of work," Mr Smith said in a 2010 interview with the Times.
"I can't imagine how someone who does what I do or has worked with me could think that."
This video can not be played
To play this video you need to enable JavaScript in your browser.
Media caption,
Watch: 'Violations of those laws put our country at risk'