Jack Black could be stepping back into the role of substitute teacher soon.
During a recent interview with SiriusXM, host Caity Babs, Black and his Tenacious D bandmate Kyle Glass spoke about the possibility of a sequel to the cult classic movies "School of Rock" and "Tenacious D in the Pick of Destiny."
When asked if fans should hope for it, Black announced the "breaking news" that the two of them are "thinking about doing both of those," before Glass suggested the sequel film be "a hybrid" of the two movies called "School of D."
Babs praised both films for being an influence on "kids who thought they couldn't be musicians" by allowing them to believe in themselves and chase their dreams. Black was moved by Babs' statement, telling her, "That means a lot," with Glass acknowledging he and Black "inspired" and "shaped young minds."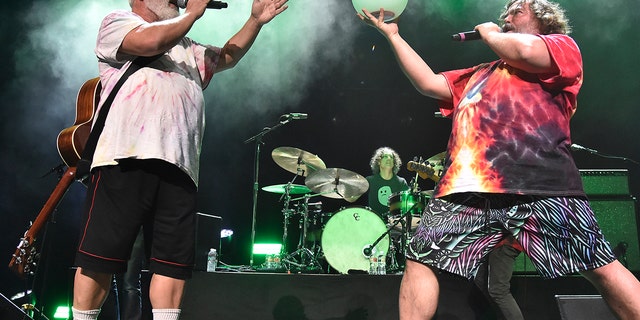 Jack Black and Kyle Glass teased the possibility of a "School of Rock" and "Tenacious D in the Pick of Destiny" sequel.
(Tim Mosenfelder/Getty Images)
JACK BLACK SINGS 'SCHOOL OF ROCK' SONG TO TERMINALLY ILL TEEN IN HEARTWARMING VIDEO
"We strive to inspire, but we also sometimes discourage if we feel like we tried, and we've seen what you've done, and we don't think you rock; you should stop rocking. We do both," Black said. "We build them up, and we tear them down. But thank you for noticing the good parts."
Babs said all of it was good, even the bad parts.
"The bad parts, like you say, are sometimes the best parts, and a lot of our best stuff comes from horrible mistakes, and you got to be able to be open to your own badness to really capture the magic," Black said.
"That's where the genius lies."
Black played an aspiring rock star in "School of Rock" who enlists an elementary class to perform at a battle of the bands. 
(Frederick M. Brown/Getty Images)
"School of Rock" follows the story of Dewey Finn, played by Black, an aspiring rock star who got kicked out of the band he started and whose friends are growing tired of his refusal to find a real job. He then poses as his friend to get a job as a substitute teacher at a prestigious elementary school, turning his class into a rock band to win a battle of the bands.
The movie also stars Joan Cusack, Miranda Cosgrove and the late Kevin Clark. In 2021, Black posted on Instagram he was "heartbroken" to hear the "devastating news" about Clark, calling the actor a "beautiful soul" with whom he "shared so many great memories."
While "School of Rock" was made for kids and equally enjoyed by adults, "Tenacious D in the Pick of Destiny" is a raunchier take on two musicians' dreams of making it big in the industry. Glass and Black's characters steal a magical guitar pick from a rock and roll museum and somehow end up in a musical battle with Satan.
CLICK HERE TO SIGN UP FOR THE ENTERTAINMENT NEWSLETTER
The title of the film was inspired by Glass and Black's real-life band, Tenacious D, which they started in 1994. They have released four albums: "Tenacious D" in 2001, "The Pick of Destiny" in 2006, "Rize of the Fenix" in 2012 and "Post-Apocalypto" in 2018. They won a Grammy Award in 2015 for best metal performance.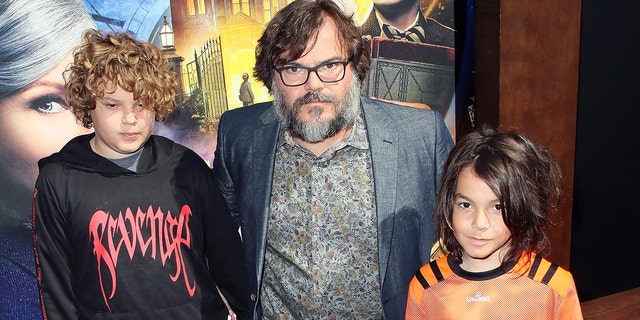 Black says his current musical taste is inspired by whatever his sons are listening to in the car on the way to school in the mornings.
(David Livingston/Getty Images)
As for what they listen to in their spare time, Glass said he is happy to "let the radio do the work" for him. Black says he lets his 14- and 16-year-old sons take the reins when they're in the car.
CLICK HERE TO GET THE FOX NEWS APP
"My boys play me some good music. I've been listening to whatever my kids are listening to when I take them to school every morning. … The last time they let me listen they were rocking some Death Grips," Black said.
"My youngest boy Tommy is playing a lot of drums, and he's really into death metal. … There is a movement of rockers that just play by themselves, they play all their instruments, and it's the darkest, murkiest rock from the depths of their souls. It's kind of scary. I'm like, 'What have I created?'"