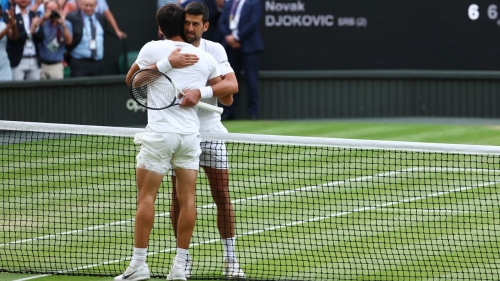 Carlos Alcaraz and Novak Djokovic embrace after the Wimbledon final.
Toby Melville/Reuters

CNN
—
For years, tennis' so-called 'Next Gen' stars have tried and largely failed to topple the sport's 'Big Three' of Roger Federer, Rafael Nadal and Novak Djokovic.
Between Andy Murray and Stan Wawrinka winning consecutive grand slams – Wimbledon then the US Open – in 2016 and Carlos Alcaraz's 2022 US Open victory, only Daniil Medvedev won a grand slam title, the 2021 US Open, in which one of the 'Big Three' was beaten during the tournament.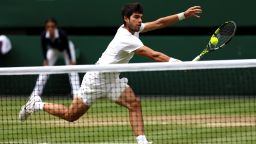 Carlos Alcaraz of Spain plays a backhand in the Men's Singles Final against Novak Djokovic of Serbia on day fourteen of The Championships Wimbledon 2023 at All England Lawn Tennis and Croquet Club on July 16, 2023 in London, England.
Clive Brunskill/Getty Images
Carlos Alcaraz overcomes Novak Djokovic in five-set thriller to win first Wimbledon title
Many of the players once tipped to take over the mantle of being one of tennis' leading men came and went, while others are still knocking on the door.
But in much the same way that Federer's fourth-round Wimbledon win over Pete Sampras in 2001 signaled the passing of the torch to a new era, so too Carlos Alcaraz's victory over Djokovic in Sunday's final could finally herald the next generation's coming of age.
And a decade on from his last defeat on Wimbledon's Centre Court, Djokovic having his aura of invincibility shattered could also help tennis' young stars emerge, Alcaraz said.
"I did it for myself, not for [the next] tennis generation, honestly," Alcaraz told reporters after the final. "It was great. Beating Novak at his best, in this stage, making history, being the guy to beat him after 10 years unbeaten on that court, is amazing for me.
"It's something that I will never forget, that's for sure. It's great for the new generation as well, I think to see me beating him and making them think that they are capable of doing it. It's great for me and I think for the young players as well."
Not that Djokovic is likely to go anywhere anytime soon.
While Alcaraz was a deserving winner on the day, Djokovic has proven over the last two weeks that he is still capable of playing some of the best tennis of his career – and this at the age of 36.
As the Serb said following his victory in the semifinals: "36 is the new 26" and Djokovic certainly appears to have enough left in the tank to win multiple grand slam titles.
Now, however, there is finally a player that looks capable of stopping him that isn't named Federer or Nadal.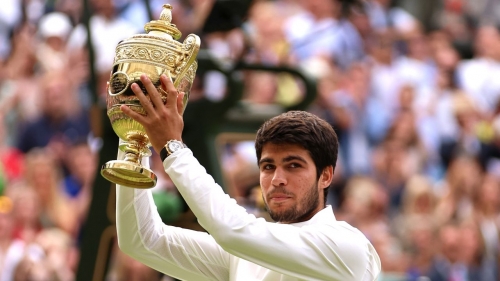 Carlos Alcaraz is the first man to defeat Novak Djokovic on Centre Court since Andy Murray in 2013.
Clive Brunskill/Getty Images
But Alcaraz isn't so sure that tennis' changing of the guard has finally happened.
"Honestly, I don't know," he told CNN on Monday. "I hope the people say that, but Djokovic is still there. Rafa as well.
"Let's talk about it in some years ahead. In the future we can talk about it, but right now, it's not the right moment."
A mix of Roger, Rafa and Novak?

Though it's hard to pinpoint any one defining moment in a five-set, near five-hour epic that decided the outcome of the match, Djokovic's gruelling 26-minute service game in the third set, which Alcaraz eventually won, was certainly a crucial stage of the final.
There were 32 points in total – as many as in the entire first set – 13 deuces and seven break points before Alcaraz finally came out on top to go two breaks of serve to the good. The Spaniard eventually took the third set 6-1.
On almost any other day, against almost any other player, it seems hard to image that Djokovic would have lost that game, which turned into as much of a battle of the mind as it was of the body.
But Alcaraz is different. Djokovic acknowledged his opponent's remarkable "mental resilience" for a player who is barely 20 years old.
Ever since Alcaraz burst onto the scene, the youngster has been likened to a mix of Djokovic, Federer and Nadal.
"I would agree with that," Djokovic said. "I think he's got basically best of all three worlds.
He's got this mental resilience and really maturity for someone who is 20 years old. It's quite impressive.
"He's got this Spanish bull mentality of competitiveness and fighting spirit and incredible defense that we've seen with Rafa over the years. And I think he's got some nice sliding backhands that he's got some similarities with my backhands.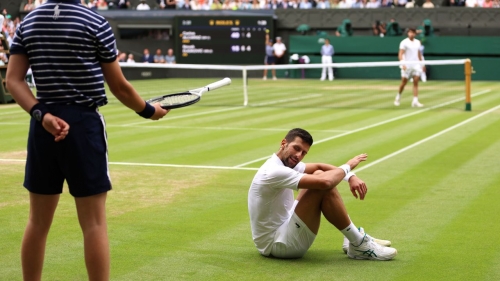 Novak Djokovic says Carlos Alcaraz is a mix of him, Roger Federer and Rafael Nadal.
Clive Brunskill/Getty Images
"Two-handed backhands, defense, being able to adapt. I think that has been my personal strength for many years. He has it, too.
"I haven't played a player like him ever, to be honest. Roger and Rafa have their own strengths and weaknesses. Carlos is very complete player. Amazing adapting capabilities that I think are a key for longevity and for successful career on all surfaces."
In the end, perhaps only a potent mix of the 'Big Three's' best bits was ever going to be enough to topple Djokovic.
However, the 23-time grand slam champion doesn't plan on going anywhere anytime soon and sees the potential for a great new rivalry at the top of tennis.
"I would hope so, for my sake," Djokovic said with a smile. "He's going to be on the tour for quite some time. I don't know how long I'll be around. I mean, let's see.
"It's been only three matches that we played against each other. Three really close matches. Two already this year in later stages of grand slams.
"I hope we get to play in US Open. Why not? I think it's good for the sport, one and two in the world facing each other in almost a five-hours, five-set thriller. Couldn't be better for our sport in general, so why not?"