close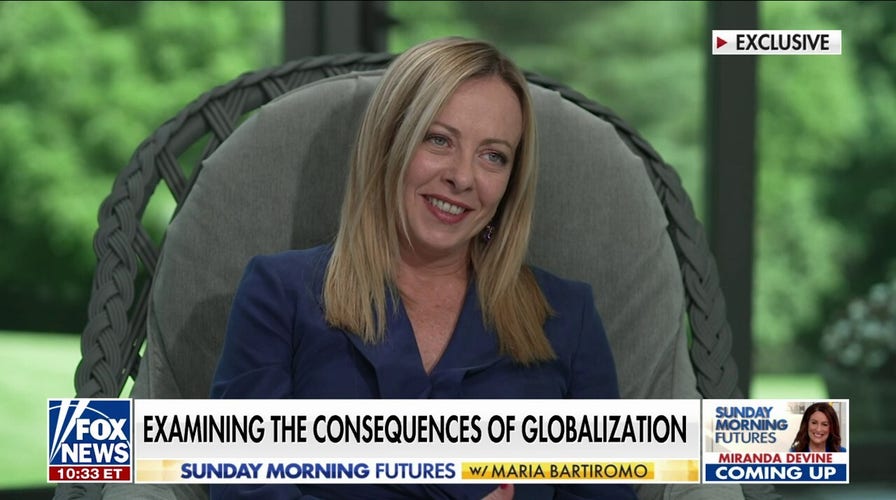 Video
Human traffickers are becoming more powerful: Italian PM Meloni
Italian Prime Minister Giorgia Meloni discusses Italy's relations with China and the conservative movement's growing influence in Europe.
Italian Prime Minister Giorgia Meloni called on the European Union to create a naval blockade in the Mediterranean Sea aimed at blocking the flow of migrants, arguing the "future of Europe" is at stake.
"What is at stake is the future of Europe because the future of Europe depends on its capacity to deal with the huge challenges of our time," Meloni told reporters over the weekend, according to a report from The Telegraph.
The prime minister's comments come after European Commission President Ursula von der Leyen's weekend visit to Lampedusa, a small Italian island that has become one of the hot spots of Europe's migrant crisis. More than 10,000 migrants arrived at the island just north of Africa last week, according to the report, far surpassing the permanent population of 6,000.
Meloni argued the only "serious" way for Europe to get a grip on the crisis was for a blockade, stopping the migrants from being able to depart North African countries on boats bound for Europe.
TINY ITALIAN ISLAND OVERWHELMED WITH THOUSANDS OF MIGRANTS WHO ARRIVED WITHIN 24 HOURS
Italian Prime Minister Giorgia Meloni has made stopping the flow of migration a cornerstone of her policy promises, a vow that she has so far had difficulty fulfilling. (Alessandro Garofalo/LaPresse via AP)
According to numbers compiled by the Telegraph, 126,000 migrants have entered Italy since the start of the year, nearly double the number that arrived in the country during the same time period in 2022. That figure is on pace to break Italy's 2016 record, when 160,000 migrants entered the country.
Meloni has made stopping the flow of migration a cornerstone of her policy promises, a vow that the prime minister has so far had difficulty fulfilling.
Nile Gardiner, director of the Heritage Foundation's Margaret Thatcher Center for Freedom, told Fox News Digital that Meloni has found herself in a difficult position when it comes to the crisis, arguing that most of Europe has been "weak" on the issue and lacks the resolve to tackle the problem.
"The scale of the crisis is huge… Meloni is one of the toughest leaders in Europe on illegal migration, but she is finding herself overwhelmed by the sheer scale of the crisis, and it's only going to get worse," Gardiner said.
The Italian prime minister seemingly found a sympathetic ear in von der Leyen, who pledged that "irregular" migrants would be returned and that there would be a crackdown on the "brutal" migrant smuggling business.
POLAND DEPLOYS 2,000 MORE TROOPS TO ITS BORDER, ACCUSES BELARUS OF ORGANIZING ILLEGAL MIGRATION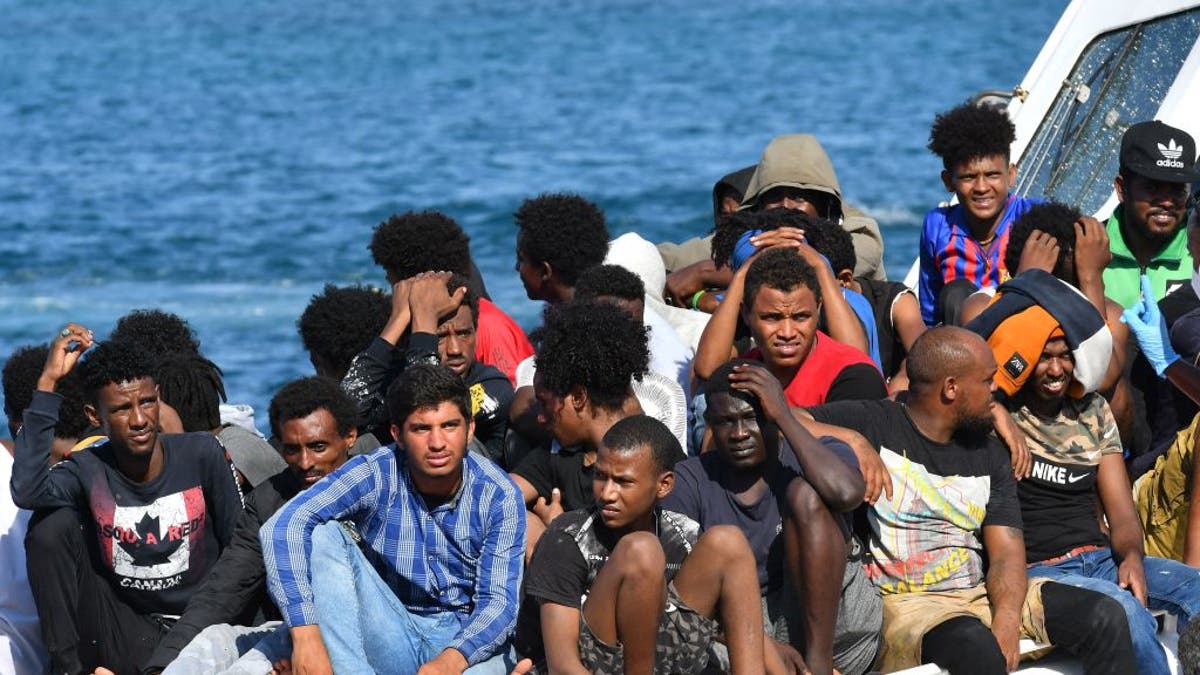 Migrants from Tunisia and Libya arrive onboard an Italian Guardia Costiera (Coast Guard) boat at the Italian Pelagie Island of Lampedusa. (ALBERTO PIZZOLI/AFP via Getty Images)
The EU leader unveiled a 10-point plan to help Italy manage the flow of migrants to the country, which included moving them to other European countries and assisting with registration and fingerprinting.
Part of the plan included implementing an agreement with Tunisia, a popular departure destination for migrants, which would see the EU provide funds to the country in exchange for a crackdown on migration departures.
"Italy can count on the European Union," von der Leyen said.
Meloni also expressed optimism that an EU naval blockade mission would be discussed during a meeting of European leaders in October.
Meloni also garnered support from the leaders of other European countries, with Germany's Interior Minister Nancy Faeser saying Friday that her country would continue to take in migrants that had arrived in Italy, a reversal of a decision two days prior that saw an agreement between Berlin and Rome suspended.
FOURTH-GENERATION RANCHER SAYS BORDER CRISIS KEEPS GETTING WORSE, 15 MIGRANTS CROSSING PER HOUR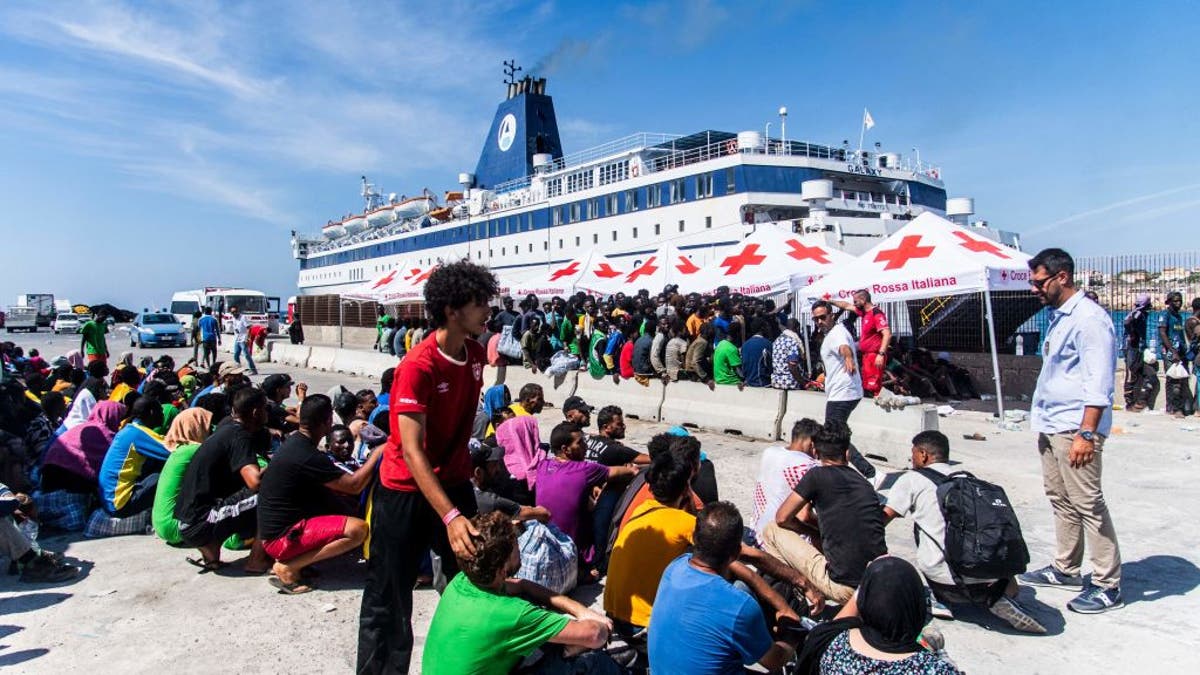 Migrants from a housing center on the Italian island of Lampedusa are guided by a security official on Thursday. (Alessandro Serranò / AFP)
French President Emmanuel Macron also expressed support for Italy in a phone call with Meloni on Saturday, acknowledging the need for a "European-level" response.
The Italian prime minister also found support from France's right-wing leader Marine Le Pen, who said her country and Italy are "fighting the same battle."
"You in Italy and us in France are fighting the same battle, the battle for freedom, for the motherland," Le Pen said during a rally held by Meloni's Deputy Prime Minister Matteo Salvini.
However, Gardiner believes that Meloni is unlikely to find much help from other European powers.
"Italy is largely on its own here," Gardiner said.
OVER 300 MIGRANTS ARRIVED ON GREEK ISLANDS IN PAST 3 DAYS, AUTHORITIES SAY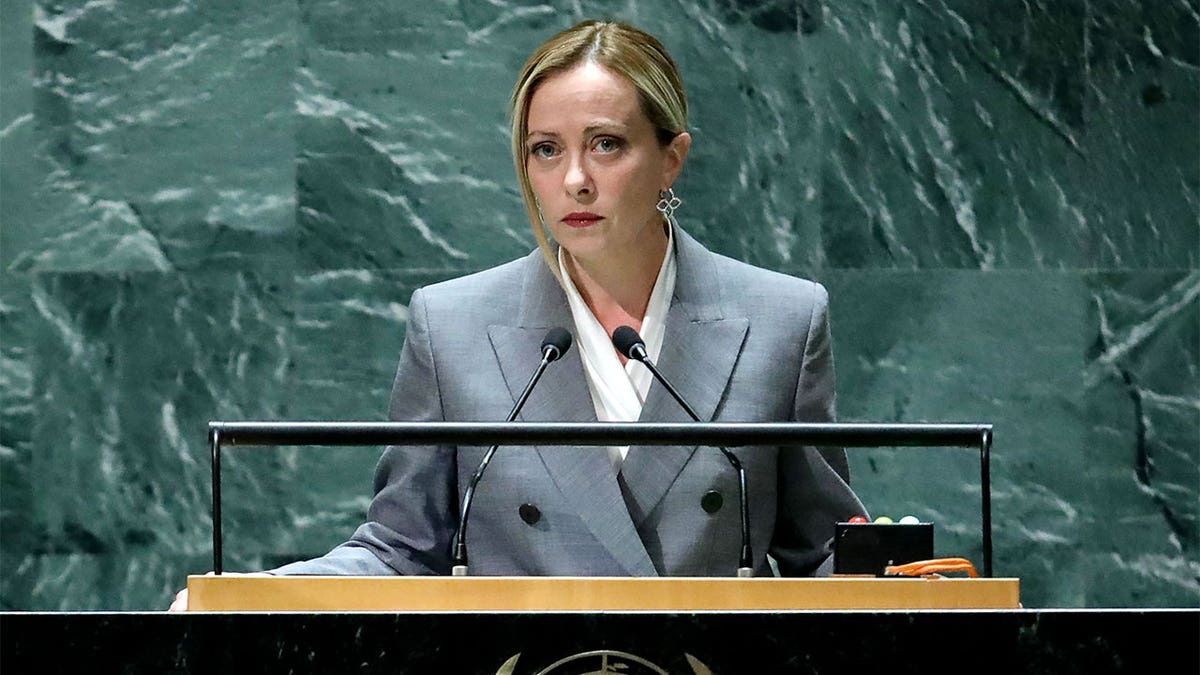 Italian Prime Minister Giorgia Meloni addresses the 78th United Nations General Assembly at UN headquarters in New York City on September 20, 2023. (LEONARDO MUNOZ/AFP via Getty Images)
Gardiner believes Meloni's desire for a naval blockade may be the only way to stem the crisis, but expressed doubt that the EU or other countries would lend a hand to the effort.
"She's got to take decisive action to defend Italian sovereignty," Gardiner said. "They've got to deploy their navy and they've got to stop the boats. That's the only thing that they can do."
Gardiner pointed out that the EU has laws that protect illegal migrants and makes it difficult for member countries to deport them, making moves to prevent migrants from reaching Italian shores a vital strategy in stopping the flow. Italy is also a party to the European Convention on Human Rights (ECHR), Gardiner pointed out, which also has rules making it more difficult to deport illegal migrants.
Leading an effort to have Italy leave the EU and the ECHR would go a long way in helping Italy combat the crisis, Gardiner argued, though he noted that there seems to be little political appetite in the country for either move. A blockade, on the other hand, would likely be quite popular with Italians, Gardiner said.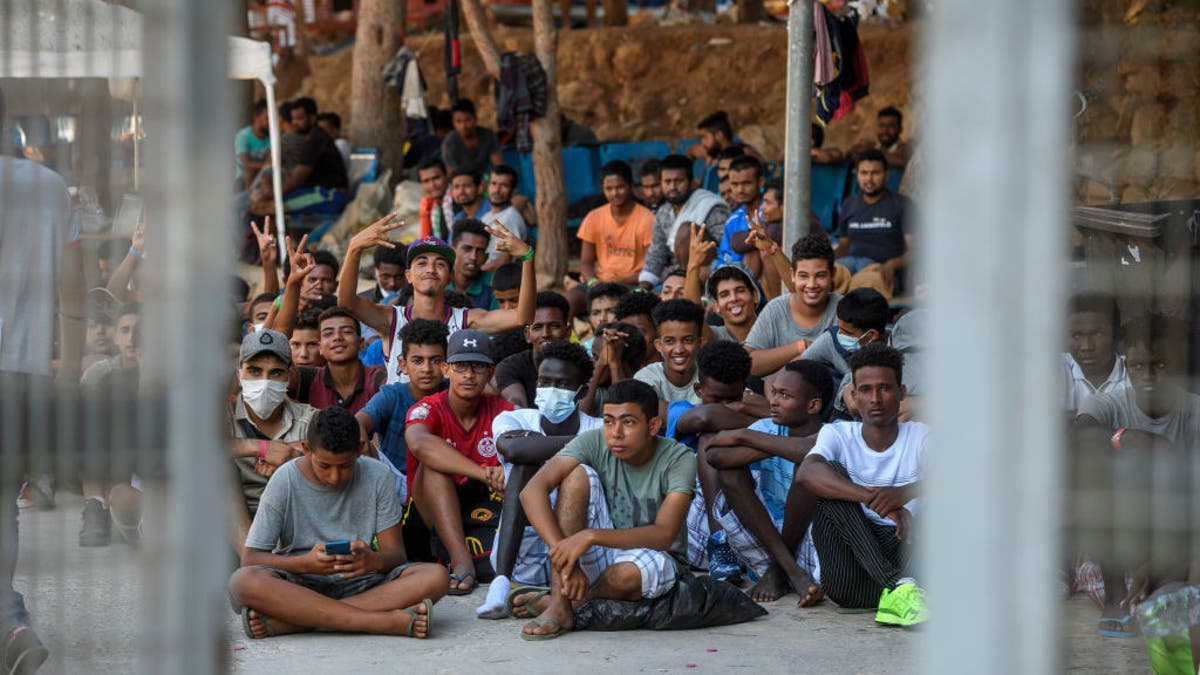 Migrants gather inside the so-called "Hotspot" operational facility, containing over 1,500 people, in Lampedusa, Italy, on Aug. 4, 2022. (Antonio Masiello/Getty Images)
"That would be a hugely popular move," Gardiner said of deploying the Italian Navy. "But it would be condemned of course by all the liberal elites who have been running the country for decades and probably condemned across the EU."
CLICK HERE TO GET THE FOX NEWS APP
Ultimately, Meloni acting decisively on her own is the only way for Italy to tackle the crisis, and the Italian Navy is capable of carrying out the task, Gardiner said.
"That's the only thing that they can do. If they're going to wait for the European Union to do something, Italy is going to be facing vast numbers of illegal migrants flooding the country," Gardiner said. "The Italian Navy is not on par with the British Navy, or the French, but it still has the capability to block migrant vessels from coming over."