close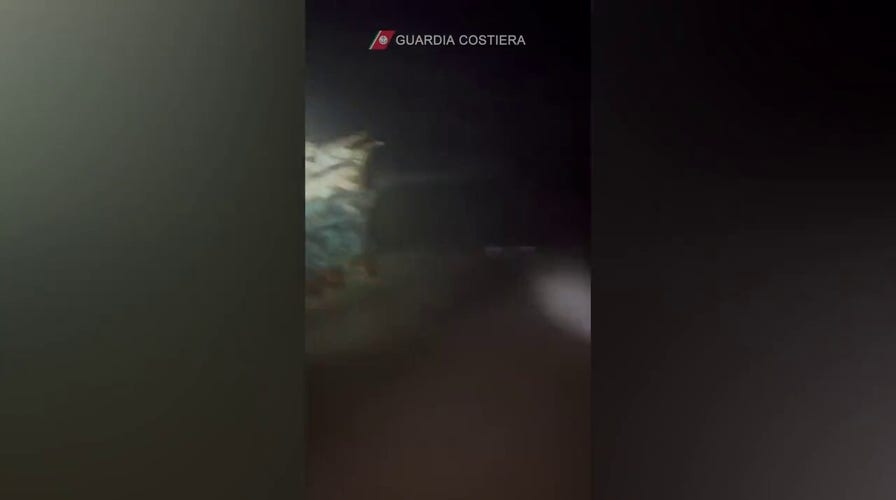 Video
Italian Coast Guard searches for survivors after migrant boat crash
A video from the Italian Coast Guard shows search and rescue efforts after a boat carrying migrants crashed into rocky reefs, killing at least several dozen people aboard.
Search and rescue efforts continued Sunday after a makeshift wooden boat carrying more than a hundred migrants crashed into the rocky reefs off the coast of southern Italy before dawn.
The death toll climbed to at least 60 people, the Italian outlet Tgr Rai Calabria reported. At least one among the dead was a baby.
The Italian Coast Guard previously said at least 43 migrants perished, while at least 80 others were recovered alive.
Manuela Curra, a provincial government official, told Reuters the craft left Izmir in eastern Turkey three or four days ago with between 140 and 150 people aboard. She added that most of those who survived the crash were from Afghanistan, as well as a few from Pakistan and a couple from Somalia. The nationalities of the deceased were not immediately confirmed.
US 'CONFIDENT' CHINA CONSIDERING PROVIDING LETHAL EQUIPMENT TO RUSSIA, CIA DIRECTOR SAYS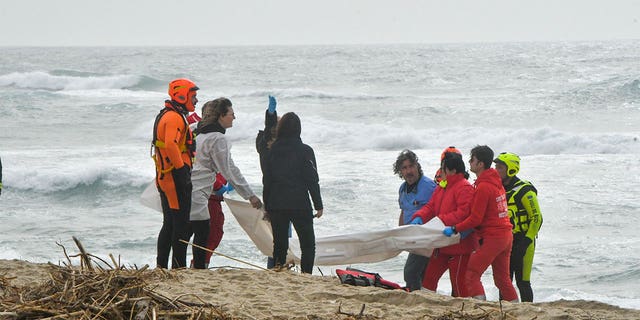 Rescuers recover a body after a migrant boat broke apart in rough seas, at a beach near Cutro, southern Italy, Sunday, Feb. 26, 2023.  (AP Photo/Giuseppe Pipita)
Guardia di Finanza, customs police in Italy, said one of the survivors has been arrested on migrant trafficking charges, according to Reuters.
Video shared by the Italian Coast Guard showed wreckage from the wooden gullet, a Turkish sailing boat, washed up onto the beach. Rescue boats were seen in the water off Crotone, a port city in Calabria, southern Italy, and the coast guard also shared footage of a helicopter flying over the washed-up debris in search of survivors.
WARNING: GRAPHIC CONTENT: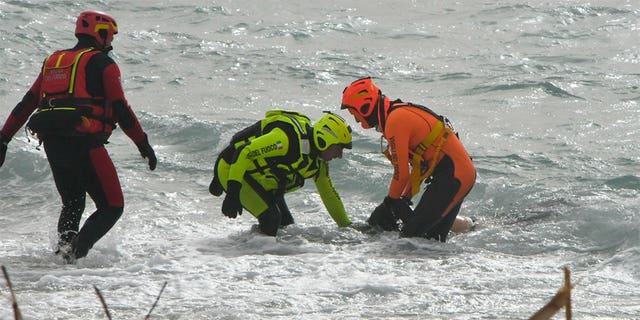 Crews recover a body near Cutro, southern Italy, Sunday, Feb. 26, 2023.  (AP Photo/Giuseppe Pipita)
ITALY CRACKS DOWN ON ALLEGED HIGH-SPEED MIGRANT TRAFFICKING RING
Women and children were among the dead, Cutro's mayor, Antonio Ceraso, said, according to Reuters. He told SkyTG24 news channel that he had seen "a spectacle that you would never want to see in your life," describing "a gruesome sight … that stays with you for all your life."
Italian Premier Giorgia Meloni said that the migrants were crowded into a 66-foot-long boat in "adverse weather conditions." In a statement released by her office, she expressed "her deep sorrow for the many human lives torn away by human traffickers."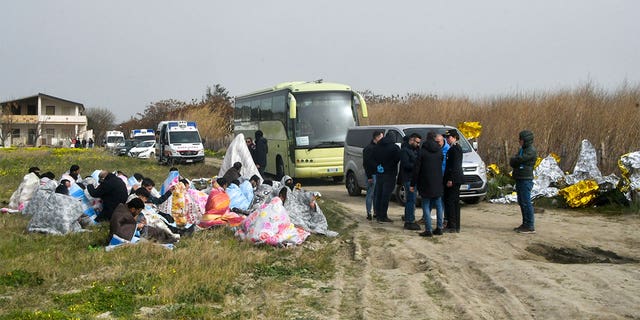 Rescued migrants covered in blankets, sit at a beach near Cutro, southern Italy, Sunday, Feb. 26, 2023.  (AP Photo/Giuseppe Pipita)
"It's inhumane to exchange the lives of men, women and children for the 'price' of a ticket paid by them in the false prospect for a safe voyage," Meloni, a far-right-wing leader whose governing allies include the League party, which prioritizes border security and combating illegal immigration.
She vowed to use her leadership to press for crackdowns on departures arranged by human smugglers and to press fellow European Union leaders to help Italy in her quest.
Meloni has supported stricter laws overseeing NGO's and charities catering to migrants, arguing the groups incentivize dangerous sea crossings. Those laws reportedly won parliamentary approval Thursday. In a statement, Italian Interior Minister Matteo Piantedosi said such sea crossings offer migrants an "illusory mirage of a better life" in Europe, enriching traffickers and contributing to these tragedies, according to Reuters.
A chunk of the boat, along with piles of splintered wood, littered the beach at Steccato di Cutro, part of Calabria's coastline along the Ionian sea. Some of the survivors tried to keep warm, wrapped in what appeared to be colorful blankets or sheets.
A helicopter and motorboats were deployed in search efforts, including vessels from state firefighters, border police and the coast guard.
BODIES OF 8 MIGRANTS RECOVERED FROM ISLAND OFF THE COAST OF ITALY DURING OPERATION THAT RESCUED 42 SURVIVORS
A Coast Guard motorboat rescued two men suffering from hypothermia and recovered the body of a boy in the rough seas, it said in a statement. Firefighter boats, including rescue divers, recovered 28 bodies, including three pulled by a strong current far away from the wreckage.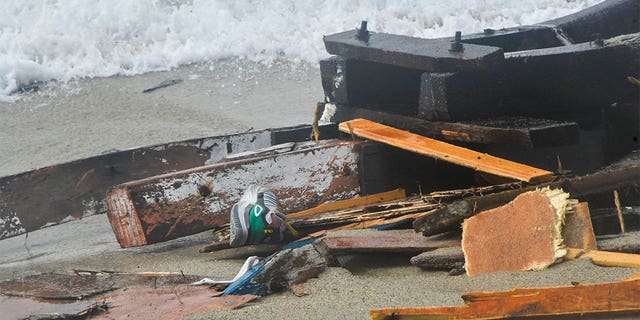 Shoes seen among the wreckage of a migrant boat washed ashore at a beach near Cutro, southern Italy, Sunday, Feb. 26, 2023.  (AP Photo/Giuseppe Pipita)
Pope Francis on Sunday lamented that children were among the shipwreck victims.
"I pray for each of them, for the missing and the other migrants who survived," Francis told the faithful in St. Peter's Square.
Debris and other wreckage from a migrant boat seen at a beach near Cutro, southern Italy, Sunday, Feb. 26, 2023.  (AP Photo/Giuseppe Pipita)
CLICK HERE TO GET THE FOX NEWS APP
The pontiff added he also was praying for the rescuers "and for those who give welcome" to the migrants.
"It's an enormous tragedy," Crotone Mayor Vincenzo Voce told RAI state TV.
"In solidarity, the city will find places in the cemetery" for the dead, Voce said.
The Associated Press contributed to this report.
Danielle Wallace is a reporter for Fox News Digital covering politics, crime, police and more. Story tips can be sent to [email protected] and on Twitter: @danimwallace.