close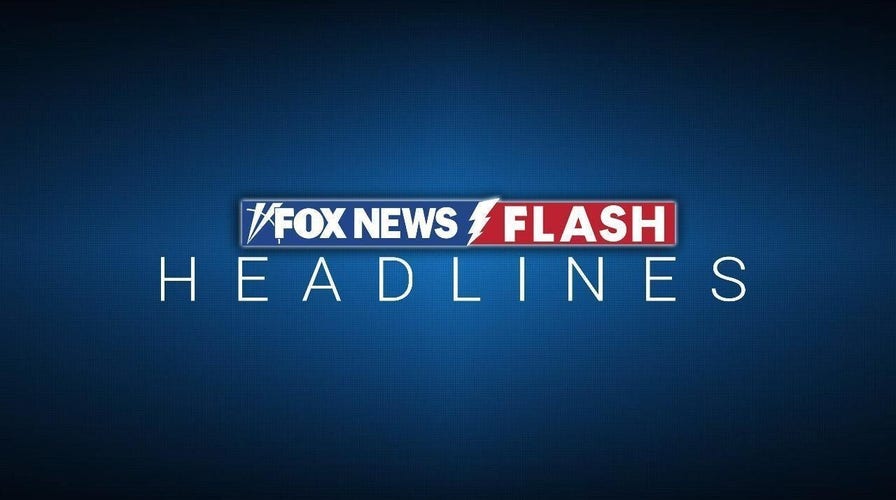 Video
Fox News Flash top headlines for March 9
Fox News Flash top headlines are here. Check out what's clicking on Foxnews.com.
Italian Premier Giorgia Meloni on Thursday brought her planned crackdown on people smugglers to a southern town near the coast where a wooden boat packed with migrants broke apart, killing scores and leaving many missing.
In a symbolic move to highlight what she has described as her conservative government's genuine concern for migrant lives, Meloni and her ministers flew to Calabria, in the toe of the Italian peninsula, to hold a Cabinet session in Cutro's town council hall.
Meloni, anti-migrant leader Matteo Salvini, who heads the infrastructure ministry which includes the coast guard, and Foreign Minister Antonio Tajani, posed for photos outside the town hall after she was greeted by the local bishop and other dignitaries.
The Cabinet was widely expected to approve far stiffer punishments for smugglers, who guide unseaworthy boats crowded with migrants to Italy's shores.
Also expected to be adopted are measures to facilitate refugees' access to so-called humanitarian corridors to Europe as they flee persecution or war in their homelands.
14 DEAD AFTER BOAT SINKS OFF THE COAST OF TUNISIA, 54 OTHERS RESCUED
Many of the dead and survivors in the Feb. 26 tragedy were fleeing from Afghanistan, Iran, Pakistan and Syria, hoping to join family members in Italy and other Western European countries.
Earlier this week, a 72nd body was recovered, nine days after the boat crashed into a sandbank just off Steccato di Cutro beach, started taking on water and splintered apart.
Eighty people survived, many of them staggering ashore on the beach after swimming from the wreck. Dozens are still believed to be missing after the wreck of the boat, which survivors said had set out from Turkey with around 180 passengers days earlier.
Opposition leaders and humanitarian groups have decried Italian authorities' decision not to quickly dispatch coast guard rescue boats after a Frontex patrol aircraft spotted the wooden boat about 40 nautical miles (72 kilometers) off Calabria's coast hours before the pre-dawn wreck on Cutro's beach in adverse sea conditions.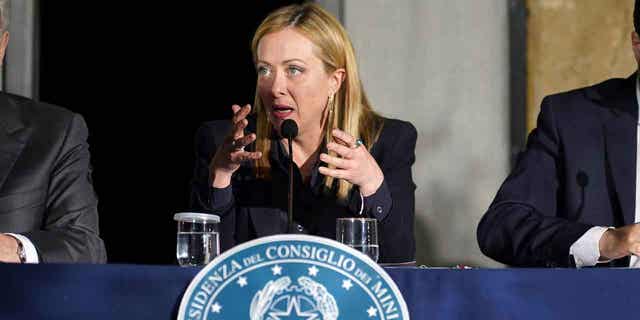 Italian Premier Giorgia Meloni presides over a Cabinet session in southern Italy on March 9, 2023. Meloni announced that the country is cracking down on smuggling after an accident led to the deaths of multiple migrants. (Antonino D'Urso/LaPresse via AP)
Frontex is the European Union's border and coastal protection agency.
Earlier this week, Italy's interior minister, who implements the government's migration policy, insisted in a speech to lawmakers that Frontex — in its communication to Italian authorities — hadn't indicated any sign of distress and no one aboard the ill-fated boat had sent out any alarm.
Even as Meloni's government presses the crackdown, hundreds more migrants have stepped ashore on the southern island of Lampedusa in recent days.
2 ITALIAN AIR FORCE PLANES FATALLY COLLIDE MID-AIR, KILLING BOTH PILOTS
Many arrived without needing rescue. Italy's coast guard and border police boats plucked dozens of others to safety from the sea this week in the central Mediterranean. Among them were 45 migrants, including five newborns, rescued on Wednesday, and another 38 saved by the coast guard after their boat sank in Malta's air-and-rescue sector.
In another Italian coast guard operation, 20 migrants were saved when their boat ran into trouble after setting out from Sfax, Tunisia, and a woman's body was recovered, Italian state television said.
By Thursday afternoon, more than 1,300 migrants had reached Lampedusa by sea in the past few days, and authorities were sending a large ferry from Sicily to transfer some of them from the island's chronically overcrowded temporary residence for migrants.
Dozens of townspeople turned out on Thursday in solidarity with migrants in Cutro, a town of 8,000, which closed schools and cordoned off the area as part of security for the Cabinet meeting. Some of the town's fishermen had dived into the sea to rescue the living and recover the dead from the disaster.
CLICK HERE TO GET THE FOX NEWS APP
Relatives of survivors had staged a sit-in blocking a road in Cutro earlier this week to prevent the transfer of bodies to a Muslim cemetery, which has space in the northern city of Bologna. On Thursday, Italy's interior ministry said it was working to satisfy the wishes of families to have their loved ones buried where they want.
So far, the body of a migrant from Afghanistan has been buried in Calabria, that of a Tunisian victim was sent to Tunisia, a victim from Afghanistan was transported to Germany while four bodies were sent back to Pakistan. On Wednesday, seven bodies were transported to Bologna's Muslim cemetery, while still others were prepared to be sent to Germany and Afghanistan.