close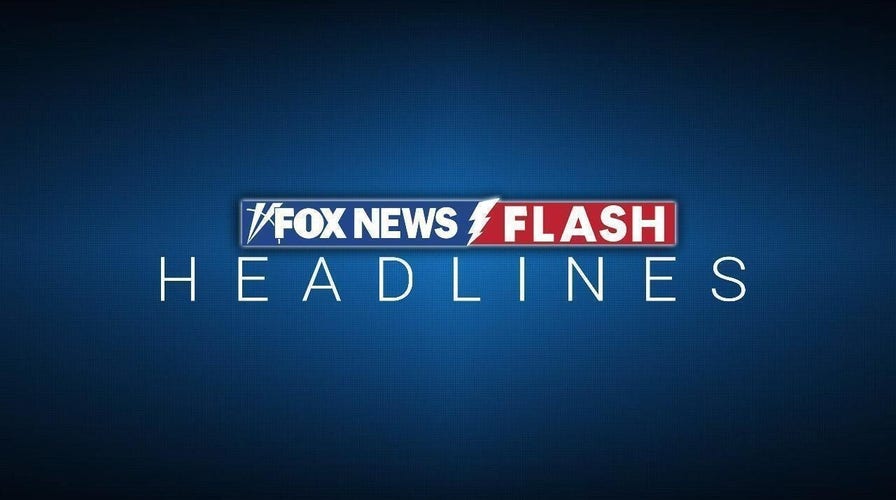 Video
Fox News Flash top headlines for November 6
Fox News Flash top headlines are here. Check out what's clicking on Foxnews.com.
Israeli Prime Minister Benjamin Netanyahu – after having a call with President Biden on Monday – doubled down on rejecting a ceasefire in Gaza unless hostages are released.
In an interview with ABC News' David Muir, Netanyahu described Biden as a "good friend" but is conflicted with the White House's support for a "humanitarian pause" in Gaza.
"We agree that we need to provide humanitarian assistance, we're doing it and coordinating it with our American friends and with President Biden," Netanyahu said. "We'll do whatever we can. We don't want to give Hamas the opportunity to endanger our soldiers. We saw that until we started the ground action, there was no pressure on them to release hostages. What we see if the minute we started the ground action, there is pressure."
"The President himself has said that a ceasefire would be a surrender to Hamas, would be a victory for Hamas and you would no more have it than you would have a ceasefire after the al Qaeda bombings of the World Trade Center," Netanyahu continued. "There will be no ceasefire, no general ceasefire, in Gaza without the release of our hostages. As far as tactical, little pauses, an hour here, an hour there, we've had them before. I suppose we'll check the circumstances in order to enable good, humanitarian goods to come in or our hostages, individual hostages to leave, but I don't think there's going to be a general ceasefire."
NEW JERSEY SEN. CORY BOOKER INTERRUPTED BY PROTESTERS DEMANDING GAZA CEASE-FIRE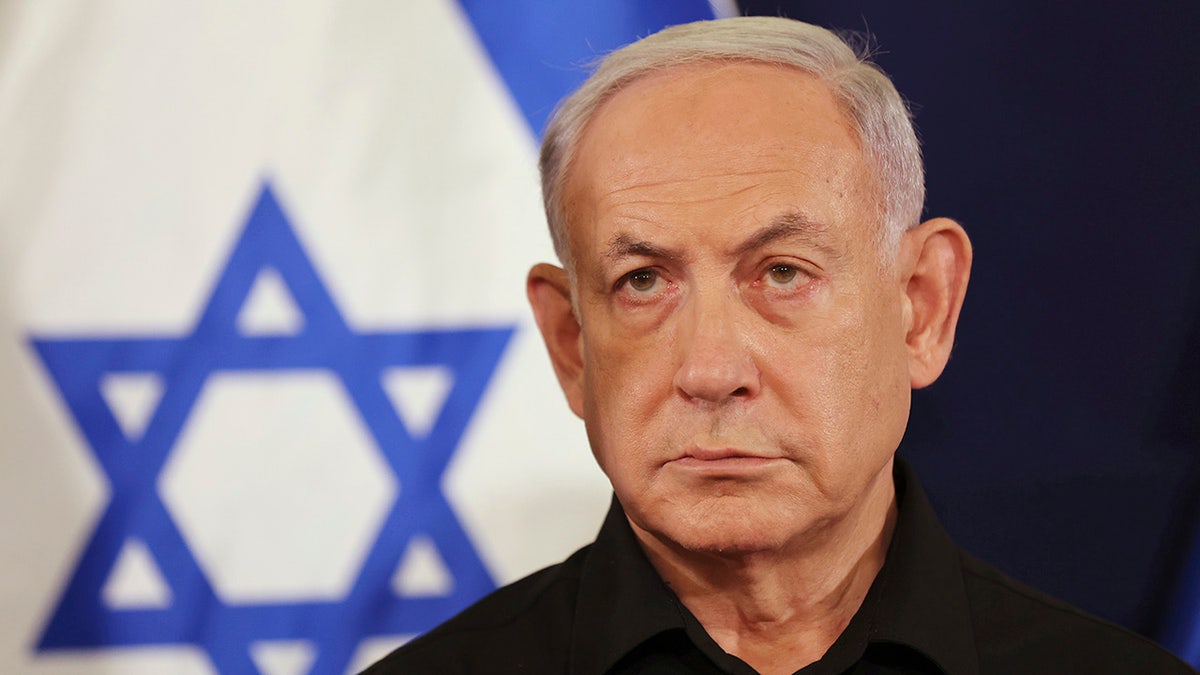 Israeli Prime Minister Benjamin Netanyahu attends a press conference with Defense Minister Yoav Gallant and Cabinet Minister Benny Gantz in the Kirya military base in Tel Aviv, Israel, Saturday, Oct. 28, 2023. (Abir Sultan/Pool Photo via AP)
"It'll hamper our effort to get our hostages out because the only thing that works on these criminals, on Hamas is the military pressure that we're exerting," he said.
In the instance of Hamas agreeing to release hostages, Netanyahu said, "There would be a ceasefire for that purpose, and we're waiting for that to happen. It hasn't happened so far."
Of the reported death toll of about 10,000 being killed in Gaza, Netanyahu cautioned against taking those figures at face value, arguing several thousand of those fatalities are likely Hamas terror combatants. "It's a very tough enemy, but we can't let them have immunity. If we let them have immunity, David, then barbarians win," he said.
"I think every civilian lost is a tragedy, every civilian life lost is a tragedy," he continued. "We're fighting an enemy that is particularly brutal. They're using their civilians as human shields, and while we're asking the Palestinian civilian population to leave the war zone, they're preventing them at gunpoint. They're using them as human shields."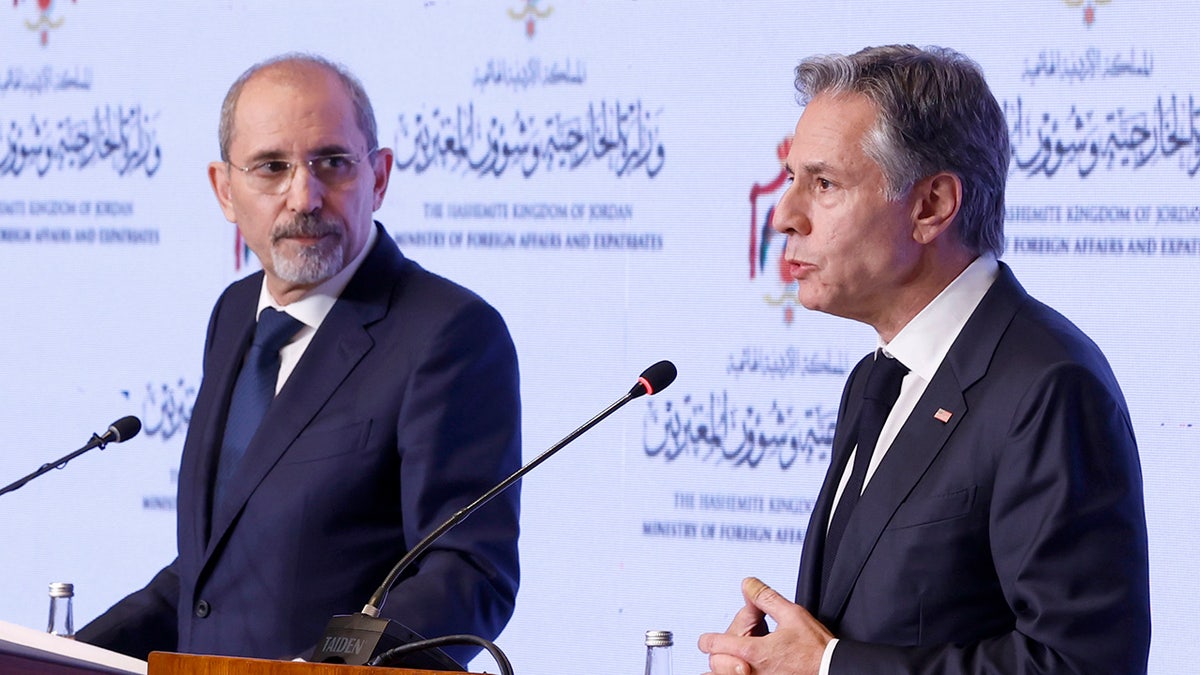 Secretary of State Antony Blinken, right, and Jordanian Deputy Prime Minister and Foreign Minister Ayman Safadi at a press conference in Amman, Jordan, Saturday, Nov. 4, 2023. Blinken is making a new push to ease the plight of civilians. (Jonathan Ernst/Pool via AP)
LIBERAL CITY COUNCIL DEMANDS BIDEN PUSH FOR ISRAELI CEASE-FIRE TO END 'CURRENT VIOLENCE' IN GAZA
"I think it is important to understand that there is no way to defeat terrorists embedded in a civilian population without going in a targeted as a way as you can against the terrorists but there will be unfortunately these civilian casualties," Netanyahu said. "We'll do, again and again I'll say it, we'll do everything in our power to reduce that."
Biden has advocated for a humanitarian pause in Gaza, while several Democratic members of Congress are also supporting "a short-term cessation of hostilities" in the region ruled by Hamas. Demonstrators in major U.S. cities and across the globe have been calling for a ceasefire in Gaza.
Taking that into account, State Department deputy spokesperson Vedant Patel told reporters Monday "that it is important for Israel to differentiate between Hamas terrorists and civilians even as Hamas continues to use civilian shields and Hamas continues to put their infrastructure and their rockets in places in civilian areas and have dug tunnels deep underneath critical civilian infrastructure in Gaza that has impacted protected sites like schools and hospitals and other civilian infrastructure."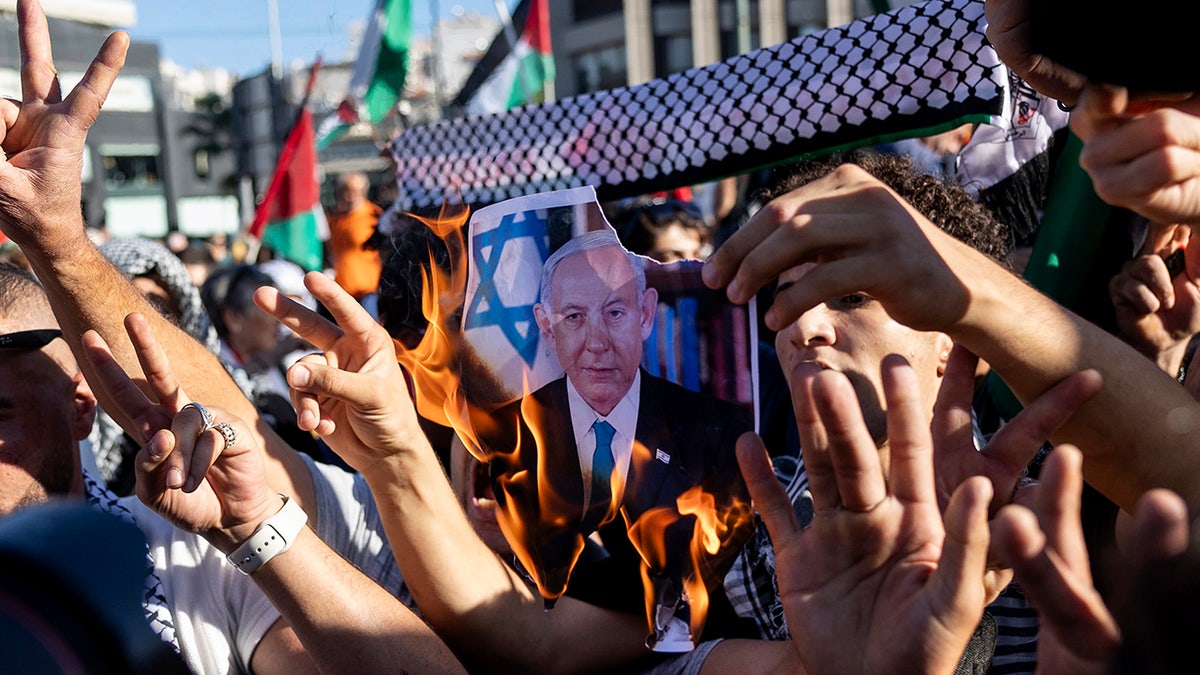 Pro-Palestinian protesters burn a photograph of Israeli Prime Minister Benjamin Netanyahu during a rally to express solidarity with Palestinians, in front of the Israeli embassy, in Athens, Greece, Sunday, Nov. 5, 2023. (AP Photo/Yorgos Karahalis)
CLICK HERE TO GET THE FOX NEWS APP
Patel argued a ceasefire right now "would not prevent Hamas from continuing terror attacks and firing rocket attacks at Israel in the future. And on the contrary, it would let Hamas off the hook, allow Hamas enough time to regroup, and we can't allow that. And no nation can be expected to tolerate those kinds of conditions."
"But one thing we have been very clear about, both the Secretary and the President, have been the need for a humanitarian pause to enable a sustained flow of aid and voluntary movement of civilians seeking to depart. It would also allow an opportunity for the potential release of hostages, which continues to be something that we're calling for directly."
Danielle Wallace is a reporter for Fox News Digital covering politics, crime, police and more. Story tips can be sent to [email protected] and on Twitter: @danimwallace.