close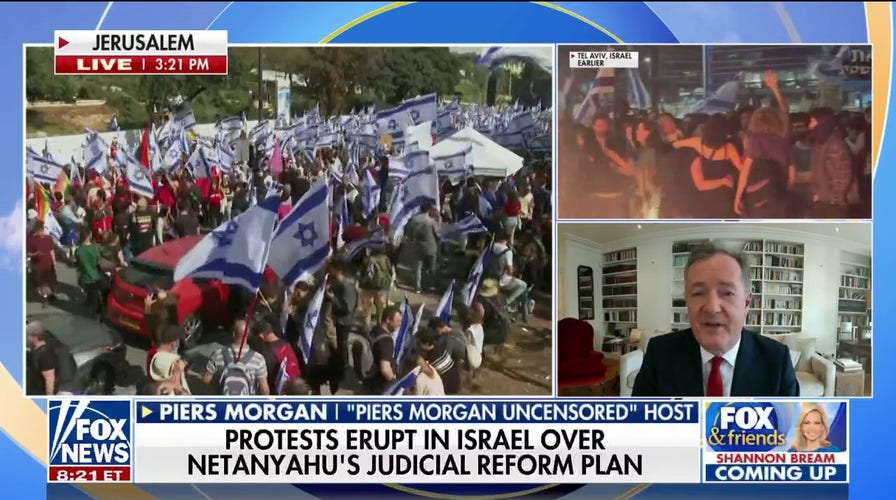 Video
Protests in Israel erupt over Netanyahu's judicial reform plan
Fox Nation host Piers Morgan joined 'Fox & Friends' to discuss his sit-down interview with Benjamin Netanyahu over the public's reaction to his judicial reform plan and his discussion with Florida Gov. Ron DeSantis. 
Israel's embattled Prime Minister Benjamin Netanyahu has reached an agreement with his National Security Minister Itamar Ben-Gvir to postpone his coalition's judicial legislative plan for this session of parliament. The controversial plan would overhaul the country's judiciary and has led to mass protests to stop the government's legal reform package.
In a televised statement from the prime minister's office Netanyahu confirmed he would suspend the second and third votes on the legislation for the present session of parliament. The next parliamentary session begins on April 30th. Netanyahu blamed extremists for the ongoing protests and said "we stand and talk as brothers not enemies."
Israel largely came to a grinding halt on Monday with its international Ben Gurion Airport shut down due to the work stoppage, but following the announced pause the nationwide strike was suspended.
Earlier in the day the prime minister's office said Netanyahu was expected to issue a statement in the morning, but the deadline was missed due to reports of disagreements within the cabinet. Ben-Gvir, the head of the right-wing Jewish Power (Otzma Yehudit) faction, had threatened to resign but later made an agreement with Netanyahu that sees his wish of forming a national guard unit approved in addition to some budgetary wins.
If the far-right leader had resigned from Netanyahu's coalition, the government would likely collapse and be forced to call new elections.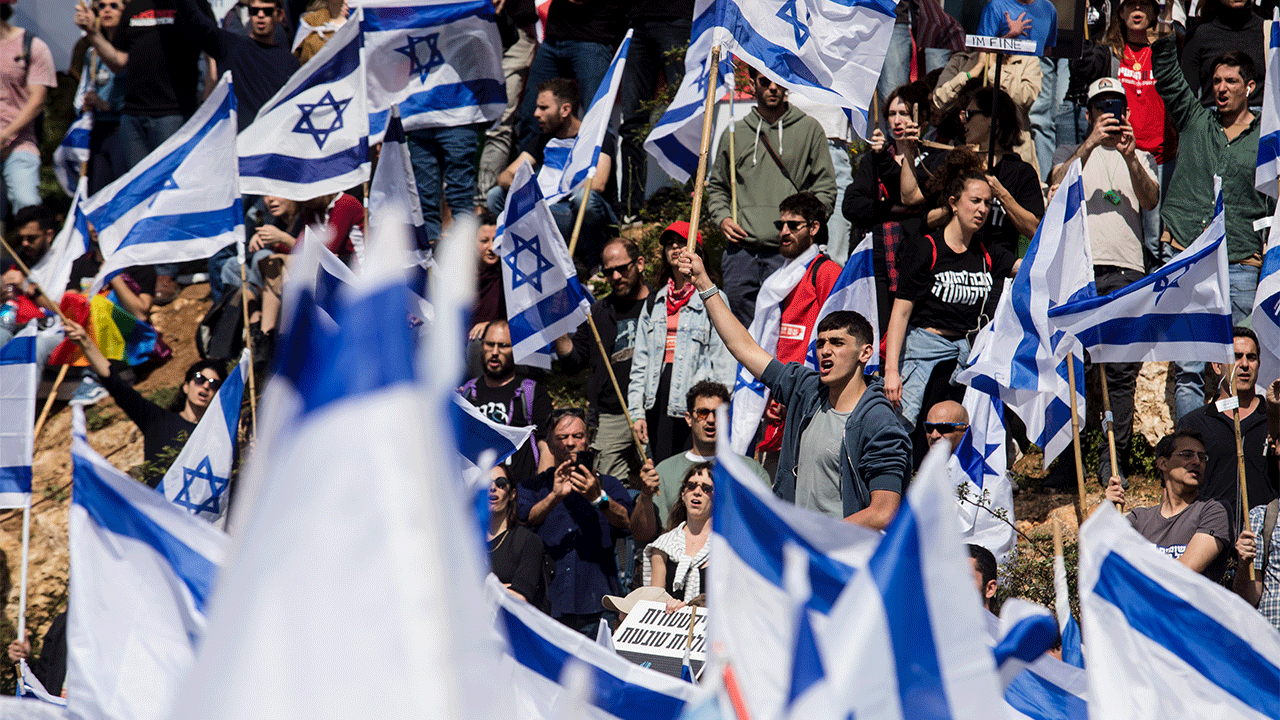 Protestors wave flags as thousands of Israelis attend a rally against Israeli Government's judicial overhaul plan on March 27, 2023 in Jerusalem. Yesterday's dismissal of Defense Minister Yoav Gallant intensified the political crisis sparked by the Netanyahu government's planned judicial overhaul, designed to limit the court's authority over Parliament. (Photo by Amir Levy/Getty Images)
BIDEN BADGERS BIBI: NETANYAHU SAYS PRESIDENT WARNED BILL TO REFORM ISRAEL SUPREME COURT THREATENS DEMOCRACY
The group leading the protests against Netanyahu's reforms, known as the Umbrella Movement Leadership, dismissed the pause.
In a statement, the group said, "The government has brought Israel close to destruction and they still threaten to dismantle democracy. A temporary freeze does not suffice and the national protests will continue to intensify until the law is rejected in the Knesset."
Netanyahu's fellow Likud Party member, Yariv Levin, who serves as the justice minister, said he would stick with the coalition. According to the Israeli news organization Ynet, Levin said "As a member of the Likud I will respect any decision made. We must all make all efforts to stabilize the government and the coalition." Levin is navigating the judicial reform legislation through the Knesset and is a staunch supporter of efforts to reign in the power of the courts.
The ruling coalition argues that judges engage in legal activism and frequently overrule the executive and legislative branches. Opponents of the reform measures see a decreased level of checks and balances on government power if a judicial overhaul is enacted.
On "Piers Morgan Uncensored" which is airing on Fox Nation on Monday, Netanyahu said, "There is one other thing that characterizes the judiciary in Israel and that is that the judges veto the appointment of judges, they effectively select themselves and that doesn't exist in any democracy. The reform that we're dealing with right now corrects that."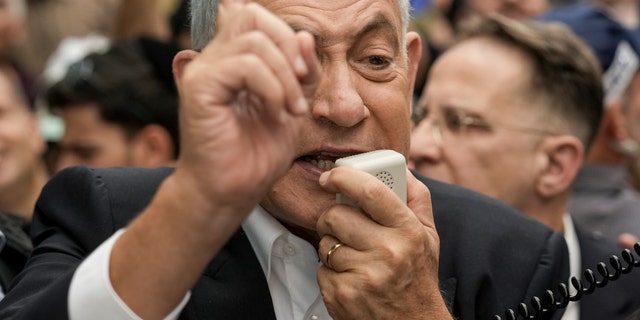 Prime Minister Benjamin Netanyahu speaks to his supporters during a campaign event during last year's election. (AP Photo/Ariel Schalit)
The Jerusalem Post reported that right-wing groups, including Im Tirzu, Ad Kan, Bezalmo and Torat Lehima, declared that they would stage a counter-protest on Monday evening close to the High Court of Justice. The right-wing protest is in response to another mass protest of some 100,000 people against judicial reform in front of Israel's parliament (Knesset).
An announcement for the right-wing counter-protest wrote online that Israel's right-wing political sector is in an "emergency situation," and "they will not steal the elections from us."
NETANYAHU TELLS PIERS MORGAN DEMOCRACY IS SAFE IN ISRAEL DESPITE HIS MOVES TO WREST CONTROL OF 'TOO POWERFUL'
Ben-Gvir shared the battle cry of the right on Twitter, writing "Today we stop being silent. Today is the day the Right wakes up. Share it forward."
Netanyahu warned in a tweet against violence, urging protestors to "show responsibility and not act violently." He added that "We are brothers."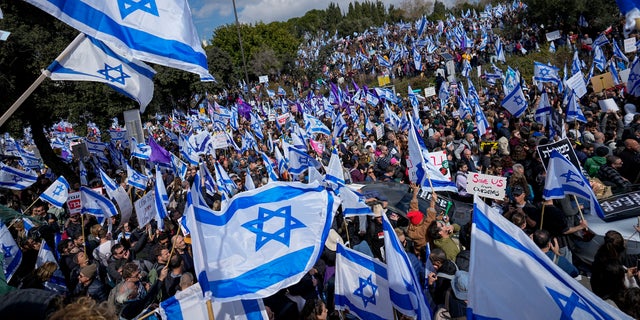 Israelis wave national flags during protest against plans by Prime Minister Benjamin Netanyahu's new government to overhaul the judicial system, outside the Knesset, Israel's parliament, in Jerusalem, Monday, Feb. 13, 2023. Thousands of Israelis protested outside the country's parliament on Monday ahead of a preliminary vote on a bill that would give politicians greater power over appointing judges, part of a judicial overhaul proposed by Prime Minister Benjamin Netanyahu's government. (AP Photo/Ohad Zwigenberg)
The Tel Aviv-based political analyst Tom Gross told Fox News Digital, "In the immediate term I suspect most Israelis will be very relieved that there is a pause in the judicial reforms. The atmosphere in society has become so heated, as to become almost unbearable for some."
The Times of Israel reported protesters opposed to judicial overhaul sought to reach Netanyahu's private home in the coastal town of Caesarea via kayaks and swimming in the sea. The demonstrators were veterans of the navy and a group of IDF reservists who are called "Brothers in Arms."
NETANYAHU TELLS PIERS MORGAN DEMOCRACY IS SAFE IN ISRAEL DESPITE HIS MOVES TO WREST CONTROL OF 'TOO POWERFUL'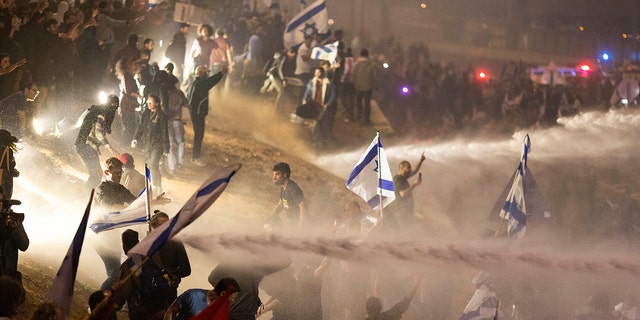 Israeli police use a water cannon to disperse demonstrators blocking a highway during a protest against plans by Prime Minister Benjamin Netanyahu's government to overhaul the judicial system in Tel Aviv, Israel, Monday, March 27, 2023. Tens of thousands of Israelis have poured into the streets across the country in a spontaneous outburst of anger after Prime Minister Benjamin Netanyahu abruptly fired his defense minister for challenging the Israeli leader's judicial overhaul plan. (AP Photo/Oren Ziv)
Gross added that "Once the dust settles, there may be renewed concern that a democratic government was essentially bullied into halting legislation, giving in to street protests which illegally closed down main highways for hours, and even prevented Defense Secretary Lloyd Austin from leaving Tel Aviv airport during his recent visit to Israel."
Benjamin Weinthal reports on Israel, Iran, Syria, Turkey and Europe for Fox News Digital. Benjamin has contributed articles to The Wall Street Journal, The Jerusalem Post, Foreign Policy, Haaretz, Forbes and The New York Post. You can follow Benjamin on Twitter @BenWeinthal.