close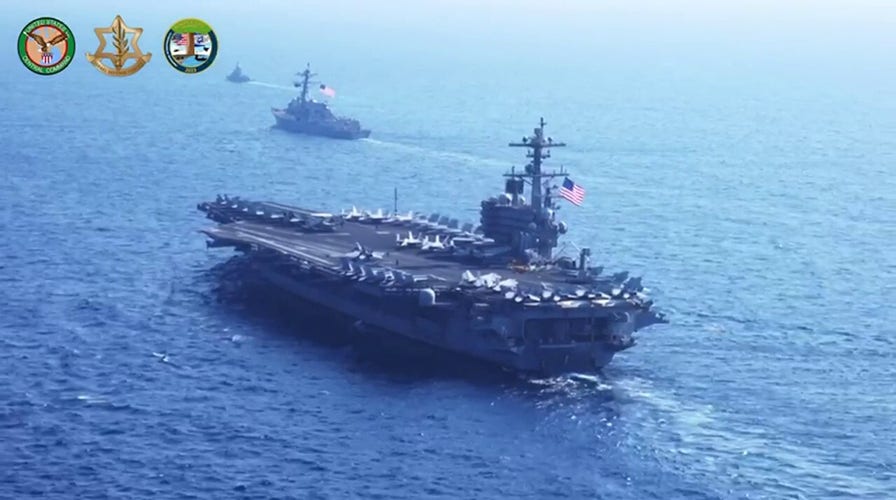 Video
US and Israel took part in a large scale military exercise in Israel
U.S. Central Command and the IDF took part in a joint-military exercise known as 'Juniper Oak,' in Israel and the Eastern Mediterranean Sea in January. (Courtesy: IDF Spokesman's Unit via CENTCOM.)
The top official in the Israeli Defense Forces warned that Jerusalem, along with its allies, has the ability to strike Iran as Tehran continues to develop its nuclear program at a concerning rate.
"Iran has made more progress in enriching uranium than ever before," Israeli Chief of Staff, Lt. Gen. Herzi Halevi said at a conference Tuesday. "We are also closely examining the other areas on the way to nuclear capability.
"Without going into details, there are possible negative developments on the horizon that could prompt action," he continued. "We have abilities, and others have abilities. We have the ability to hit Iran," he said during his speech at the Herzliya Conference 2023, Institute for Policy and Strategy at Reichman University in Israel.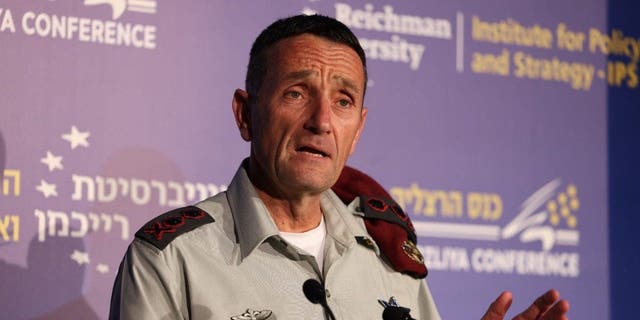 Israeli Chief of Staff Herzi Halevi speaks at the Herzliya Conference, Institute for Policy and Strategy at Reichman University, May 23, 2023.  (Gilad Kavalerchik )
ISRAEL MORE THAN DOUBLED STRIKES ON IRANIAN TARGETS IN SYRIA, DEFENSE MINISTER CLAIMS
Halevi further warned that Iran should not be "indifferent" to Israel's concern or its commitment to striking Tehran's nuclear program should it be prompted to.
Israeli Defense Minister Yoav Gallant also revealed that the Iranian Revolutionary Guards are turning civilian merchant ships into military vessels armed with UAVs, missile systems and advanced intelligence-gathering units and using them as "floating terrorist bases."
"Iran conducts itself like a collection of criminal organizations, not a modern state," Gallant told conference attendees at Reichman University, Monday. "The floating terror bases are an extension of Iran's ongoing maritime terrorism, as seen in its actions in the Persian Gulf and the Arabian Sea."
Gallant also noted that the ships are intended to be used at sea for extended periods of time.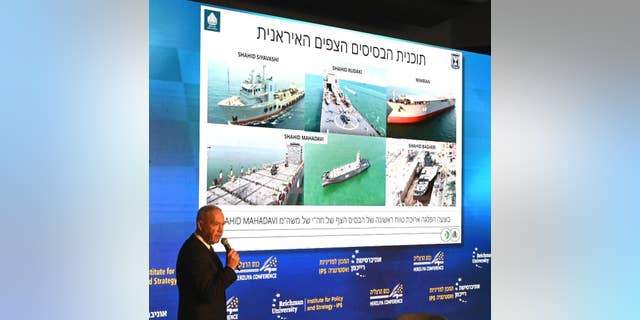 Israel's Defense Minister Yoav Gallant, speaking during the Herzliya Conference at Reichman University May 23, 2023, shows images of Iran's "terrorist ships." (Israel Defense ministry)
IRAN DEFIES US OVER EXECUTIONS, PUTTING THREE DEMOCRACY PROTESTERS TO DEATH
"Iran aims to expand its reach to the Indian Ocean, the Red Sea, and even the shores of the Mediterranean," he continued. "This is a structured plan designed to threaten trade and flight routes – both military and civilian – and to create a permanent threat in the maritime arena."
Israel's accusations come as Tehran is seeing a shakeup among its top ranks after Iranian President Ebrahim Raisi removed the longtime secretary of the Supreme National Security Council (SNSC), Ali Shamkhani, following a scandal tied to spying allegations.
Shamkhani has faced allegations of corruption after he was accused of having close ties to a British Iranian man who was hung earlier this year on charges of spying.
He has denied all corruption allegations.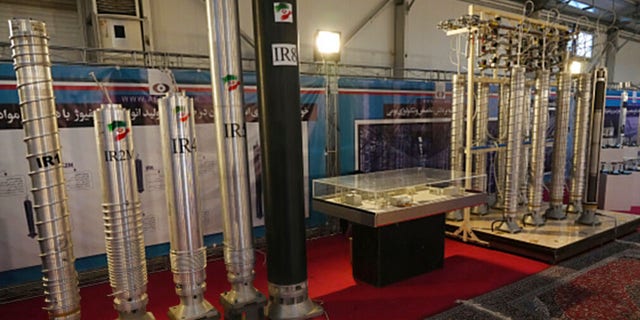 Iran's domestically built centrifuges are displayed in an exhibition of the country's nuclear achievements, in Tehran, Feb. 8, 2023. (AP Photo/Vahid Salemi)
CLICK HERE TO GET THE FOX NEWS APP
Senior fellow and Iran expert at the Foundation for Defense of Democracies, Behnam Ben Taleblu, told Fox News Digital that "Shamkhani's departure is the latest in a recent series of musical chairs in Iran that in the aggregate represents ultra-hardline consolidation."
"Shamkhani was the second-longest serving chair of Iran's SNSC and the Islamic Republic's highest-ranking ethnic Arab," he added. "The personnel change is likely to beget greater domestic consensus in Iran for escalation and confrontation."
Caitlin McFall is a Reporter at Fox News Digital covering Politics, U.S. and World news.