close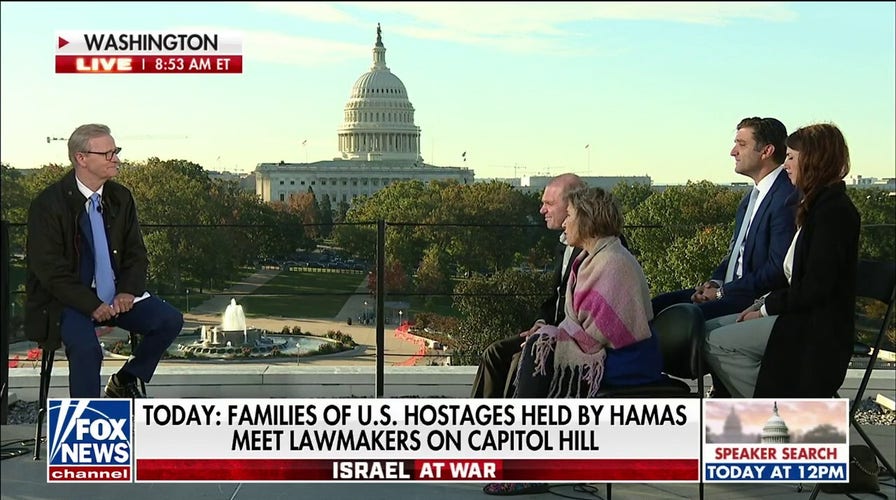 Video
Israeli woman survives Hamas attack on her town, says Oct. 7 was only 'first shot'
Families of U.S. hostages discuss what they have been experiencing since the war began, head to Capitol Hill urging lawmakers to act
A display has emerged in Tel Aviv of nearly three dozen teddy bears blindfolded to raise awareness of the young children being held captive by the Palestinian terrorist group Hamas.
Each of the brown and white stuffed animals featured a picture of one of the roughly 30 children, some as young as 9 months old, who are among the 222 people held hostage in Gaza by Hamas fighters following its attack on Israel on Oct. 7. The bears set up near a fountain were dabbed with fake blood, according to The Associated Press.
"It's just unbelievable. There's like no words. Because, even with the blood on it you can see, and the blindfolds… it's very symbolic for me of the captivity of innocent children," one passerby, Hilary Meyerov, told the AP. "It's completely heartbreaking."
"Bring them back. Bring them back," added Avigail Ben-Yosef. "I'm sending love to all the families, they are waiting for these children, and to all the other hostages."
LIVE UPDATES: ISRAEL AT WAR WITH HAMAS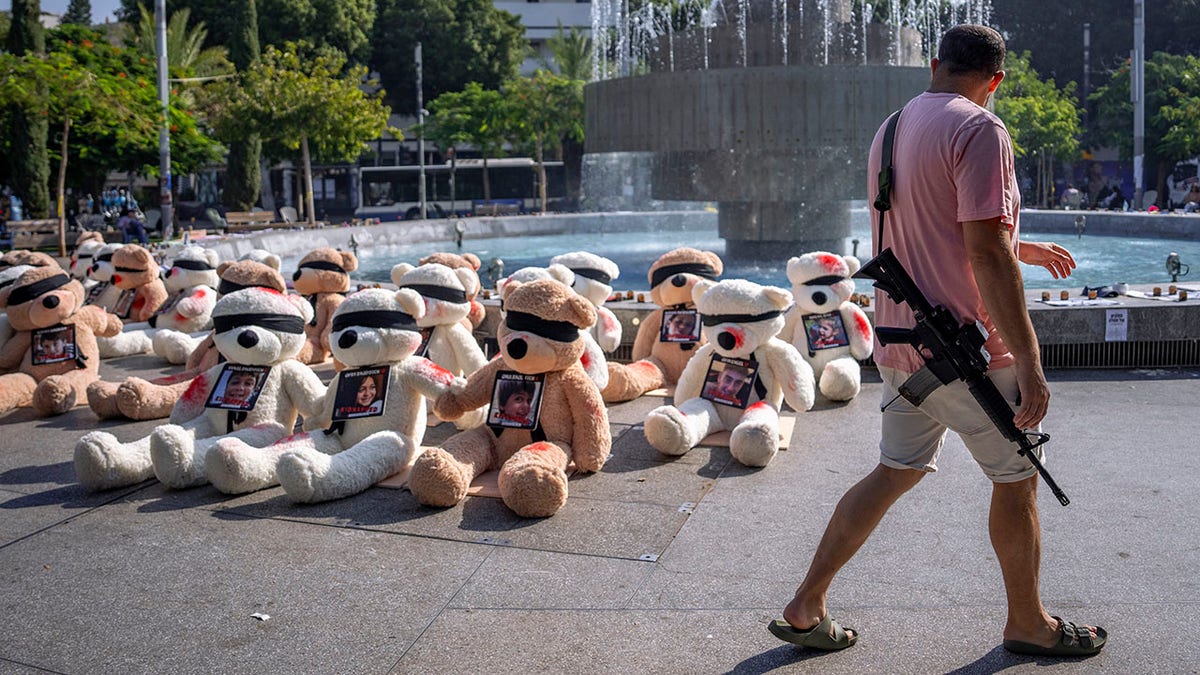 An off-duty Israeli soldier walks by an installation of blindfolded giant teddy bears adorned with photos of Israeli children held captive in Gaza, in Tel Aviv, Israel, on Wednesday. (AP/Oded Balilty)
As many as 7,191 people have been killed in the war on both sides, including at least 1,400 Israeli civilians and soldiers and 33 Americans.
The Hamas-run Gaza health ministry claims at least 5,791 Palestinians have been killed in Gaza and more than 16,297 wounded.
Israeli soldiers stand ready to invade Gaza once they receive orders to do so. Reports have said an expected ground operation in Gaza has been delayed as Israel and Qatari mediators work behind the scenes to secure the release of the hostages held by Hamas.
HAMAS LEADERS MEET WITH HEZBOLLAH, ISLAMIC JIHAD TO PLOT 'VICTORY' AGAINST ISRAEL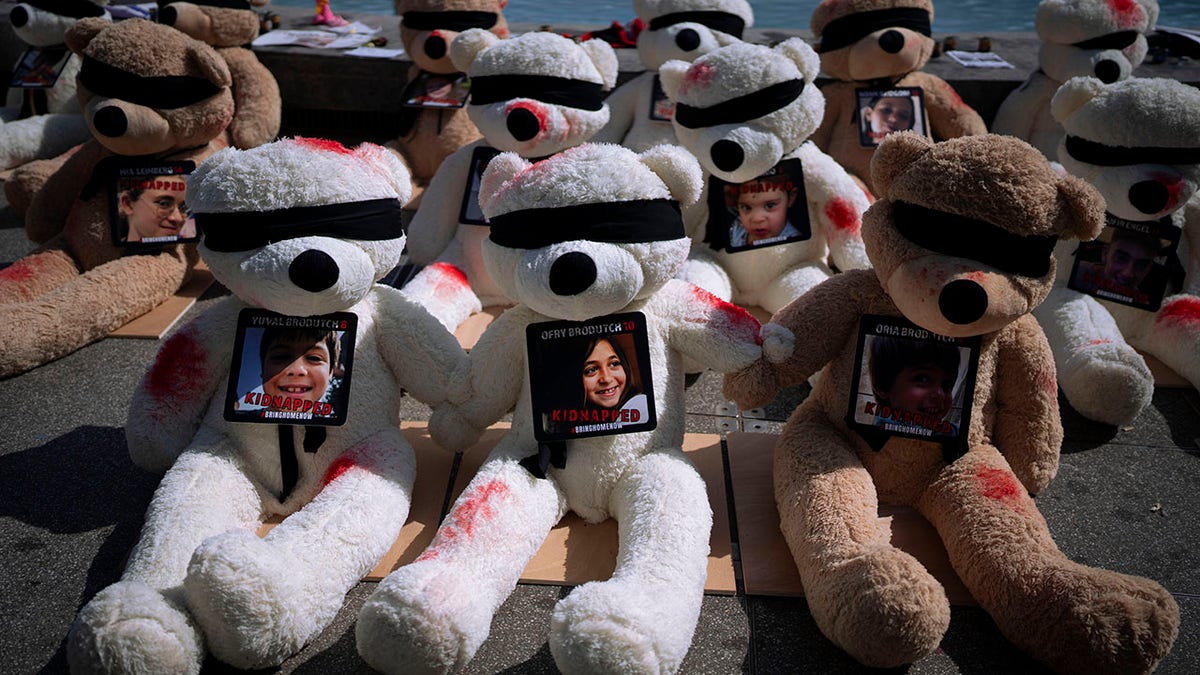 The installation is meant to draw attention to over 200 people who were abducted by Hamas militants during the Oct. 7 cross-border attack. (AP/Oded Balilty)
Hamas so far has released four hostages.
"We've got 10 unaccounted for Americans," U.S. Secretary of State Antony Blinken also said this week during an appearance on NBC's "Meet the Press." "We believe that some significant number are hostages."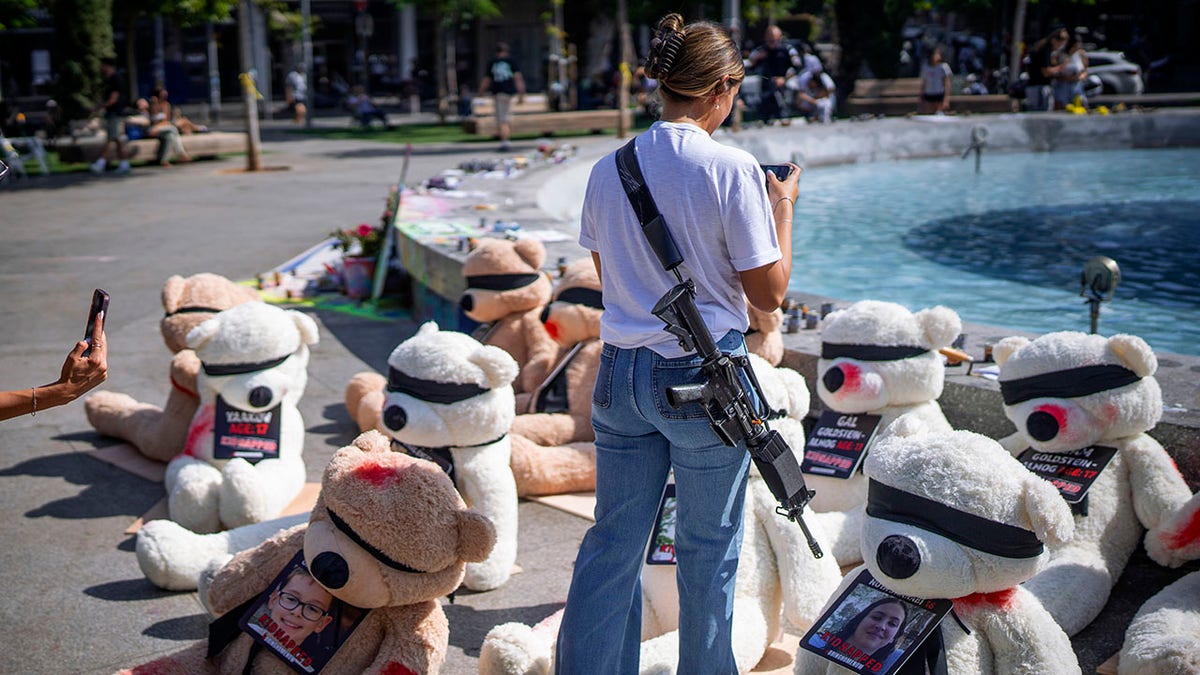 An off-duty Israeli soldier takes photos of the installation in Tel Aviv on Wednesday. (AP/Oded Balilty)
CLICK HERE TO GET THE FOX NEWS APP
He added that "we have a pretty strong idea that some number of the 10 at least are being held in Gaza by Hamas."
Fox News' Chris Pandolfo, Stephen Sorace and The Associated Press contributed to this report.
Greg Norman is a reporter at Fox News Digital.