close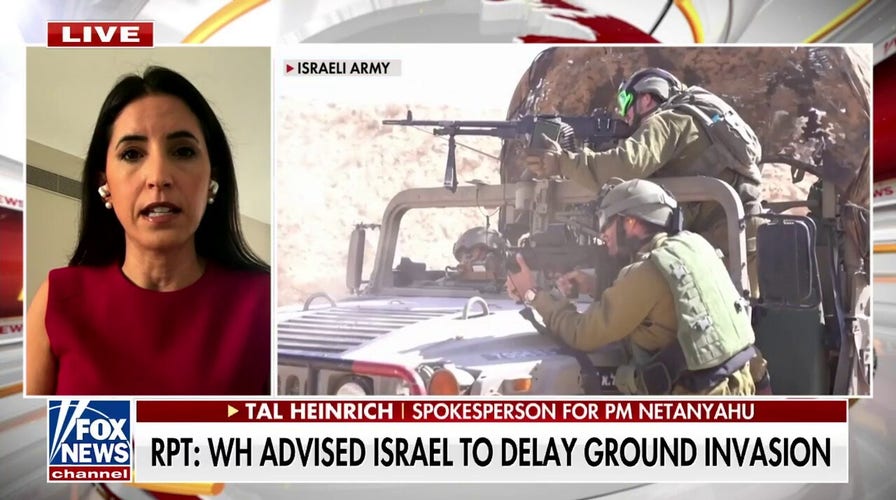 Video
Biden admin advises Israel to delay ground invasion into Gaza: Report
Netanyahu's spokesperson Tal Heinrich joined 'FOX & Friends First' to discuss the report and how the Israeli military has taken action to destroy Hamas. 
JERUSALEM – Even as the humanitarian situation for Gaza's 2.1 million civilians continues to deteriorate, with the U.N. and other international aid agencies warning that fuel for hospitals and essential institutions is set to run out completely in the coming days, Israel is remaining steadfast in its refusal to allow power generating materials to enter the Palestinian enclave.
As Israel ramps up its aerial bombardments in an effort to wipe out the Hamas terrorist group following its Oct. 7 surprise attack on southern Israel, withholding fuel is part of a broader strategy of literally "smoking out" the terrorists who have been sequestered in the subterranean tunnel system that snake beneath the streets of the Gaza Strip.
Ehud Ya'ari, an Israel-based Lafer international fellow of The Washington Institute, told Fox News Digital that for years, Hamas had been stealing fuel designated for civilian purposes in order to build up its stocks.
"Underneath Gaza City, there is a deep system of tunnels that stretches for some 190 miles, and it is totally dependent on fuel for ventilation, communication, and electricity," he said.
ISRAEL'S HUNT FOR HAMAS TERROR GROUP LEADER YAHYA SINWAR: 'DEAD MAN WALKING'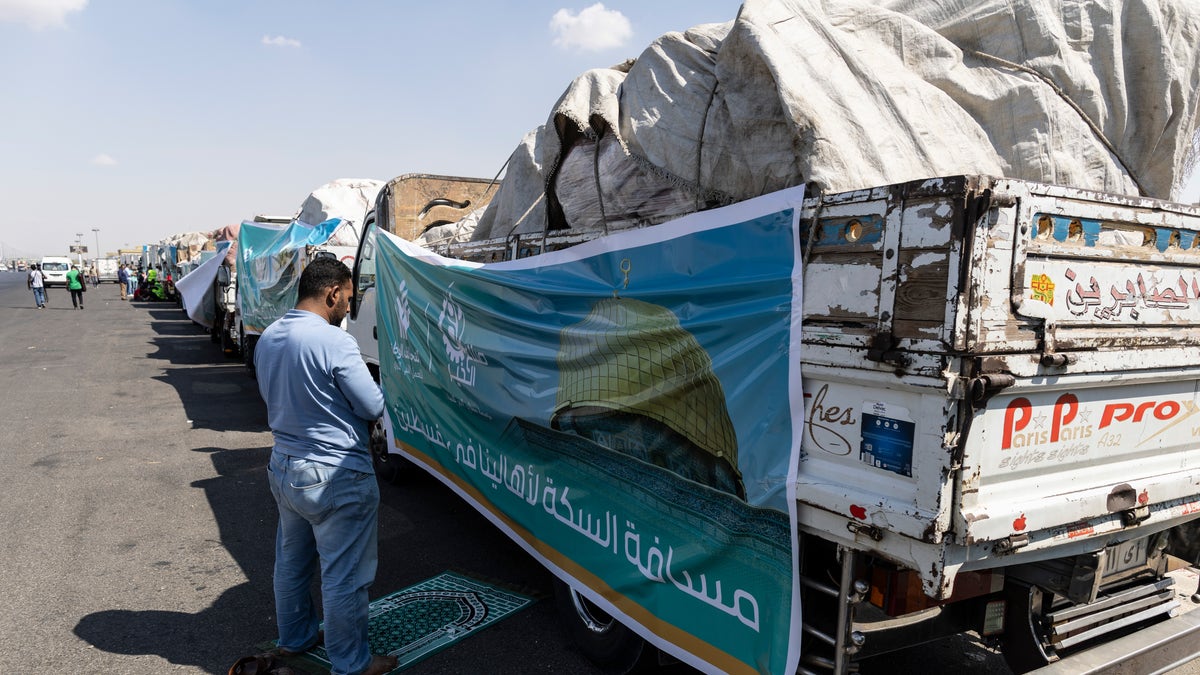 Aid convoy trucks loaded with supplies are seen at Cairo-Ismailia Desert Road on Oct. 14 2023 in Cairo. (Mahmoud Khaled/Getty Images)
Ya'ari also said that the roughly 220 hostages being held by Hamas inside Gaza since the Oct. 7 attack were likely hidden somewhere inside this vast tunnel system.
"One of the ways to flush them [Hamas] out or force them above ground is to prevent them from having fuel," he said, adding "It is no vacation being in those underground tunnels for three weeks. It's hot and humid and the more Israel destroys of Hamas' infrastructure from the air, the fewer casualties there will be for Israel on the ground."
"This is a key strategy and that is why the Israelis have been insisting that fuel is not to be included in the aid trucks going into Gaza from Egypt," Ya'ari added.
On Wednesday, COGAT, the Israeli military body that oversees all goods transported into Gaza from Israel, shared a photograph on X of what it said was Hamas' fuel tanks.
"Hamas owns fuel tanks, containing hundreds of thousands of liters of fuel," the post read.
The message followed an earlier one by Israel Defense Forces Arabic spokesman Lt. Col. Avichay Adraee, who also pointed out that Hamas had stockpiles of fuel, but rather than giving it over to its citizens for use in hospitals and bakeries, it was "using it instead to operate its tunnels, rocket launchers and so its leaders can live more comfortably."
"This is how Hamas's priorities appear," Adraee wrote, sharing an aerial photograph of what appeared to be massive circular containers.
'PAY FOR SLAY': PALESTINIAN AUTHORITY MAY HAVE TO COMPENSATE FAMILIES OF HAMAS TERRORISTS, REPORT SAYS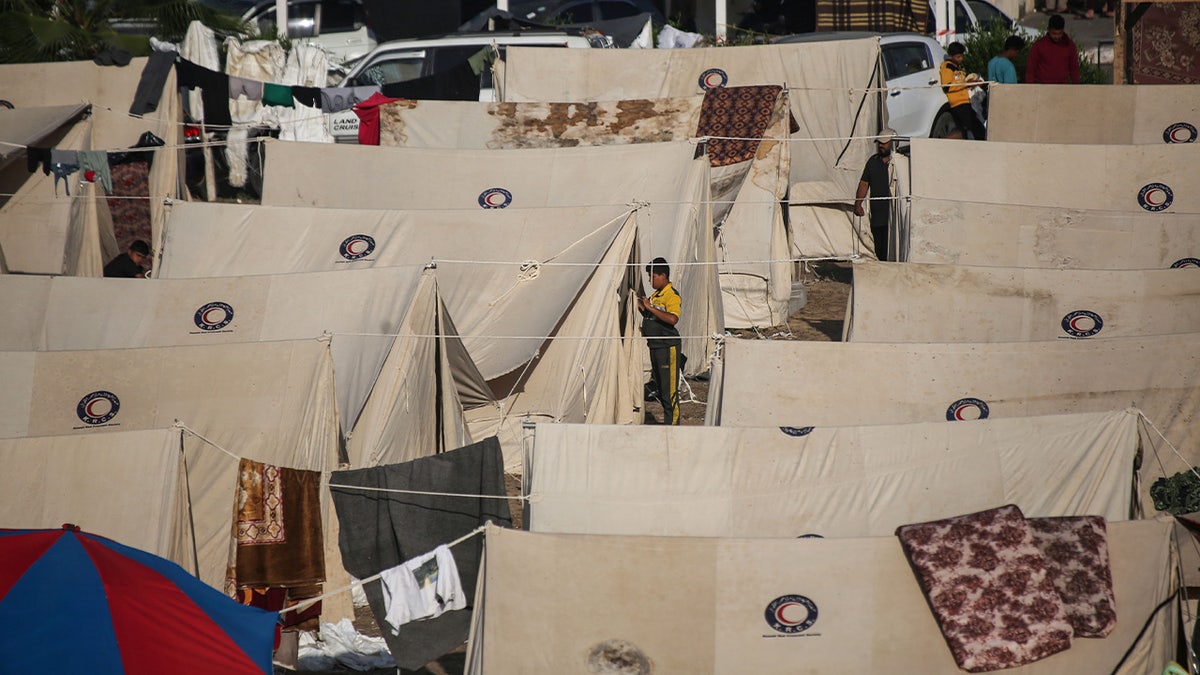 Tents set up for Palestinians seeking refuge along the Gaza Strip on Oct. 20, 2023. (Photo by Ahmad Hasaballah/Getty Images)
Israeli government officials, including Prime Minister Benjamin Netanyahu's spokesman Mark Regev, have expressed in media interviews and briefings that their main fear in allowing fuel into Gaza is that Hamas, which ultimately rules the Palestinian enclave, will immediately confiscate it for military purposes.
Initially reluctant to even allow the aid trucks into Gaza since it started its military campaign, Israel finally agreed, under pressure from the White House, a week ago that deliveries of food, water and medicine for civilians only could enter to the southern part of the Strip.
Israel has been warning residents living in Gaza City and northwards to move farther South as it carries out aerial bombardments aimed at destroying Hamas' terror infrastructure and killing key militant leaders.
On Wednesday, Israeli Defense Forces spokesman Rear Admiral Daniel Hagari said the army had destroyed Hamas' emergency operational apparatus responsible for setting up blockades preventing those civilians from evacuating to safer areas. Hagari said the army would continue to encourage Gazans to move southward, away from Israel's military airstrikes, to where the aid sent by Egypt and the U.S. was being distributed.
ISRAELI FORCES CONDUCT TANK RAID IN GAZA AHEAD OF EXPECTED INVASION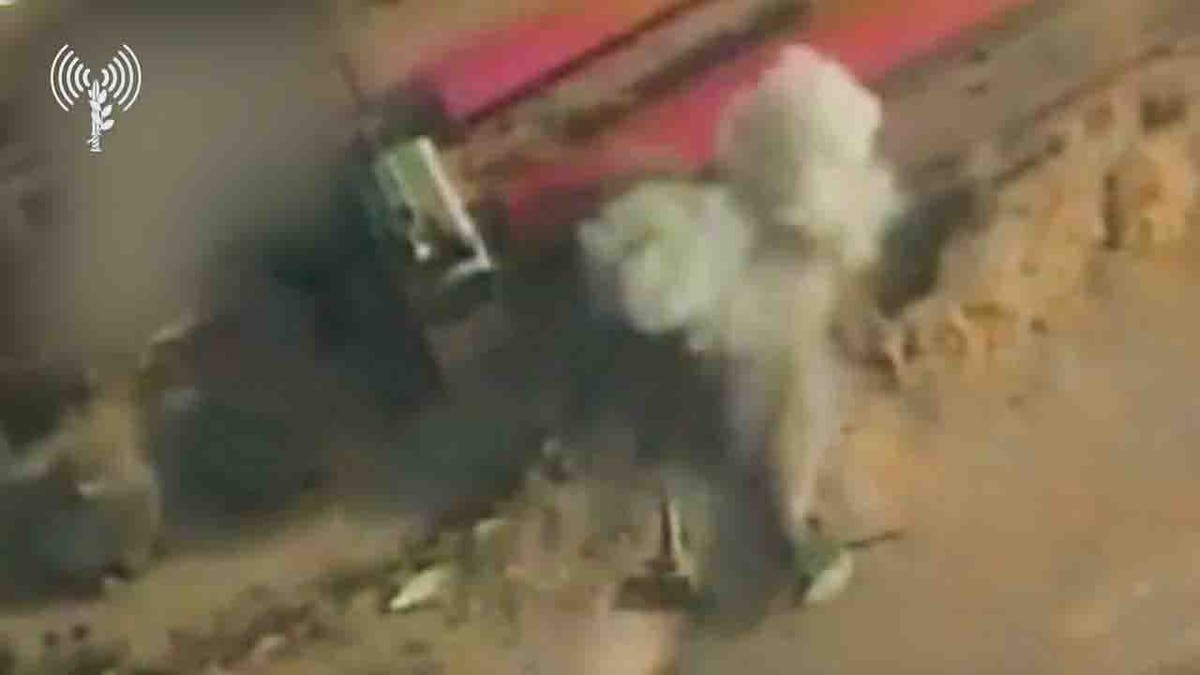 Israeli Defense Forces said that a tunnel the Hamas terrorist cell exited from before swimming toward Israeli territory was struck. (Israel Defense Forces)
Michael Milshtein, head of the Palestinian Studies Forum at the Dayan Center in Tel Aviv University, told Fox News Digital that he believed, however, there was enough fuel in Gaza to power the hospitals and other essential civilian institutions.
"There are reserves of fuel in Gaza, Hamas just doesn't want to give it to the population," he said. "If they give it to the people then they will not have it for their tunnels or for the vehicles they use to transport their rockets or to power the drones that they send in to attack Israel."
Miltshtein added that,"In order for Hamas to stay underground it needs that fuel, without that fuel they can't stay underground for much longer."
However, aid agencies, including UNRWA, have warned that what is entering Gaza is not enough to sustain the estimated 1.4 million people now internally displaced since the war began and that if fuel is not delivered within the next few days, they will no longer be able to carry out their operations.
U.N. Secretary-General Antonio Guterres told the U.N. Security Council on Tuesday, "Without fuel, aid cannot be delivered, hospitals will not have power, and drinking water cannot be purified or even pumped."
Doctors in Gaza have also warned of a spike in infectious diseases, with many of the displaced gathering in already overcrowded shelters and a lack of clean water leading to an increase in cases of diarrhea, food poisoning, scabies, bronchial infections and chicken pox.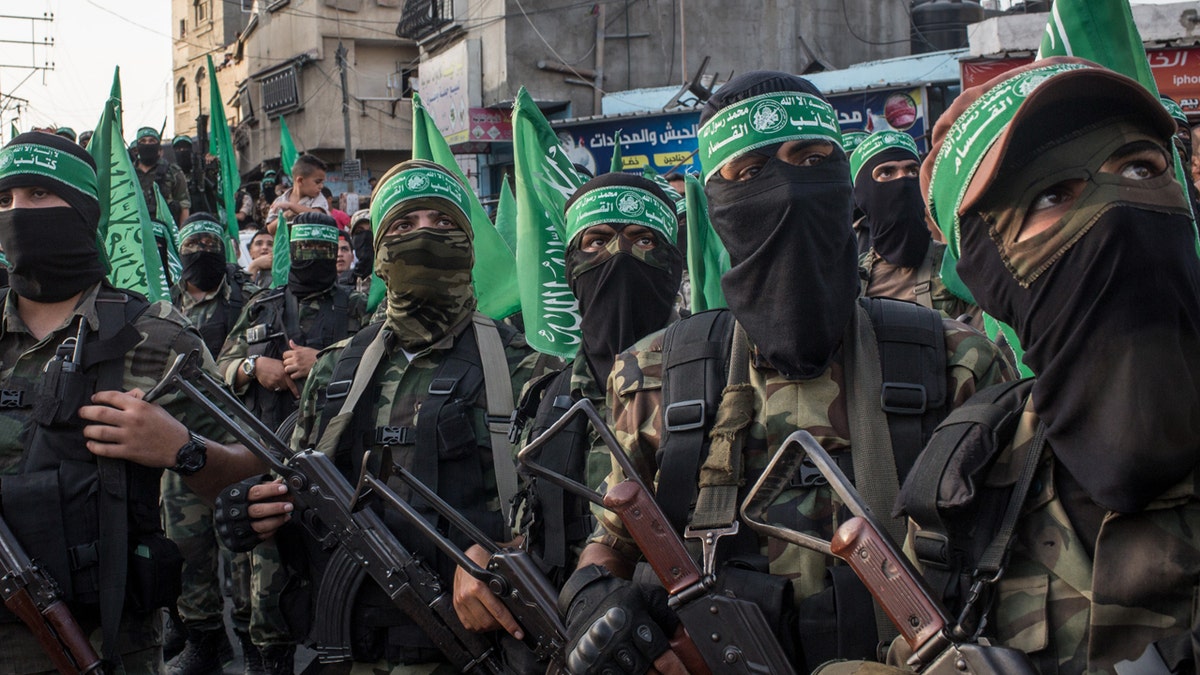 Palestinian Hamas terrorists are seen during a military show in the Bani Suheila district on July 20, 2017 in Gaza City, Gaza. (Photo by Chris McGrath/Getty Images)
CLICK TO GET THE FOX NEWS APP
The Hamas-run Ministry of Health claimed in its reporting that the death toll in Gaza was more than 6,000 people, with 1,600 missing including 900 children.
During a press conference on Wednesday President Biden questioned the reporting by the Hamas controlled Gaza Health Ministry in regard to the number of casualties, telling reporters, "I have no confidence in the number that the Palestinians are using."
Ruth Marks Eglash is a veteran journalist based in Jerusalem, Israel. She reports and covers the Middle East and Europe. Originally from the U.K, she has also freelanced for numerous news outlets. Ruth can be followed on Twitter @reglash