The House of Representatives is slated to vote on a bill Monday night that would cut more than $70 billion in Internal Revenue Service funding in an effort to prevent the agency from conducting new audits on Americans — fulfilling newly-elected House Speaker Kevin McCarthy's promise ahead of taking the gavel.
The Family and Small Business Taxpayer Protection Act from Reps. Adrian Smith, R-Neb., and Michelle Steel, R-Calif., would roll back the billions of dollars of funding for the IRS approved in the Inflation Reduction Act last year.
FRESH OFF SPEAKER BATTLE, GOP LOOKS TO PASS RULES PACKAGE THAT HAS ALREADY RUFFLED FEATHERS WITHIN PARTY
Smith's bill leaves in place funding for customer service and improvements to IT services at the IRS, but rescinds several categories of unobligated funding, including money that could be used to conduct any new audits on Americans. In total, it would claw back $72 billion of the funding Congress approved for the IRS last year.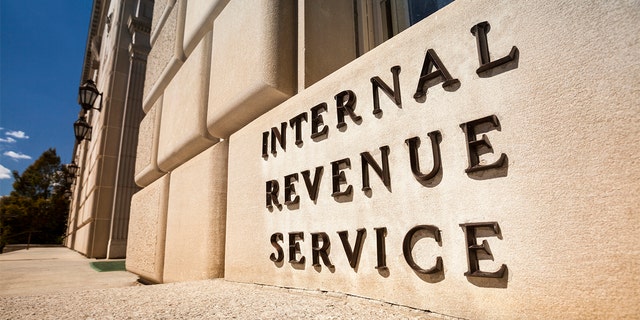 Internal Revenue Service federal building Washington, D.C.
(istock)
The Inflation Reduction Act granted an $80 billion boost to the IRS over a 10-year period, and more than half of those funds were aimed at helping the agency crack down on tax evasion. In 2021, the Treasury Department estimated that $80 billion would be used to hire 87,000 auditors and other new staff. Republicans have said they would fight this aggressive expansion that would more than double the agency's current size.
"The last thing the American people need right now are more audits from an out-of-control, bloated IRS," Smith told Fox News Digital on Monday. "The Inflation Act funding for IRS would lead to the hiring of 87,000 new IRS employees tasked with raising enough revenue to pay for Democrats' Green New Deal priorities."
FLASHBACK: MCCARTHY SAYS REPUBLICANS WILL PUT AMERICA 'IN A NEW DIRECTION' IF THEY TAKE BACK THE HOUSE
Smith called it "unacceptable."
"Our bill leaves in place funding for customer service and IT improvements because IRS is in desperate need of reform, but it protects middle-class families from audits they cannot afford," Smith said.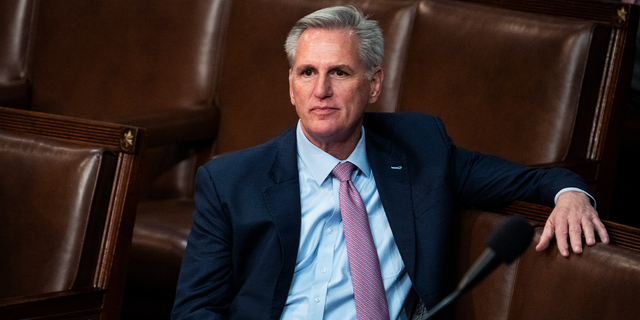 Republican Leader Kevin McCarthy, R-Calif., is seen on the House floor after a vote in which he did not receive enough votes for Speaker of House on Friday, Jan. 6, 2023.
(Kent Nishimura / Los Angeles Times via Getty Images)
The vote is scheduled for Monday evening —just days after McCarthy, R-Calif., secured the House speakership after an intense 15-round vote battle that took all week.
CLICK HERE TO GET THE FOX NEWS APP
In an exclusive interview with Fox News Digital just days before the midterm elections, McCarthy vowed that if he became speaker of the House, protecting Americans from the IRS would be his first order of business.
"On the very first day, we'll repeal the 87,000 new IRS agents because we think the government should be there to help you, not to go after you," McCarthy said.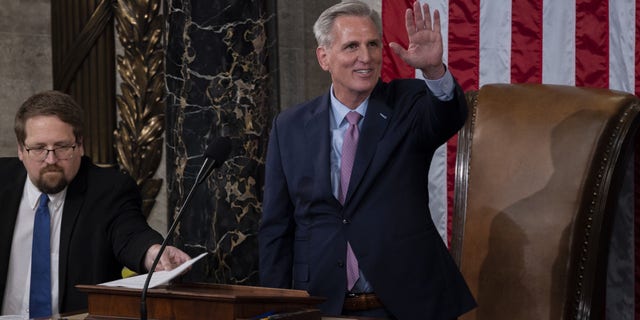 House Speaker Kevin McCarthy, R-Calif., celebrates after taking the oath of office in Washington, D.C., on Jan. 7, 2022.
(Nathan Posner/Anadolu Agency via Getty Images)
Also Monday evening, the House is set to vote on the new rules package, which will govern the 118th Congress.
The package includes several measures aimed at making it harder for Congress to spending money. It also requires 72 hours' notice prior to voting on new legislation, a three-fifths supermajority in order to pass federal income tax rate increases, and the formation of a task force to address House ethics reform.
The rules package also calls for the creation of a House Oversight subcommittee to investigate the origins of COVID-19, specifically mentioning the U.S. government's involvement in any funding of gain-of-function research.
Fox News' Peter Kasperowicz and Ronn Blitzer contributed to this report.